Let me introduce you to Cole's Bear III, otherwise known as "Bear." Bear is not a Salhaus stud dog, but we used him on Varuka knowing we would get awesome pups from this crossing. We have used Bear in the past on one of our white girls, resulting in wonderful pups as far as size & temperament. This was the first time we had used him on one of our colored girls & we are extremely pleased with the outcome. We had 4 gorgeous pups from Bear & Varuka, with Fiona being the one we chose to keep.

Bear stands 28" at the shoulder, weighs 100 lbs & is OFA good. He has an awesome head, a very square build & straight back, which we advocate here at Salhaus.He is a more serious natured dog, loyal to his family, as he should be. He's a very discerning dog, allowing visitors onto the property when approved by his owner. He's great with children. His owner has a 6 year old grandson that is in constant companionship with Bear. With Varuka's soft temperament & Bear's more discerning personality, we have a great blend of both of their personalities in their daughter Fiona. You can see 2 of his other daughters, full sisters to Fiona on our photo gallery page. Look for Azucena & Ari.

And we now have his solid white grand pups out of Fiona & Diesel. Already  

these pups seem to be manifesting Bear's blocky head!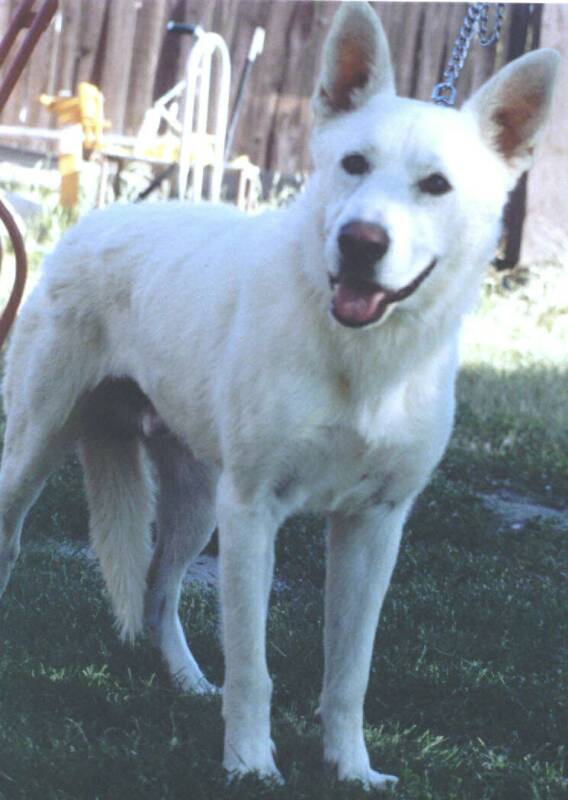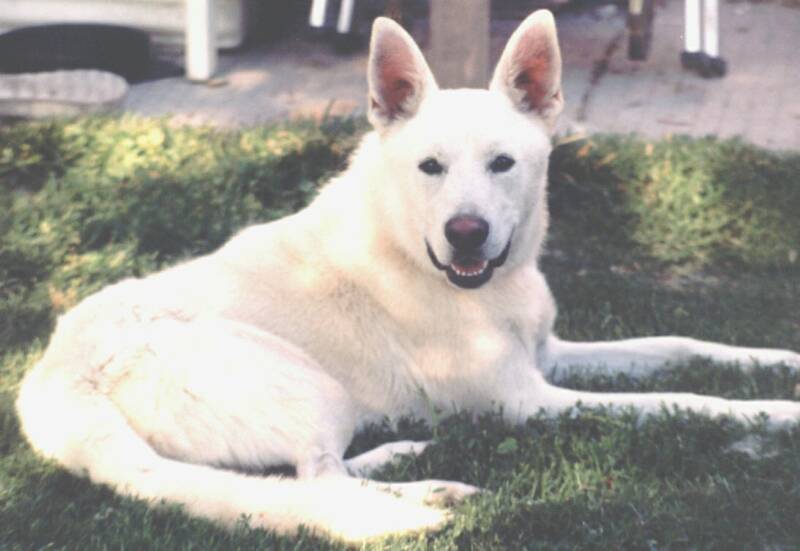 Pedigree for Cole's Bear III
White German Shepherd Dog
Sire
King Casey XI
(Wh)
Sire
Rocky Mack Shadowolf (Wh)
Sire
Jake Son of Galactic (Wh)
Dam
Leon's White Sugar Candy (Wh)
Dam
Princess Love Spirit (Wh)
Sire
Samson Spirit o The Sierras (Wh)
Dam
Schatzie Marie Beckwith (Wh)
Dam
Princess Love Spirit
(Wh)
Sire
Samson Spirit o The Sierras (Wh)
Sire
Jake Son of Galactic (Wh)
Dam
Leon's White Sugar Candy (Wh)
Dam
Schatzie Marie Beckwith (Wh)
Sire
Elijah Friend of India (Wh)
Dam
Ivy Donner Drew
(Wh)
This pedigree page was built for free at SitStay.com