Salhaus Photo Gallery ~ Page 2

We receive so many comments & photos back from folks who have bought our pups over the years, that we have had to add an additional page to our photo gallery, which we are pleased to do. Notice  that some of our newer pups starting this page, are the incredible White pups that we have introduced to our breeding program. Please browse through & enjoy!

   From Carl of Northern California ~ a brave soul who bought 2 gorgeous Salhaus pups at the same time!~ Missy (blk/tan) is a Monty daughter, Shadow (black) is a Monty grand daughter:

Shelley - I am hoping all is well with you. I've attached a photo of Missy & Shadow, the 2 girls we purchased from you in 2005. We walk them twice a day, once on an hour hike up the hill trails behind our house and then running free at night for another hour after the soccer practices are done. They are both near 90 pounds, I think Shadow is a bit heavier at 95 and Missy closer to 80/85. They are well trained having gone through some extensive work with a local specialist in Shepherds; both spent a month alone out of the house.  When we walk on the trails they will sit as other dogs pass. Attached is a photo of them with   my son during one of our hikes. Regards, Carl 10/07
This second picture was sent to me from Carl in 2010. It shows the girls being "not so subdued" but enjoying each other's company as fully mature dogs at the age of 5. Still active & still enjoying life!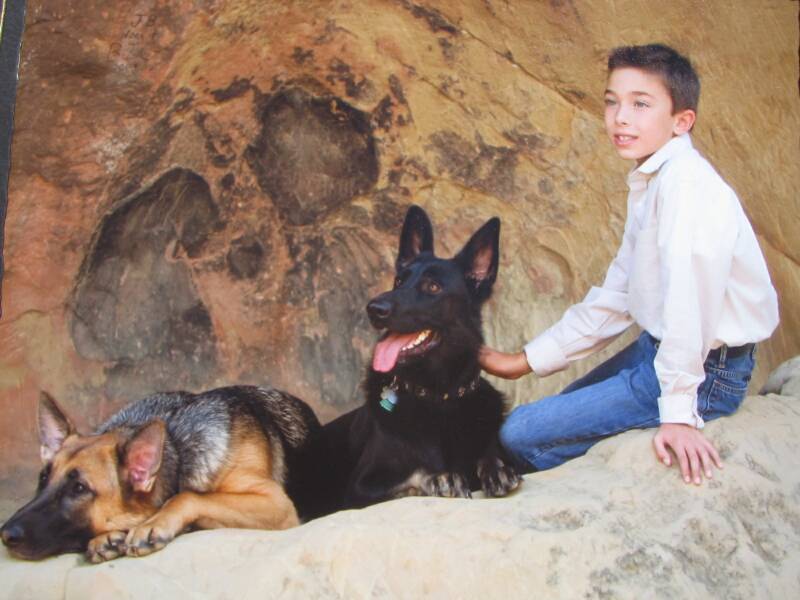 The pup below, Risty is one of the incredible whites we have recently produced from Diesel & Fiona. She was a super happy, outgoing pup while here with us & according to her new owner, she is maintaining that happy go lucky attitude. Here are comments from Emily in Tennesse about Risty:

Shelley, I thought you might like to see some pictures of Risty Blue from last weekend.

Here is Risty the retrieving water dog. She loves to swim every day.  She is beautiful & weighs  45+ pounds and 20.5" at just under 4 months.   She is very square and muscled, getting a bit more length in the loin & croup. Still the same joyful, sweet Risty. Having great fun with her!

10-26-07

Risty at 10 months, almost grown! She's gorgeous!

She reminds me of a white wolf, with all that coat!

               Comments from Mike of

California regarding their 110 lb Salhaus dog JD:

Hello Shelley~ My name is Mike. I purchased a puppy from you a little over 3 years ago.  He is the best dog I have ever owned and is sooooo smart.  I am getting him into French Ring in the very near future. Also I have enclosed some pictures of JD so you can see how much he has grown...he currently is 110 lbs and 29 inches at the top of the shoulders. I just noticed you guys moved, I have a friend looking for a shepherd, & from your website you will still ship them.  He very well may be in touch with you in the near future to purchase a dog.  I talk a lot about your dogs.~ Mike 5-31-07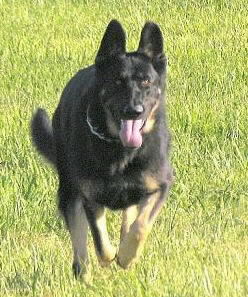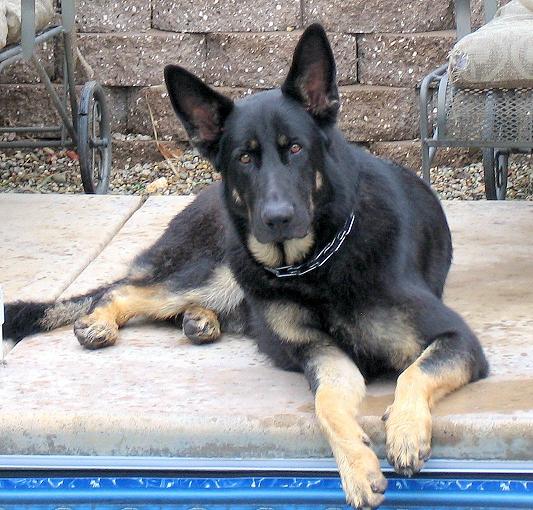 Mike & Jennifer, the wonderful folks who gave solid black Ruby (from the 1st photo gallery       page) an incredible home, came back to add Salhaus Shepherds #2 & #3 to their family, after tragically loosing Ruby. They now own Pearl, who is a 95 lb Dragon daughter. And they have one

                    of our newer white pups from Diesel & Fiona, named Opal:

Shelley~ You produce great pups and should be so proud! We are so lucky to have gotten to experience so many of your wonderful dogs! Opal is doing spectacular! She is growing like a weed! She loves Pearl and tries to do everything Pearl does. This has had some great benefits – as she already knows how to sit and down from watching Pearl!  She went to her first puppy class on Saturday and did great playing with the other pups. She is definitely an assertive pup, but she played well with everyone. We are getting through the "bite everything" stage and are down to just one trip out to potty in the middle of the night (instead of 2). Actually by the end of the week I think she will make it through the night completely. (Pretty good for 12 weeks!) We had a photographer friend come and do some pictures yesterday – I thought you'd enjoy these!  Hugs to all!!~Jennifer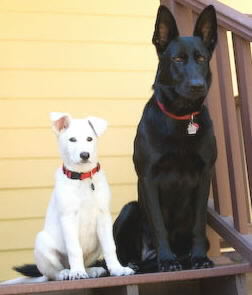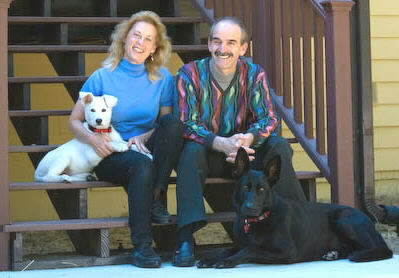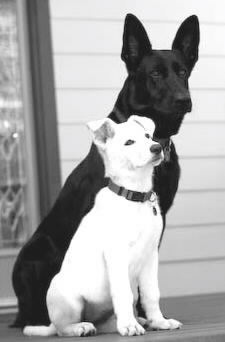 Comments from Jennifer & her

    family of California about their

        Diesel/Penelope pup, Axel:

Just a quick update to let you know that Axel is an absolutely phenomenal dog.  Almost completely house broken (at 11 weeks).  The vet said that in his 25 years of experience has never met a more magnificent German Shepherd.  I questioned him on that and he assured me that he was not just saying that but that Axel was truly amazing.  His temperament, his build and everything about him was great.  Testicles have already dropped, ears are half way up and he is a sweatheart.  Loves to be loved and held.  Already 22 pounds now.  I will send you pictures in the next few days.  Cant wait to see what you think. Thanks again for an amazing animal.

Jen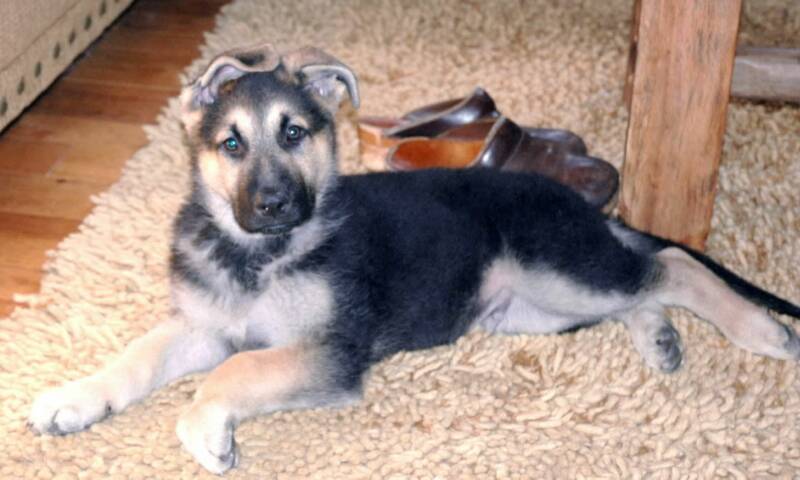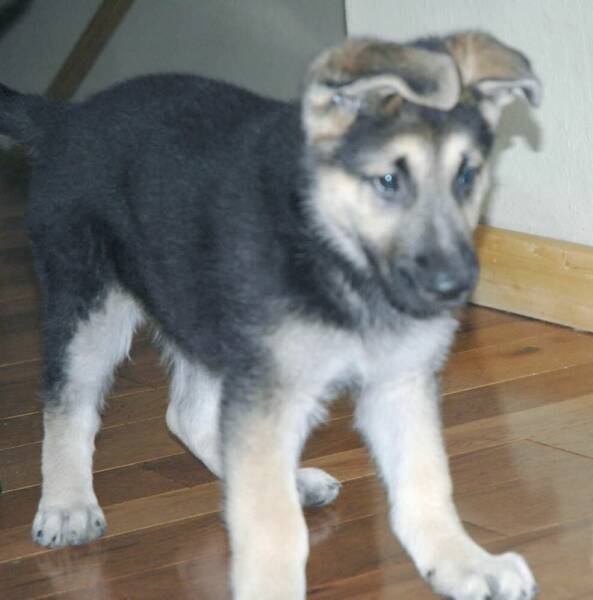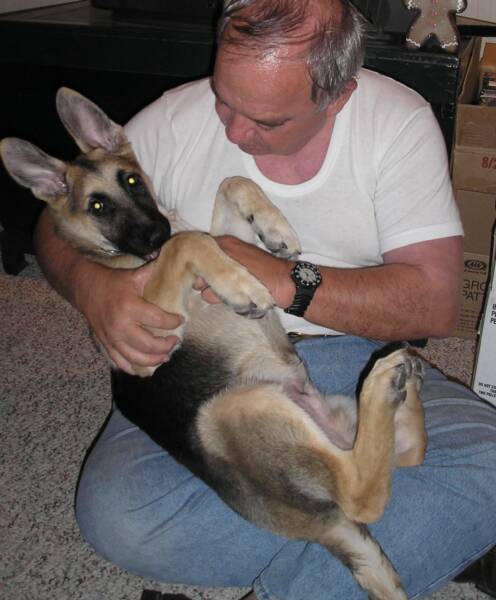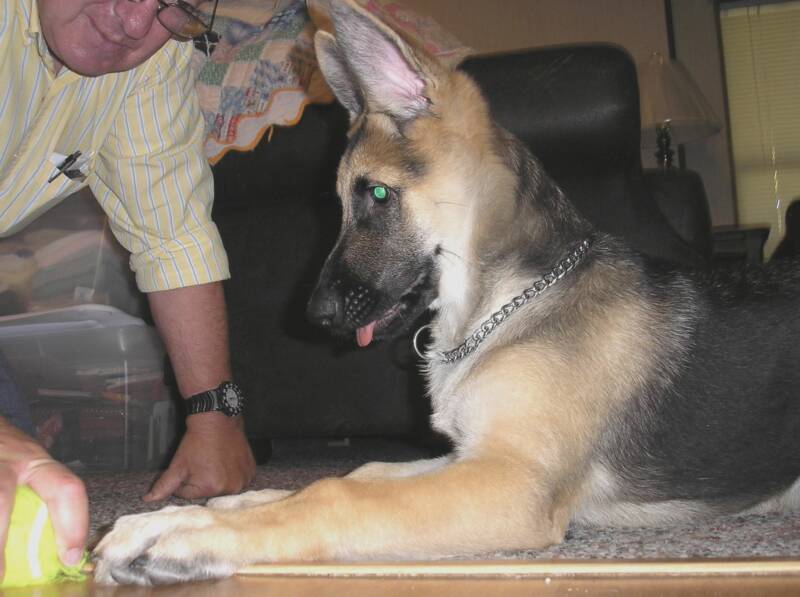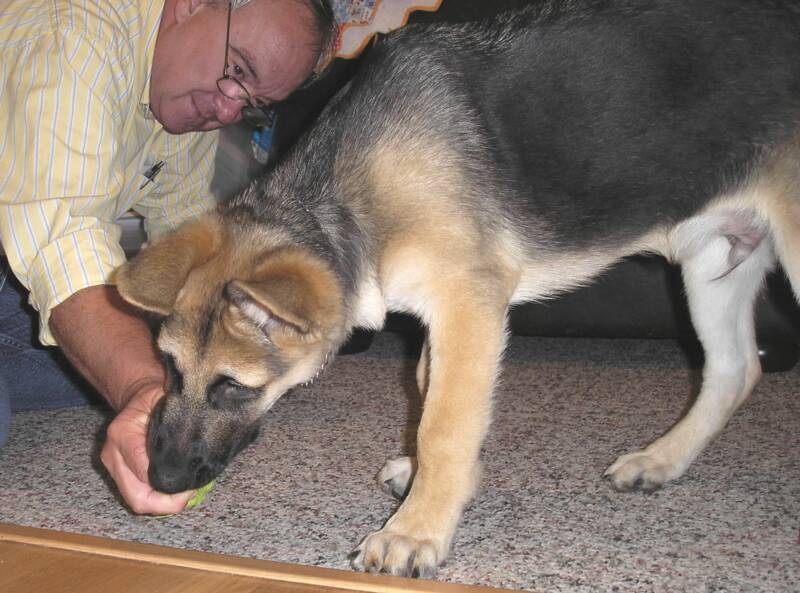 Comments & pictures from Linda & Steve from Idaho about their 4 month old Diesel/Fiona pup, Dutch:
10/28 - Dutch had a regular vet's appointment last week. The vet said he is doing great and looking good. I have included some pictures so you can see how he's grown. But he still thinks he's a lapdog! He's learning to put his toys in a box by himself. He will take anything in his mouth with the 'take it' command. The 'out' command works if he is standing over the box... but we're working on that one!

11/4 - My grandkids are visiting and playing with him 'til he can't hardly walk. They have worn him down! Dutch is being very gentle with them and they love him. Even the baby - 1yr old - Dutch is very careful with. I am impressed with Dutch at his age! The kids throw the squeaky and he brings it back and lays it at their feet to throw again. I was worried because he seems such a big galoot sometimes, but

he has amazed me.

11/16 - Just had to tell you... tonight I came home and Dutch was in the back of the house with Steve. I didn't say anything, merely walked in, shut the door and stood in the shadowy dark. I heard Dutch coming to check it out. I could see him when he reached the kitchen light. He had his hackles up... way up... and just steadily looking. He didn't bark or get scared, just kept coming toward me. He saw me move but didn't recognize me yet and he got very apprehensive, but didn't bark or cringe. He just looked toward me. When I stepped out of the dark and he saw me, he wagged all over! Not just the tail! But the point is, I was so proud of him for not being a coward about it and not being too aggressive. He was very steady in checking it out. I forget he is still a baby! He is so smart.

12/30/07 - Yesterday was the 6 month mark!  Steve took Dutch by the vet & weighed him... 63 #!  He is as big as a common GSD

now & at only 6 months!!! He is a beauty! My daughter came over from England with her family for Christmas & loved him! 

They said when they move back here to the USA they want to go to the same breeder for a pup! YOU BET!!! Dutch played with the grandkids until he was exhausted! One of the kids gave him a big booda rope, he loves it. He carried it around for 2 days after she left looking for someone to play with him. He would go to the bedroom door where she slept & whined. I let him in to look & of course, she wasn't there. He really misses the kids. We think he's pretty terrific & I would tell anyone wanting a pup to call you!

Thanks again for our lovely family member, Linda & Steve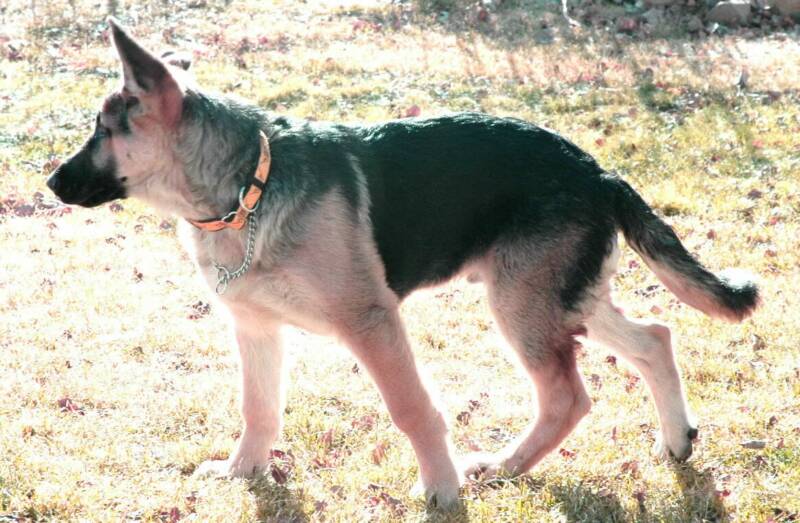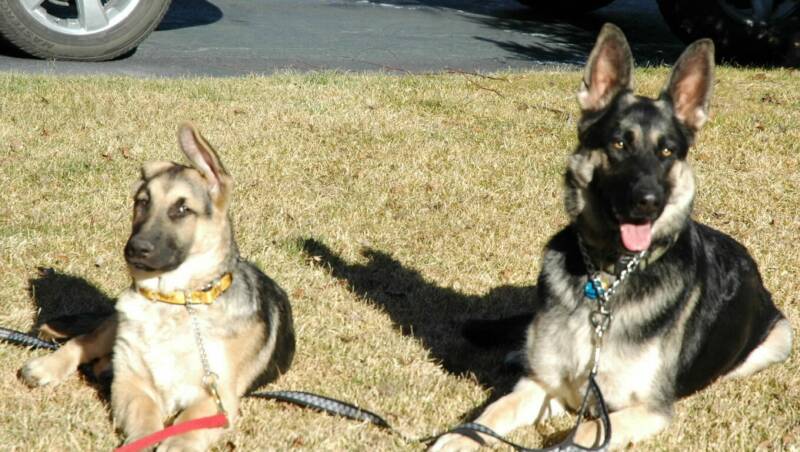 Axel, 11 weeks ~ Gorgeous!

     4 months, look at those legs!

4 mo old Axel with his gorgeous 1.5 y/o cousin (Monty grand daughter), Gunnar

He won't fit in that lap much longer!

  4 mo old Dutch. Gorgeous profile!

  Masculine head. Thick, long legs!

From Robert  & Michelle in California about their white Diesel/Fiona pup, Ashland:

Hi Shelley - wanted to share some recent photos of our pup.  She has been a truly fantastic addition to our family.  We took her on her first camping trip last weekend, and she seemed to enjoy herself - she certainly made herself comfortable on the bed in the van!  We've had a few snow storms already - the snowy photos are from today.  As expected, she's super bright and takes well to corrections and training - she can already sit, down, and has a pretty consistent stay.  Recall is getting better all the time, and I think she's figuring out who 'Ashland!' is.  Easy (our Lab/Shep) was a little wary at first, but he's getting more attention, treats, and walks than before so he's adapting nicely.  They've settled into a routine of evening play that is more entertaining than any TV show.  She's pretty well house trained and sleeps through the night in her crate without a problem.  She does like to get up early tho... anyway, thought you might enjoy an update - I am very happy to have stumbled upon your ad.  She's just the dog we've been waiting for.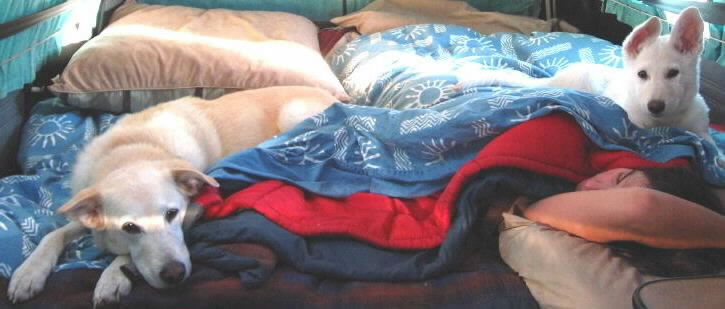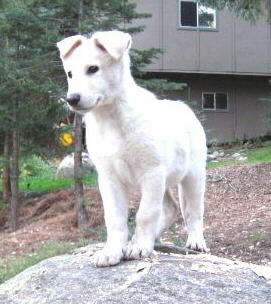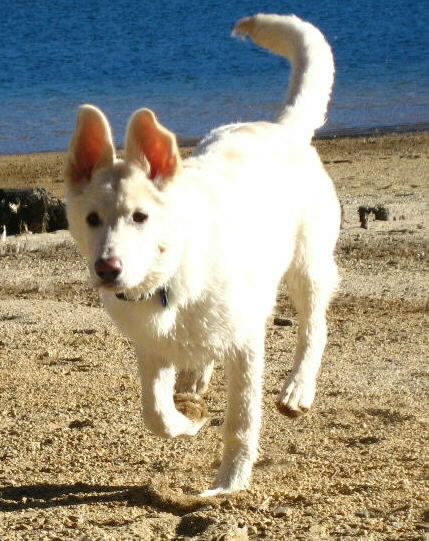 10 wks. Thick bone, nice stance.

     Easy & Ashland~1st camping trip together!

       Comments from Mary & her family of

Nevada about their Diesel/Fiona pup, Titan:

Hi Shelley! ~ Sorry it has taken so long to email you...I have been so busy! Titan is the most wonderful puppy I have ever had! He is so calm (as puppies go). Austin is having a little more difficulty getting Titan to realize Austin's top dog. He is so trying to dominate him, but we're working on Austin. I can't believe how fast he is growing. I took him to the vet on Friday of last week and he weighed 18.5 lbs and then I took him to the vet again on Tuesday and he weighed 21.5 lbs. Titan is doing great. Our vet thought Titan was absolutely beautiful and loved his markings. Quite the handsome dog!  He's doing really well with the potty training...has very few accidents. I've enclosed some pictures for you. I look forward to hearing back from you! Thanks again for letting us purchase one of your magnificent puppies.

I am really enjoying him!!!

My Best! ~ Mary

PS-Per a telephone call from Mary (but no pictures just yet) Titan weighed 95 lbs at 10 months!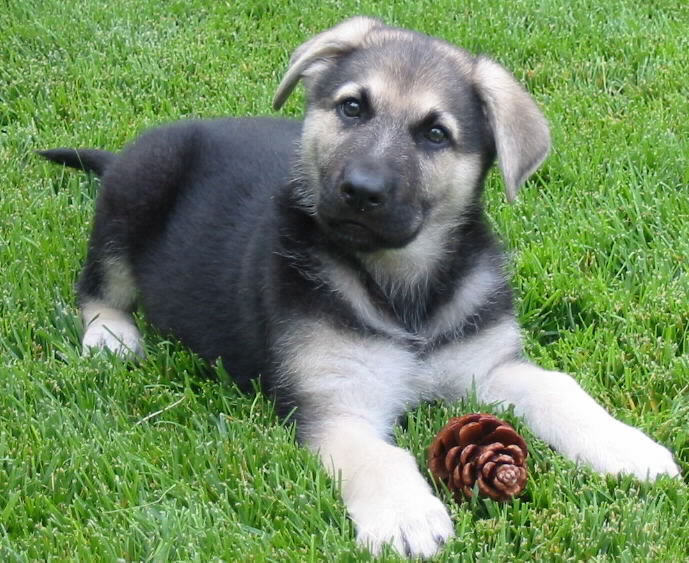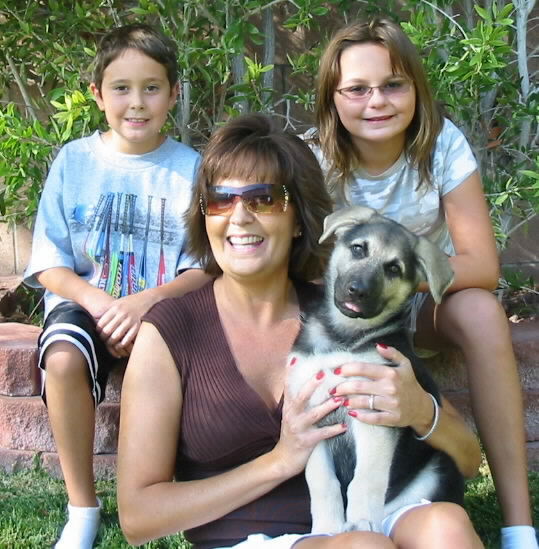 Titan with his new family!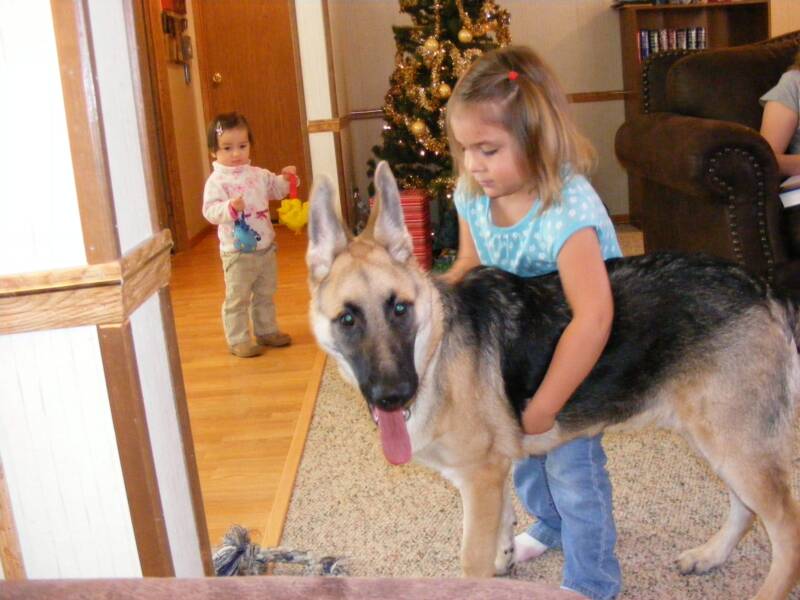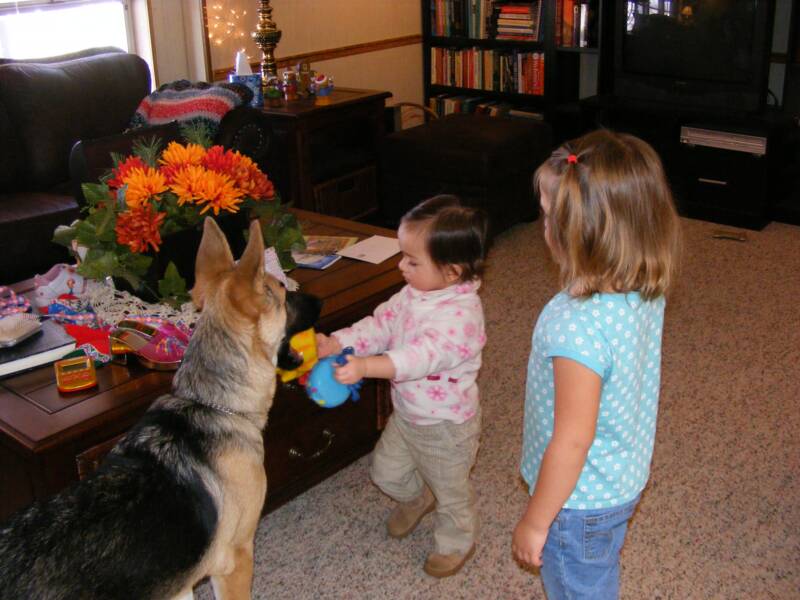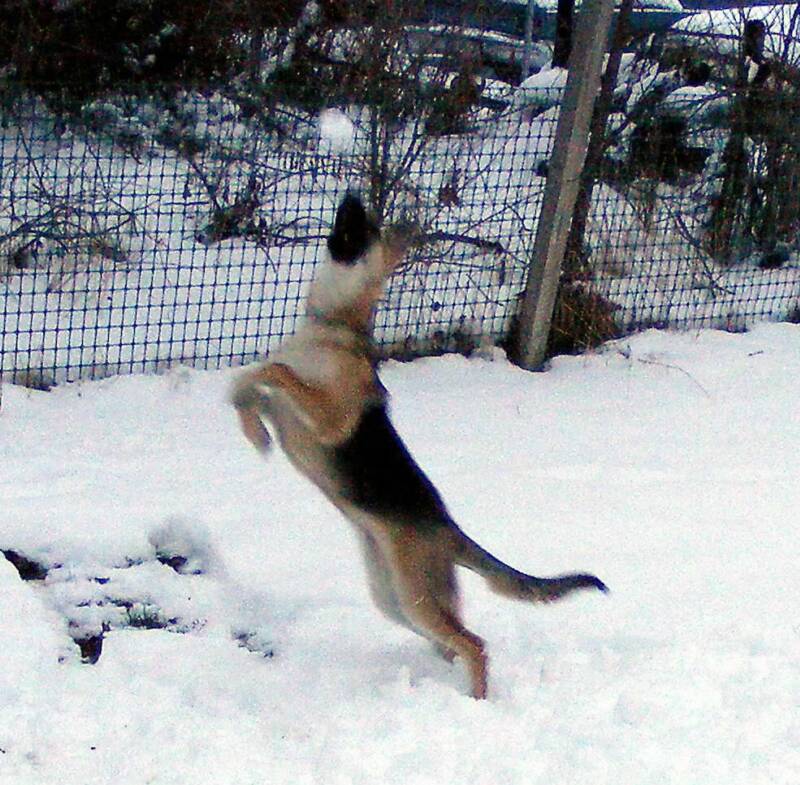 Dutch 6 months, with the grand kids.

      Dutch being so gentle, that baby

  is taking a toy right out of his mouth!

      So agile~chasing a snowball

  just above his muzzle. Do you see it?

                               Comments from Mark & Sylvia of 

                  California about their 2008 Diesel/Fiona pup:

Hi Shelley, Attached is a recent photo of our boy - Daltrey (10 weeks & 25 lbs).  Mark and I are simply amazed at how fast he is growing. I don't know if you can tell by these photos but his paws are huge - he is one big boy! Daltrey is almost done with this shots and the vet has commented many times on how handsome, big, and healthy he is.The socialization and training is coming along nicely and in fact Daltrey will begin puppy classes within the next couple of weeks.  We can't wait to show him off!  Shelley. . .Mark and I are so happy with our boy -  his temperament and personality are shaping up to be exactly what we were looking for.  He is getting along great with our "Nelson" (2.5 year old Australian Shepherd) and Daltrey is just a joy to have as part of our family.  Thank you (your daughter and Fiona) so much for taking care of him for those first 8 weeks - he has adjusted so well that it's almost as if Daltrey  was with us all along.  We'll keep in touch. ~ Sylvia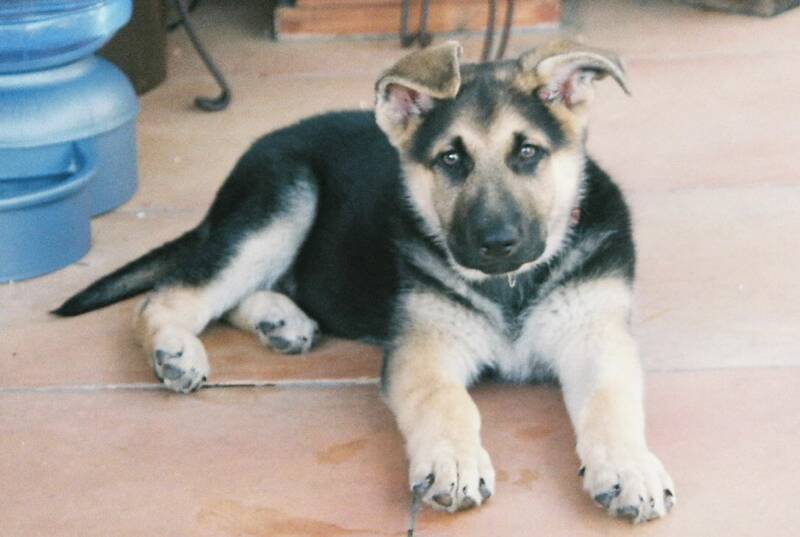 Comments from Matthew from Nevada about his Diesel/Penelope pup, Cooley:

Thank you so much Shelley, Cooley is probably the best dog I have ever owned &, I     have had plenty of dogs. He is done with his vaccinations so I can show him off now.    They weighed him at the vet, he weighs 33 pounds now at almost 14 weeks old. He     gained 15 pounds in one month! I would be honored if you put Cooley up on your         picture gallery. I have a couple pictures attached of our hiking trip today. He doesn't     even need to be on leash, he follows right behind (unless there is shade for him to go  lie down). He will go right up to other dogs and lie down waiting to see if they will

say hi back. Everyone that sees him can't help but smile. enjoy the pictures!~Matthew

            Comments from Ed & Judi of North Carolina about their Diesel/Penelope pup:

Hi Shelley, Here are some pictures of Mossad and Bruni—they are best friends, and our vet says he has never seen such a well socialized GSD puppy.  Her markings are spectacular. Sincerely, Ed & Judi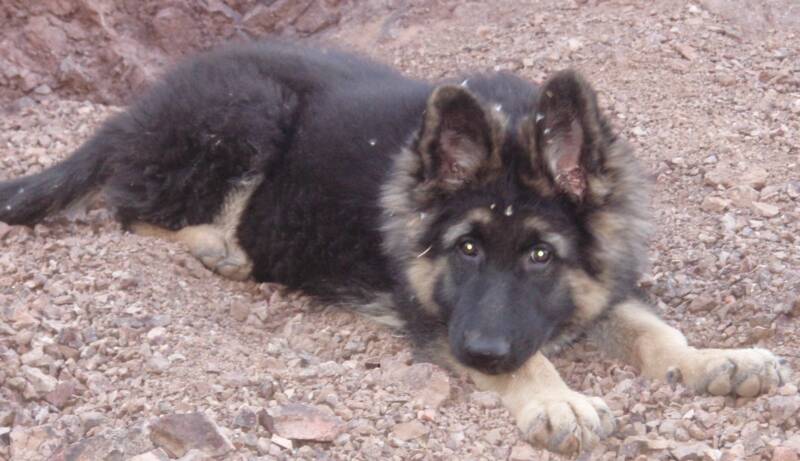 Cooley almost 14 weeks & 33 lbs!

Hi Shelley,

I thought I would pass these two photos along just to provide you with a quick Daltrey update.  This is at 14 weeks....We plan to take photos of Daltrey reading the morning paper with Mark ..until the two of them can't fit in the same chair together...or until Mark can most likely sit on Daltrey's lap... :) Take care, Sylvia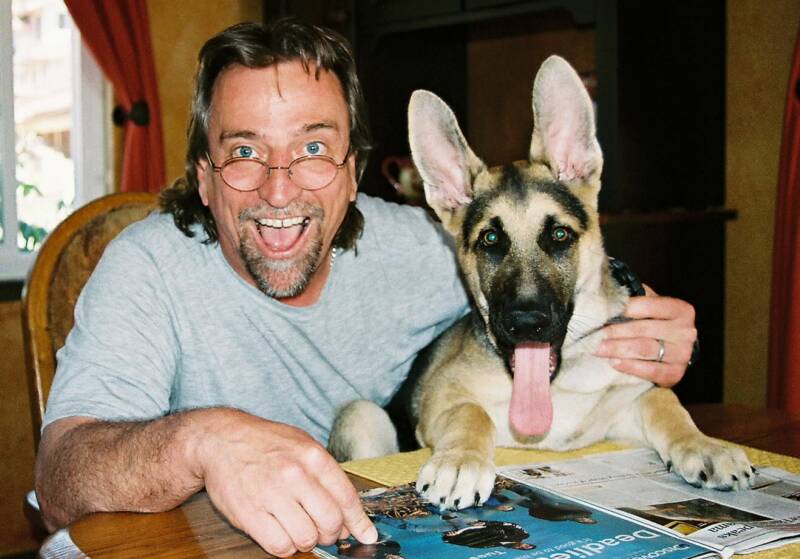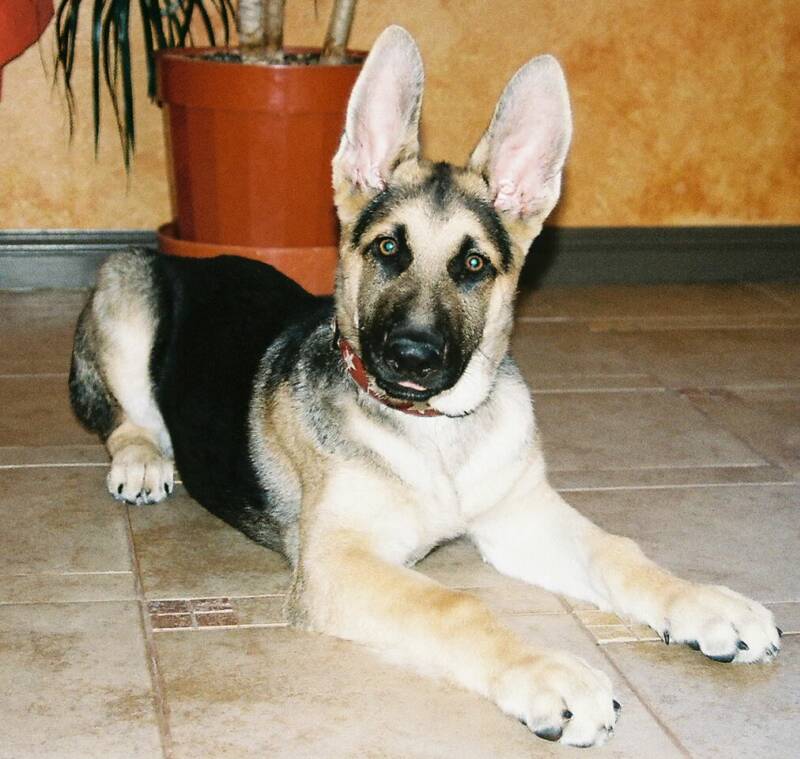 Daltrey 14 weeks! Huges ears & feet!!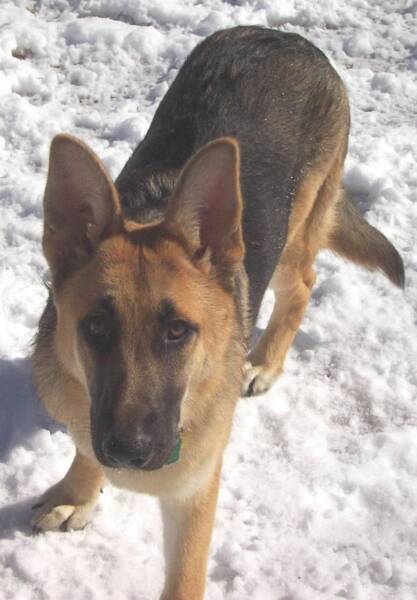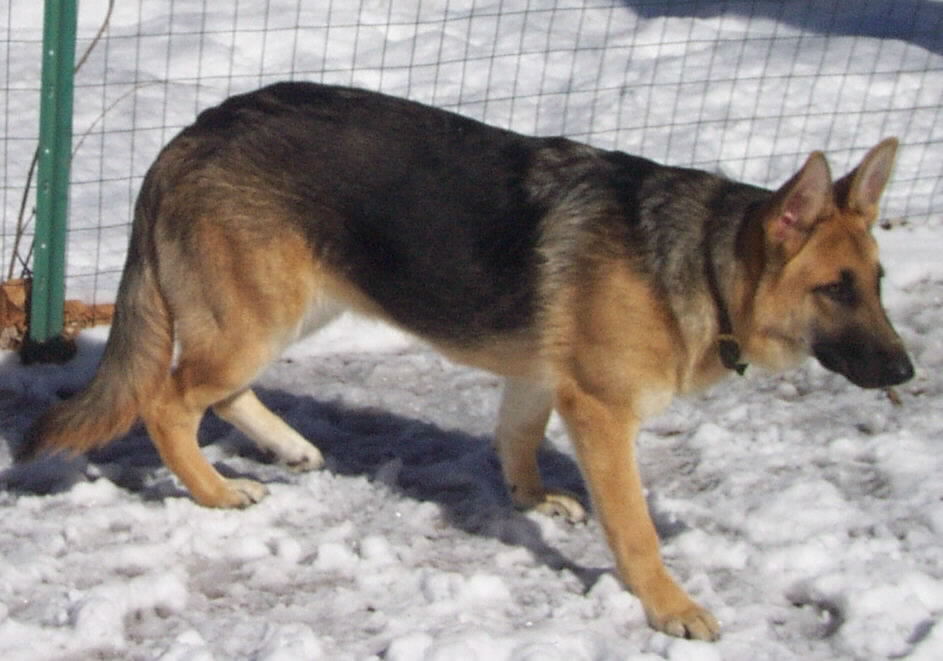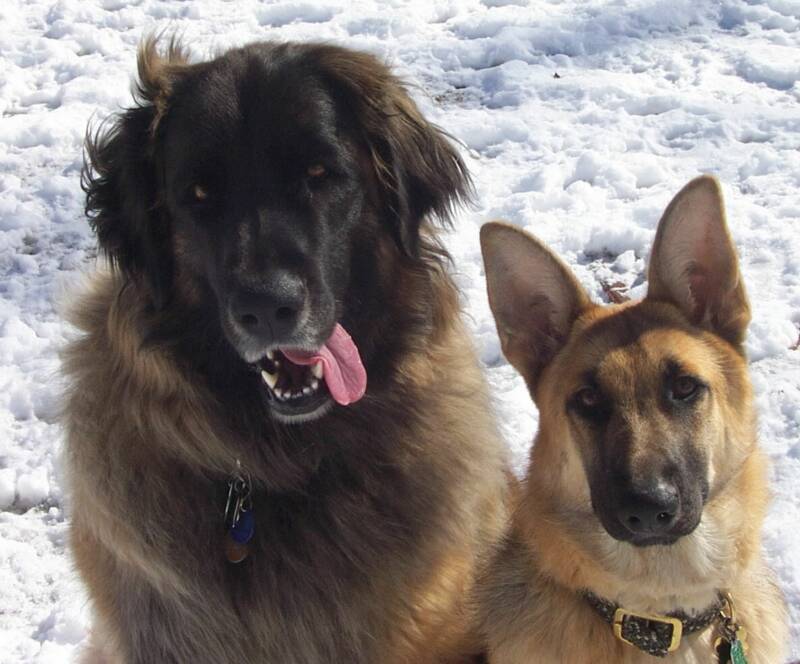 Bruni, a 2 y/o Leonberger & Mossad,7 mos.

                      Best Friends!!

        Gorgeous Girl! ~

She's a carbon of her mother!

         So classic it's hard to imagine she's

    still only a pup at 7 months of age! Imagine

                  her as a full grown adult!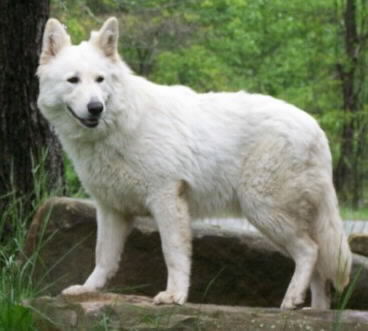 Comments from Barry & Bobbi of Northern California regarding their now 4 year old 137 lb Salhaus dog Baron:

Hi Shelley, We got our black puppy from you 12-21-02 and he

is the MOST WONDERFUL BOY we've ever had!  He is very tall and so handsome, weighs 137 lbs!  Dad is Dragon, Mom is Varuka! 

As you can see, he is pure black, GORGEOUS, and absolutely the perfect boy!!!!  We live out in the country on 50 acres with miles of BLM around us, so he gets lots of exercise (with us) and keeps the wild critters in their place!  Also, HIS car very rarely leaves home without him! We would be very proud to have Baron's picture(s) and our comments in your photo gallery!  We feel sooo

fortunate to have us belong to him!!! 

Thank you for making it happen! ~ Bobbi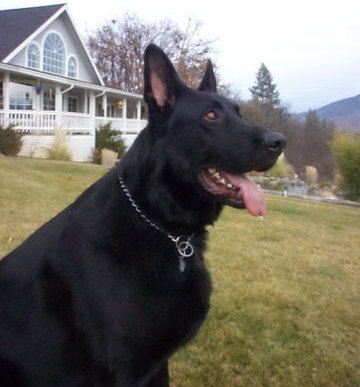 Comments from Paula of Northern California about their Monty/Fiona pup, Elsa:

Hi Shelley, I've been thinking of you and wondering how all the pups are. Elsa is doing great, she weighs about 30 lbs (at 3 months), one big girl!  She is so smart, she already knows several commands and we will take her to puppy school as soon as she's done with her last Parvo shot. She has not even had one potty accident. She has added so much joy to our lives, we are so happy to have contacted you to pick out that perfect pup. I have a friend who is interested also.  His daughter, who is 10, loves shepherds.  I'm going to send him your website and have him call you. Will you be having any litters soon?  Hugs,  Paula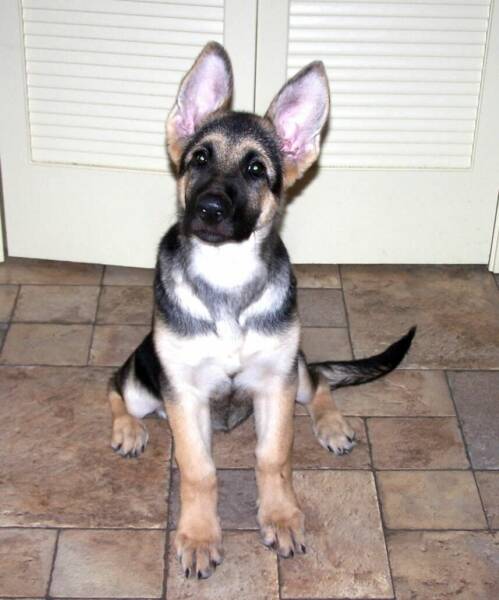 Elsa, 3 months old. 30 lbs & Gorgeous!

Look at the size of those feet & knees!

  Comments from Rock in Washington about his awesome Monty grandpup, Stone:

Just thought that I would up date you on my Brock and Pearl pup, "Stone."

I could not have gotten a more perfect dog... In fact if you were still breeding Brock and Pearl I would have had to get on your waiting list again.  I think that was a awesome pairing. Stone is a very smart dog.  He learns things soooo fast.  He is my best bud. He goes trail riding with me every weekend and we meet other dogs on the trail but he just ignores them and follows me, no matter what.. He has never ever attempted to fight other dogs..  He just wants to be friends with them all. What a pleasure he is. He is the best looking dog that I have ever seen. We get compliments every day that we are out.  He did change color to more of a black and very light tan or cream color.  He is about 26 inchs tall and 90 pounds.   His vet said to keep his weight right where it is. To keep his joints from taking abuse from being too heavy. And since he is so active, we want to keep him healthy. Thanks Shelley for hooking me up with my best friend. I really appreciate it.     Rock....

                 Stone at 6 weeks.

Still waiting for an adult pic from his owner.

  Comments from Hope in Southern California about her pair of Monty/Pony pups:

Dear Shelley, Here are some photos of Liza and Max. They are beautiful, and wonderful with the other dogs. Thank you so much for this addition to our family. Hope

Per a telephone update with Hope, these 2 pups at 10 months are huge!! Max is at an amazing 116 lbs! His sister Liza is a whopping 101 lbs!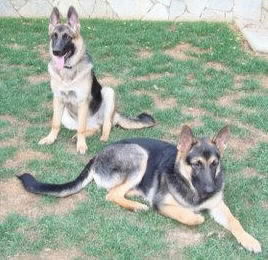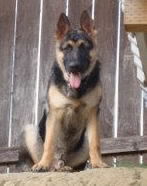 Max at 6 months. Heavy        build just like his father, Monty.

    Max & Liza, full brother & sister.

    Shown at 7 months. Gorgeous!

  Comments from Cassondra of Oregon about her Diesel/Varuka pup Mattie:

Good morning! Thought you might like to see a picture of Mattie "all grown up". Last time we had her weighed she was 85 lbs. but that was a couple of months ago when she was about 10 months old. She eats like a horse! She has so much character. She is such a big baby and wouldn't hurt a thing (unless she stepped on them!) She is such a great dog and we are happy to have her! She is the best, we love her!

Thanks and take care, Cassondra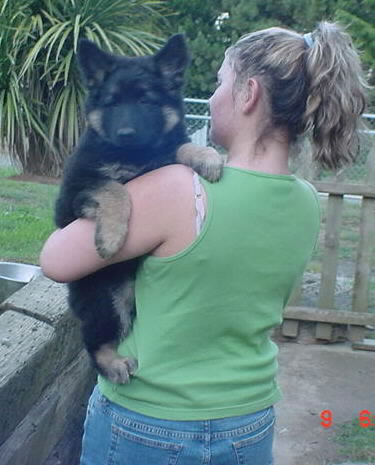 "Massive" Mattie at 9 weeks      with my daughter Khallie.

  Comments from Kris of Oregon when she 1st received her Diesel/Penelope pup Tanner:

Hi Shelley, Oh my words cannot begin to describe what Tanner has brought to our family.  He is perfect! Well behaved (for a puppy haha) house-trained, will sit and fetch.  He goes to work with me where he has become the office mascot.  Everyone who meets him is amazed at how calm he is. I think I mentioned when we were selecting him that there was something about his eyes from his first picture. Tanner makes total eye contact with everyone. It's unreal how he looks into our eyes, like he is telling us he loves us. We took him in for his well baby check up and shots on the 13th. Our vet just kept saying over and over,  "He is an awesome dog!" Even the vet couldn't believe how Tanner makes eye contact. We feel so lucky to have found you! 

Comments from his owner again as Tanner was approaching 1 year of age:

Hi Shelley, How are you and family hope all is well! Tanner has, over the past months, stolen our hearts and taken over our family. He is everything and more, personality-wise we could have ever dreamed of; not to mention a beautiful dog. We had him neutered at 6 months. He was 78 pounds of big boy. We have since day one, had him on Costco adult food with glucosamine. Tanner at 7 1/2 months was 90 pounds, give or take the unsteady rocking on the scale.  So yes, he is growing unbelievable fast. I will send you some pics soon. Both Dave and I totally trust you we would recommend you to anyone.  Kris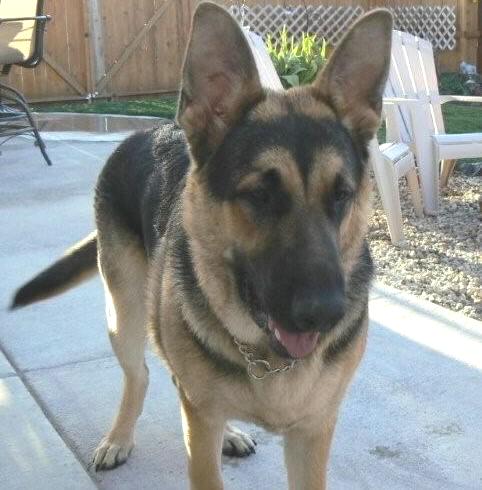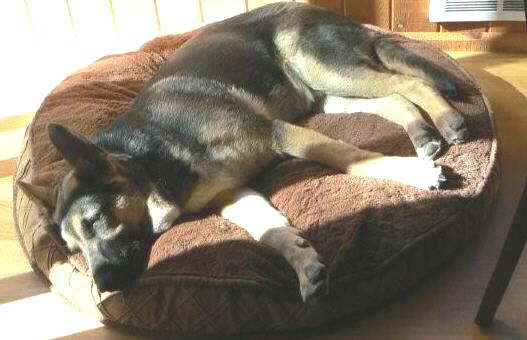 Tanner, 7-1/2 months 90+ lbs!  Big boy, mirrors his       grandfather Monty in his build, size & temperament!

      Gentle Giant at rest. Sweet boy!

  Comments from Ken of Northern California who bought from us 10 YEARS AGO!! They loved their first Salhaus pup so much, they've come back for a 2nd one from Pony & Diesel in 2008:

Hi, My name is Ken. If you used to breed German Shepherds in Rio Linda (217 U Street), we were a customer from long ago and I am hoping you still breed a similar line. If this is you, then in 1998 we purchased a beautiful Blue and Tan puppy from you and have had a great experience and are looking to get another.  Do you still breed this line or something similar? Unfortunately Mysti is sick and we don't expect her to make it much longer as she was diagnosed with cancer of the liver (and other internal organs).  I am not sure how long the life expectancy of this type of dog is, but I can tell you it was a great 10 year experience.  Mysti was very easy to train and very patient and great with the kids.  We have never had any hip problems and to this day she is very active and playful.  Her temperament was great for us.  We wanted a dog that is great with kids and one that would deter unwanted "guests" as we have a large property.  She has been a great family member. We would be interested on one of your current female pups if they are available. We had such good luck with Mysti and are impressed with the way you run your operation that we are confident any puppy from you will be a great family pet.  Thanks much, Ken

Unfortunately, Mysti was euthanized shortly after Ken contacted me. But we were able to offer Ken & his family a relative of Mysti. We actually have a great grand daughter of Mysti's parents here in our breeding program. The temperament of our dogs is so incredible, that we make sure to keep our current breeding girls from our original line of German Shepherds. Pony was the mother dog that Ken got his newest pup from. Pony is the G grand daughter of our old blue pair of GSD's that Ken originally got his 1st Salhaus put out of. We were happy to be able to accomodate him in his search for another trustworthy Shepherd.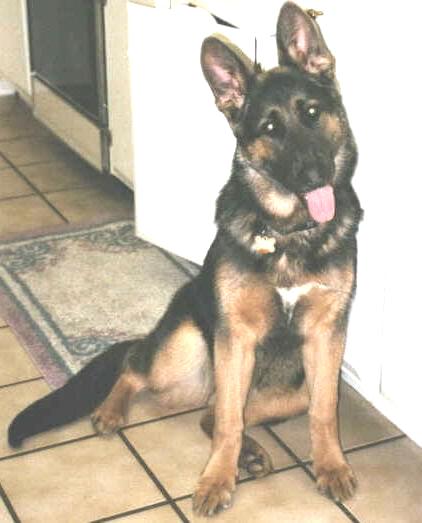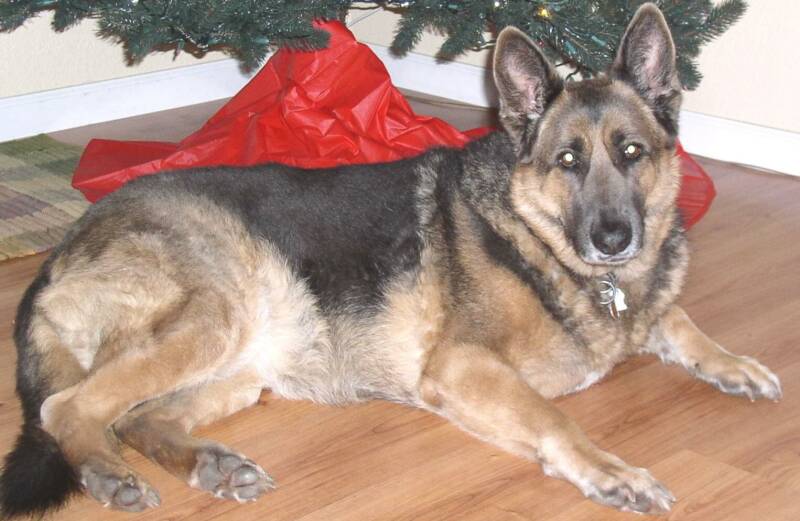 Look how he's GROWN! 1 year update from Jen,

owner of Axel out of Diesel & Penelope:

Shelley, Just wanted to update you on pictures of Axel.  He is 13 months now and is absolutely gorgeous! This is the most loving animal I have ever had.  He is kind and a perfect gentleman.  Never has been aggressive and plays so well with other dogs.  He is about 105 or so.  Havent weighed him in a month or better. He may get a bit bigger but hopefully not too much.  Anyway, just wanted to let you see what Penelope and Deisel produced.  You should be sooooo proud. Always,  Jennifer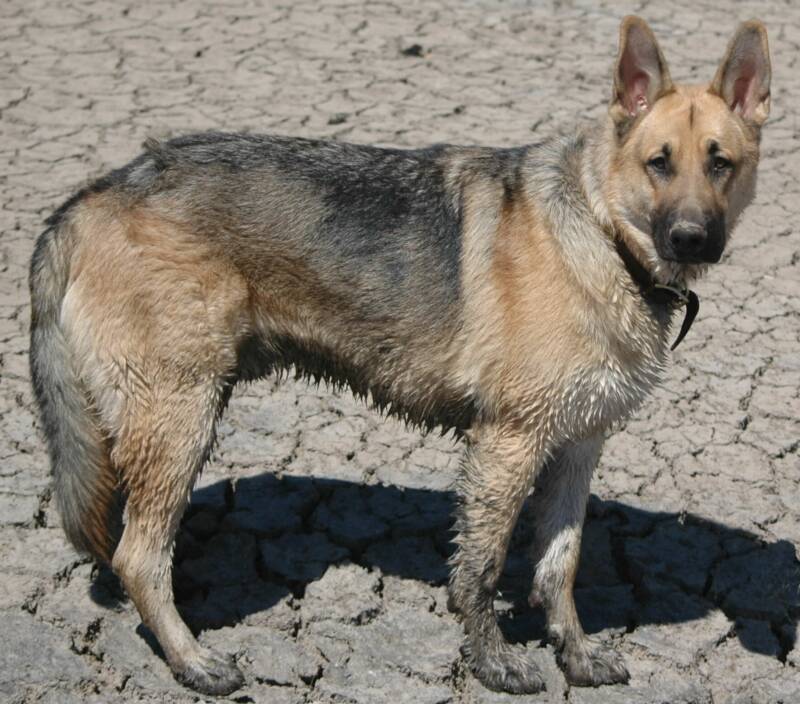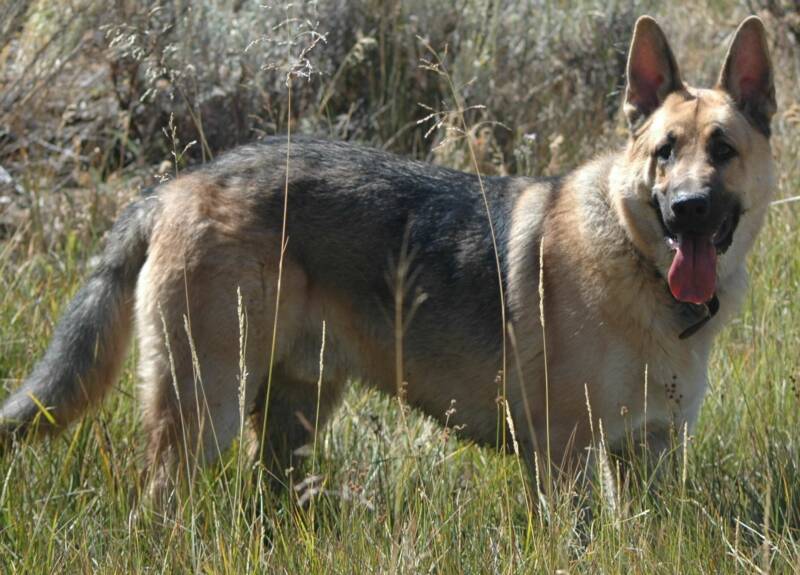 He definitely grew into those feet! Gorgeous!

          What height this boy has. . .

those long legs just kept getting longer!

  Mysti again at 9! She looks so good!

  This is Shadow, Ken's newest Salhaus pup. She is a "shadow" of Mysti, being that she is a GG grand daughter of Mysti's parents.

              And update on Cooley at 6 months of age. . .BIG BOY!:

  Here is cooley around 6 months he weighs around 70 pounds right

  now....he is my ambassador to other dogs. I go to the park where there are 10 to

  20 other dogs. He is one of the most well behaved dogs there. He never shows

  aggression if another dog nips at him...he doesnt even bark! He has the softest

  shiniest coat I have ever seen on a German Shepherd. These pictures do not do

  him justice. I have people tell me constantly that he is the most gorgeous dog

  they have ever seen. Thanks for raising such a great puppy!  ~Matthew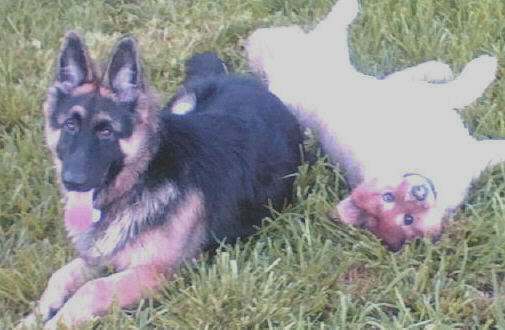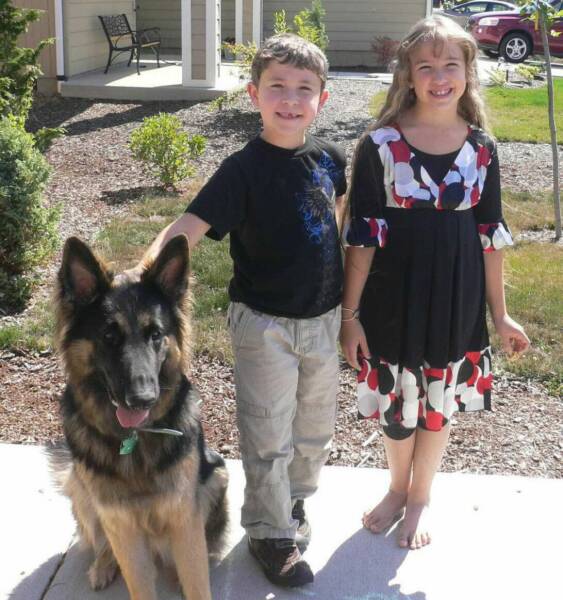 Gentle Mattie at 10 months pushing 90 lbs!

  Comments from  Sande of Northern California who got a 2008 Diesel/Pony pup from us:

Hi Shelley ~ Boy, we couldn't have asked for a better personality.  He was made for our family. Greta (our current Shepherd) thinks its her baby. He is already totally fine with his crate at night and for his daytime naps/quiet times. We thought for sure we'd be up the first night with a little howling.  Of course it probably helped that his crate was dead center in between Doug and I on our bed. We moved him to the end of the bed and now he's on the floor.  Bogart is a ham, loves to look at himself in the mirror, loves to talk to the kids and literally prances as he walks to the kids to play. I'll be in touch. Thank you sooo much for our baby!! He is beyond perfect.

Take care, Sande     PS-He loves himself! See him lick himself in the mirror!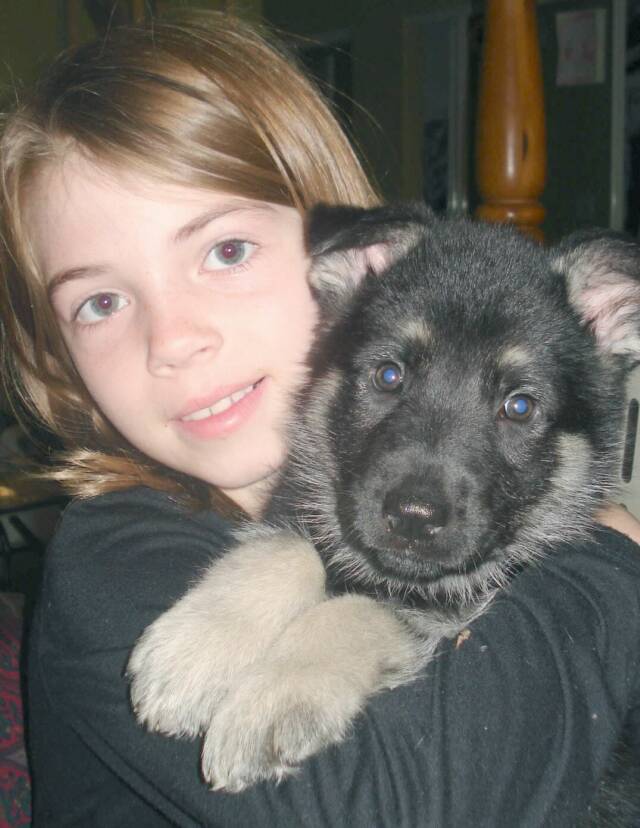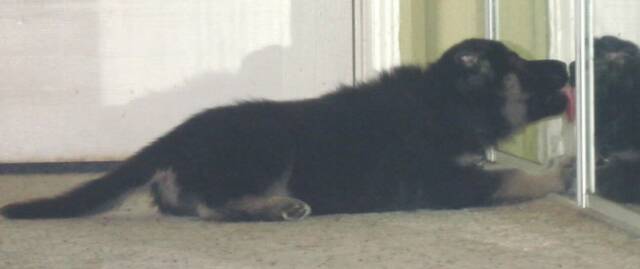 Comments from Mike from Nevada on his 2008 Monty/Fiona pup Gretchen:

Shelley – Pictures of Pink Girl as promised.  I named her Gretchen. She is 25.5 lbs at 12 weeks!  She is a little terror right now – everything she sees goes in her mouth and gets destroyed if I'm not keeping an eye on her.  She is great with people and behaves very nicely even with the neighbor's toddler.  She is quite wary of full-sized dogs though, but she warms up to them after she figures out they aren't going to eat her!  She had her first vet visit and all went well so she is off to a great start.  And notice her ears are fully erect after 12 weeks – although she does look like a jack-rabbit with those big ears standing up!  Regards, Mike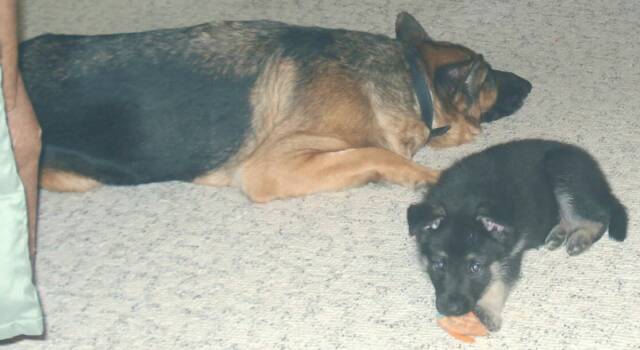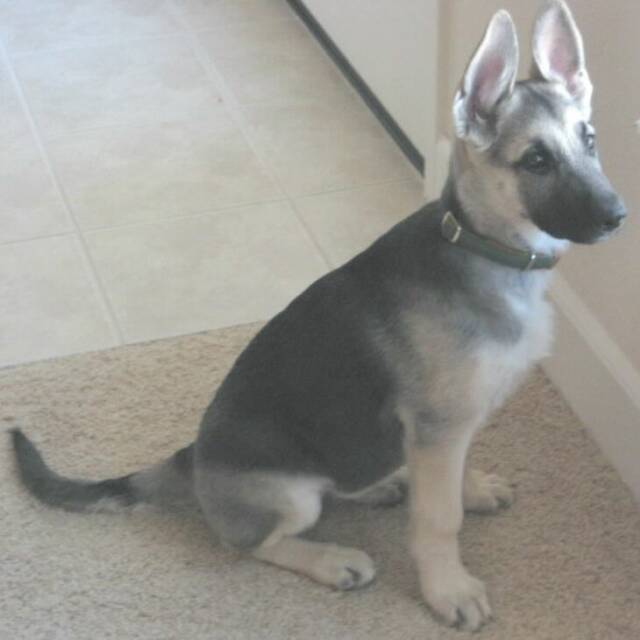 An update on our 2008 Monty/Fiona girl Gretchen: Shelley - Wanted to send you some updated pics of Gretchen (Pink Girl born 12/21/08).  She is a good looking girl!  She is 6 months old now and about 55 lbs.  Her temperament is just great with everyone she meets and it is amazing how smart she is for only 6 months old. Regards, Mike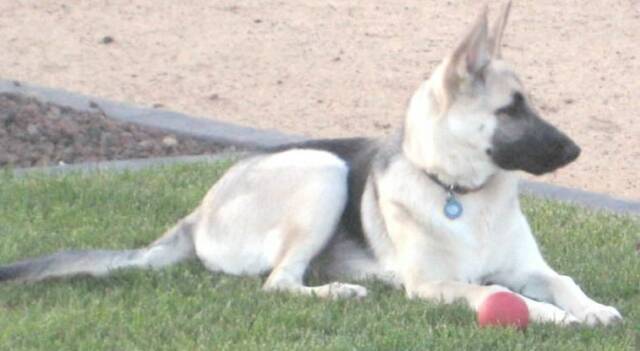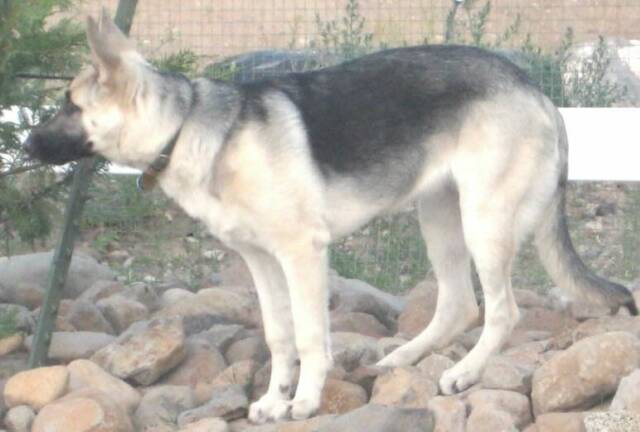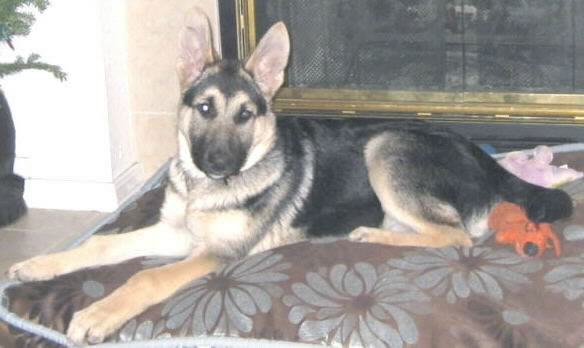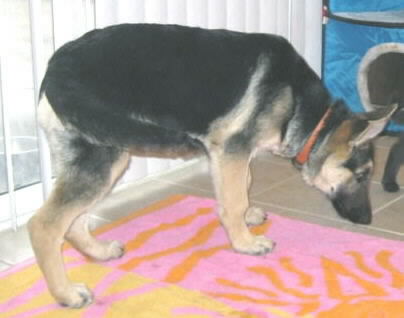 This is Shelby, a daughter of Diesel & Pony. She is full sister to Bogart & Shadow pictured just above. She is shown here at 4 months of age to the left & then at just under a year. Very classic, very gorgeous. She is owned by Sandy of Sprague's GSD's. Sandy says she is confident & outgoing. She has a very playful nature & is a joy to be around. Sandy owns Shelby's grandmother Rose, who happens to be a pup that we had produce over 8 years ago. So Sandy has come back to get another Salhaus Dog to add to her "collection!" LOL!

        Notice her straight back & thick legs & her happy "smile" just like her mom & dad!

  Shelby shown at 4 months.

       Another Straight Backed Pup!

      Such a regal look at such a young age!

Bogart licking himself in the mirror! Silly Pupl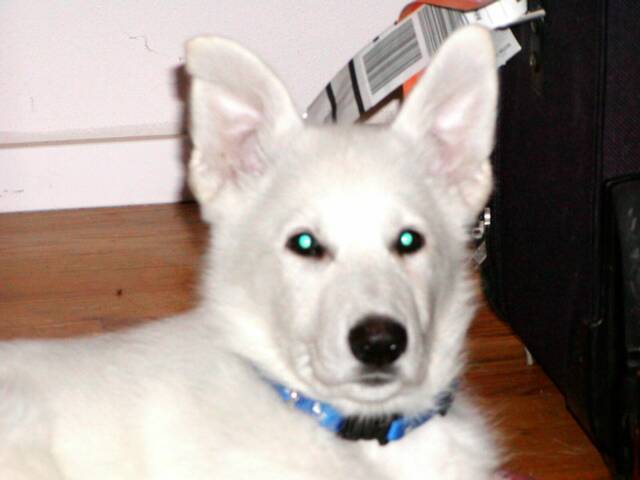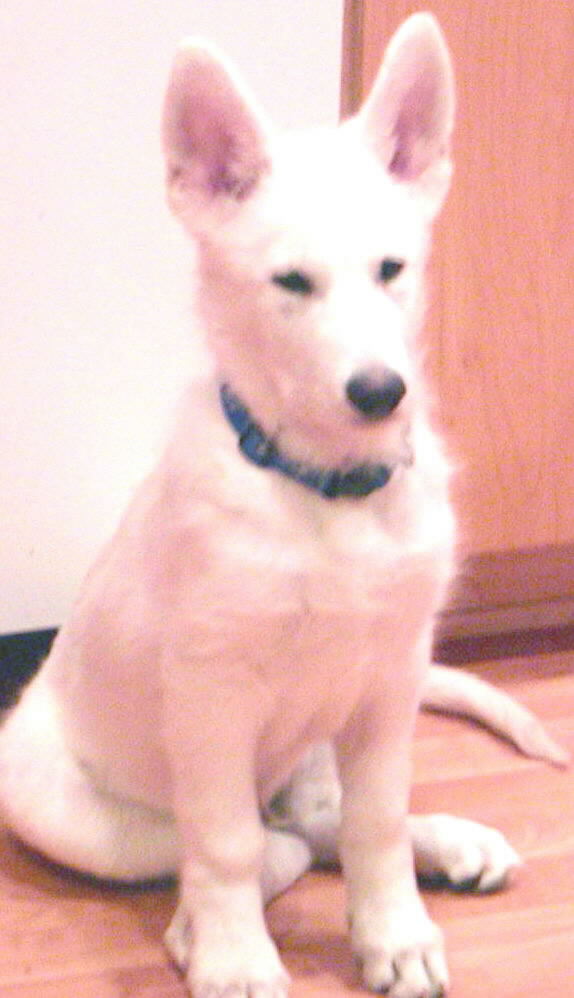 Bolt is a Diesel/Pony pup. Full brother to Bogart above, Shelby below, as well as Shadow#2.

   See what his owners Toni & Rolf of Washington have to say about their Salhaus pup:

         Dear Shelley -  We have changed names for our guy a few times but finally settled on Bolt - long name Lightning Bolt - as he resembles the white dog in the new Disney movie.  Besides he answered to it almost immediately. Bolt turns heads wherever we go - so far to my office and the vet.  I have referred at least five people to your website,they are so taken with him.  He just follows me everywhere I go - my cute little shadow. 

        He is very smart, very sweet and well into his 'bitey' phase.  He is learning very quickly and watches us all the time to try to figure out what is happening next.  He is learning to fetch, sit, stay, off, no and he has started to tell us when he needs to go out by sitting expectantly next to the door.  Bolt is a beautiful dog.  He is developing guard hairs and fancy chest and neck hair.  Just today we think both his ears are firmly up.  He is also doing well with Ruby and Copper and I must say he is respectful and willing to play but he is nobody's pushover.  He holds his own.

       Hope you enjoy the pictures.  He grows daily and overnight it seems and is

beginning to look more like a dog - 23 pounds last friday.  You make some great dogs and we are thrilled to have him. Toni and Rolf

An update from Bolt's owners at 14 weeks of age:  Shelley - Just had to send you these 14 week pictures.  Just love how he is sitting in one of the pics. We, and everyone we know, are so taken with him.  One of our friends called him a charismatic dog!  He is completely charming and smart and is thinking all the time and is also a big talker, to himself, to his toys and to us. I just wanted to mention that he seems to have some cream color coming out, most notably along the top of his back, the tips of his ears and tail.  That outer hair coat is looking really wavy as well.  He is just gorgeous.  Cheers,  Toni and Rolf

Bolt

at 14 wks. Look at those huge feet & growth knots in his knees! He has lots of growing to do!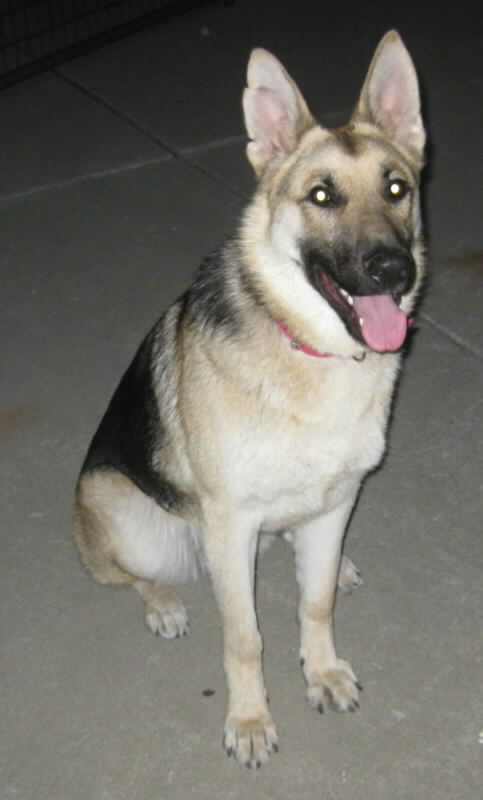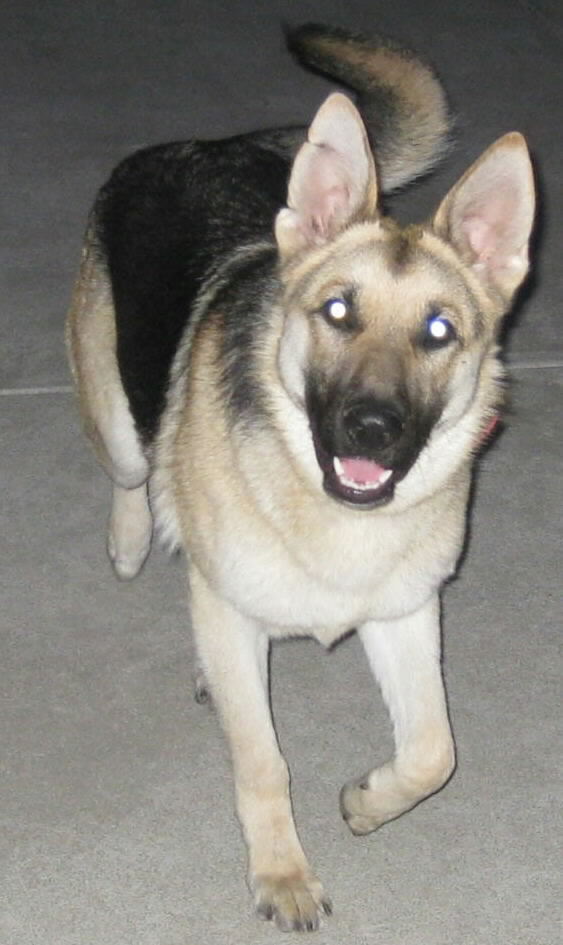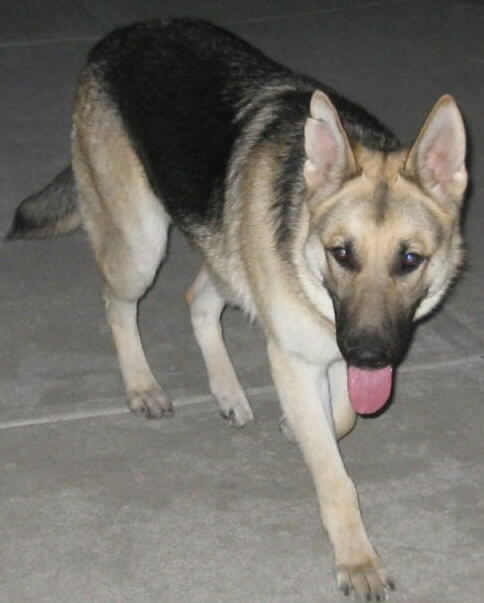 Here are pictures & comments from Henry of New York about his Monty/Fiona pup, "Orange Boy:"  Orange Boy I would describe him as super smart and very attentive to not only us (my wife, son etc) but also the other animals on the farm. He is also careful w the larger dogs so as to fit into the pack versus cause trouble. He is not dominant but more like a team player which is great for a multi+dog home like ours. He loves hikes. Is super athletic and will go through rivers, stones etc ... We recently took him up Mtn Abraham in Vermont. He is very handsome. Very very sweet. He is also large and sleek at the same time. He will surely grow up to be a big german shprd (I don't remember what he weighs from last vet visit for his pup shots but I estimate 70 pounds @ 6mos old). Which is VERY heavy for a pup of his age ~ italicized comments from breeder.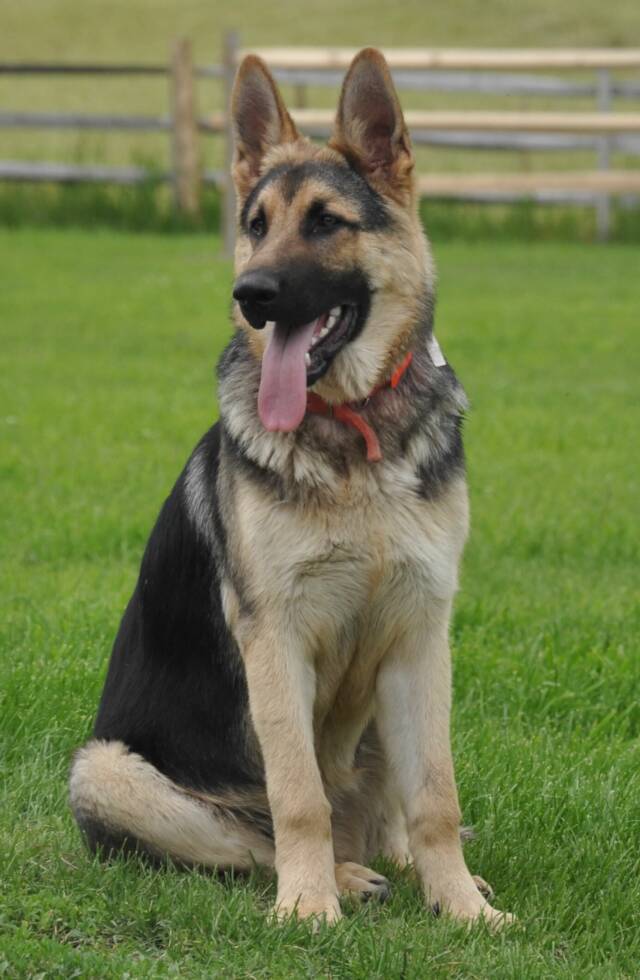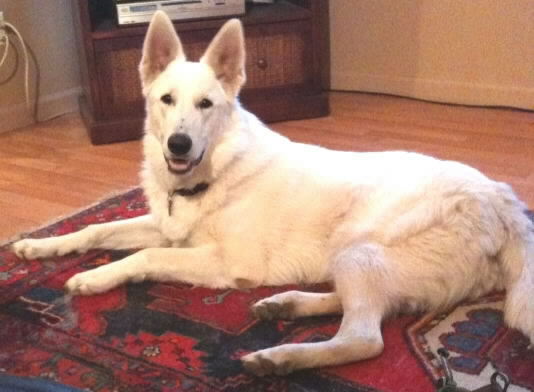 An update on Bolt now 11 months old:

Hi Shelley, These pix of Bolt are very recent. He Is getting to be a big guy, 85 pounds or so. He really wants something to herd I think. Ruby and Copper (our other 2 dogs) are explaining life to him every day. He learns fast, follows off leash, is full of energy , charming, and wants to be close all the time. He is gorgeous and has a big fan club. Hope all is well with you and all at your house.

                                         Cheers!! ~ Toni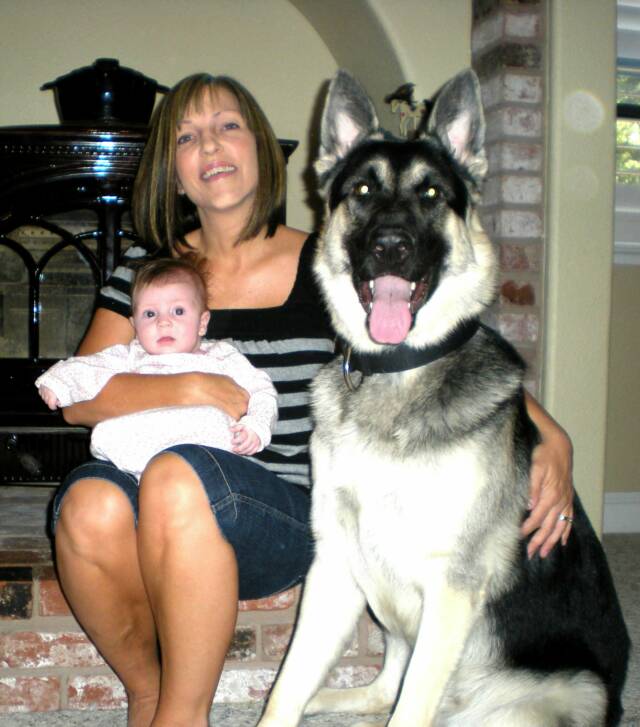 An update from Sande & 1 year old Bogart:

Hey Shelley, thought you might like to add Bogart's pic. He is absolutely stunning!! We can't say enough about him!! He is gorgeous!! He is AWESOME with our 6 children!! Our family is very well protected!! He is a very easy going pup, soon to be 1yr old :)

Thanks soooo much again. Sande

    Here are pictures & comments from Mark of Northern California about his Diesel/Fiona pup, "Riley"

Shelley, I just wanted to say Hi and give you a few pics of Riley. Thank you for breeding such a wonderful dog and companion. I get so many looks and people stopping their cars saying how great looking dog he is. His temperament to me is the most wonderful part of him. All I have to say is keep up the good work. These pictures are from a week ago more or less. He is a year & 2 months.  I can't thank you enough, Mark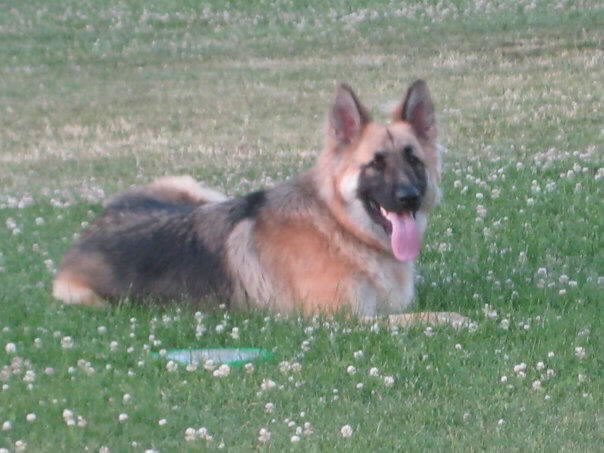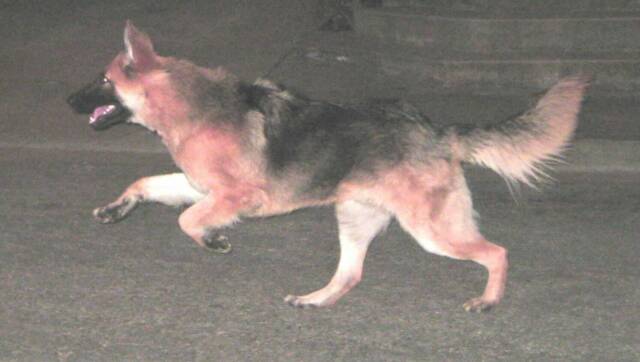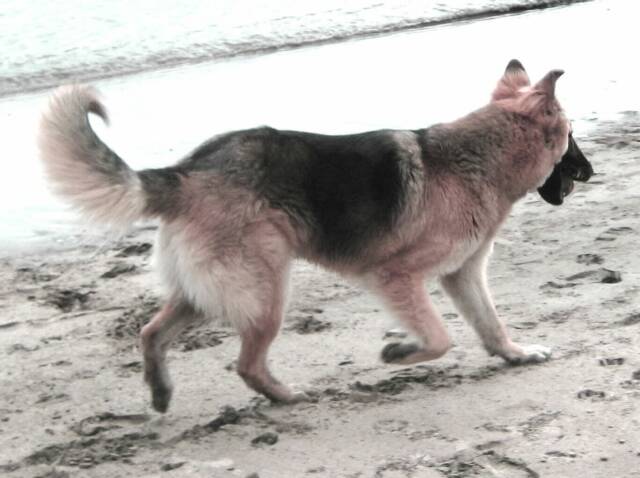 Gorgeous, plush coated Riley.

His coat is similar to his grandmother, Varuka.

  The plush coated Shepherd has a bushier tail,         more "pantaloons," & a mane or rough around

     their neck & behind their ears. Stunning!

               Plush Riley at a full run. . .GORGEOUS!

    Here are pictures & comments from Jane of Oregon about her Monty/Pony pup, "Hurley,"

  Hi Shelley, I thought you would like some updated pictures of Hurley (Green Boy).  Monty/Pony pup from February.

As you can see he has grown a bit!  At six months he was 70 pounds.  He is nearing nine months and we are guessing about 90 pounds and is already 27 inches at the shoulder.  He is a great member of our family -- very protective, but not aggressive.  Very smart and funny, too!  He continues to be extremley social , loves the water, playing ball, and following our kids around.  He has adapted well to the other animals on the farm.  I don't worry about him bugging the horses or the pet bunnies.  He still has his signature Eeyore look that he had as a pup.  We always know when he is guilty of chewing shoes or digging in the yard :)  The eyes give it away immediately! My daughter is Hurley's girl.  He always has an eye on her and is intrigued with her books and doodling.  It has nothing to do with the fact that she always smells like her lop bunny or that she sneaks him treats :)  He is very watchful of the kids.

Thanks for the great dog!  He has been a wonderful fit for our family ~ Jane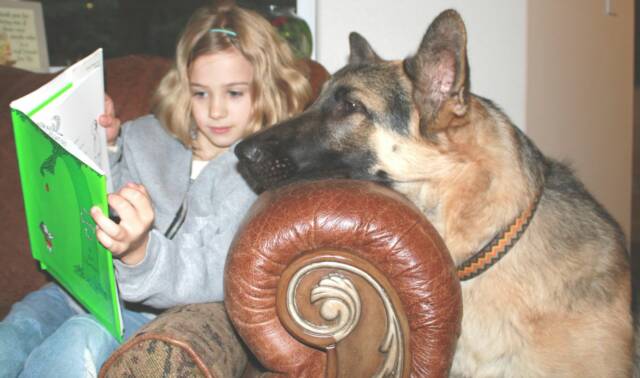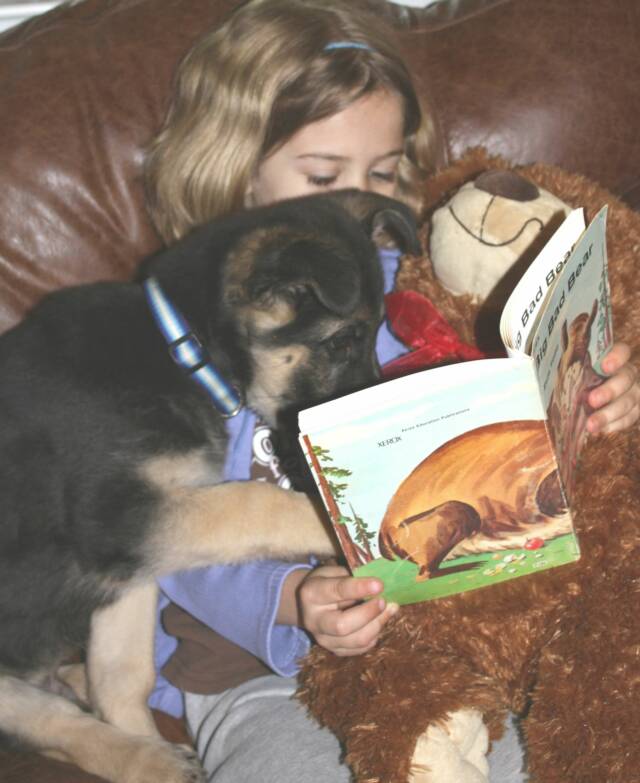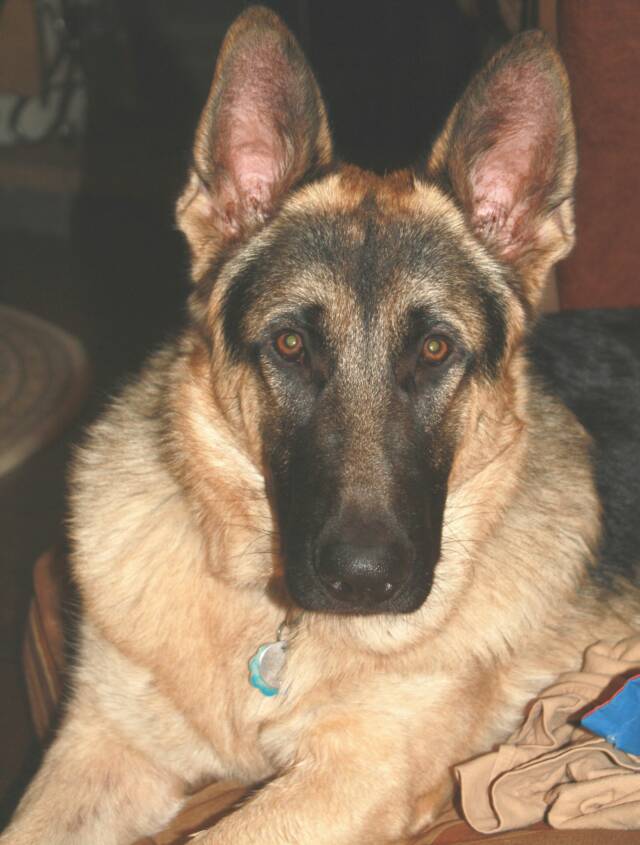 Even as a young adult,

Hurley enjoys being read to by "his girl."

                 From Melanie of Northern California about her wonderful Salhaus pup Tillie:

   When I lost my 14-year-old German Shepherd I researched breeders all over the country so I could be sure about the tempera-ment of my new dog.  Because I have 17 rescued cats, three other dogs, 7 grandchildren who visit, I needed a calm, gentle, protective dog.  I live on top of a mountain, very isolated, so the protectiveness was important too.  I talked with several breeders of old-fashioned shepherds, including Shelley, but I chose Shelley because we shared the same priority in a dog--reliable temperament!  Looks, size, straight back were important, but reliable temperament is her priority and mine.

    I bought Tillie, who is a Fiona/ Monty female pup.  I could write a book about how sweet, smart, gentle, affectionate &, at the same time, protective she is.  Tillie is now eight months old, but she became aware that she needed to protect me even as young as four months.  She is not aggressively protective--she is watchful and barks when she thinks it's justified, but listens to me when I tell her "it's okay."  She is very socialized, but still aloof with people other than family and friends, which is the PERFECT, shepherd personality.  She did make friends with children at the river where we take the dogs to swim, and she will be friendly with adults, but somehow maintains that aloofness.  She really only has eyes for me and her family.  In fact, she is so devoted, without much teaching, she has instant recall.  When I call her, she doesn't look to see where I am and then come, she im-mediately starts turning to where she heard my voice, then looks and finds me.  It's amazing--I never had a dog do that so well.

    I can take her anywhere.  When she was about four months I had to go to my insurance office, & they said it would be ok to bring her in.  I was a little worried that she'd be all over the place.  She did a little sniffing & let people greet her and fuss over her, but when I sat down, she curled up next to my chair & never moved until I got up about an hour later. 

Boy did I get compliments!!!  She's like that all the time, and I didn't train her to be that way, it's her breeding.  She plays with my grandchildren, who are still very young, & I trust her completely.  Tillie is just a sweet, gentle soul.  Her size too is imposing.  She is already about 27/28 inches at the shoulder & 79 lbs.  Being only 8 months, she's still lanky.  She's also stunningly beautiful.

    I was very worried about getting a hyper shepherd.  Because I have rescued cats, I couldn't have a dog chasing & stressing my cats. Tillie is an angel with the cats. She licks their heads & they in turn, rub up against her legs.  She also loves her big sister, Hannah, and big brothers, Kirby and Trooper. . . my other dogs. Hannah, who doesn't particularly care for female dogs, just loves Tillie. Tillie charmed her way into Hannah's heart & they even play together, which is really something.  Tillie believe me, is the best of the best, but with a mother like Fiona & a father like Monty she couldn't miss, & neither can any of you with any of Shelley's dogs. 

    I have recommended Shelley to everybody I know, including my own sons.  My careful research has paid off because I couldn't be happier with Tillie. Wherever I go, I get compliments about her beauty & manners.  She hasn't had any formal training, & I'm not the best at training, but she she wants so much to please me, she figures everything out herself.  It's really something. 

    Shelley believes in the old-fashioned shepherds like I do.  It's unfortunate that the German Shepherd has been turned into a hyper, smaller, & almost predatory dog--not the dog I remember many years ago.  But, thanks to Shelley, the real thing is still available.  ~ Melanie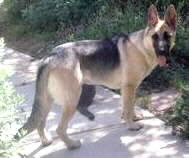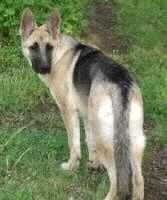 Tillie shown at just 5 months. She's going to be a BIG girl! She's athletic

& yet gentle. Gorgeous

Classic

Girl!!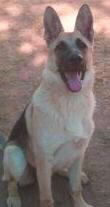 Straight back. Gorgeous head & stance!

Classic, classic, classic!

Perfect muzzle & saddle back markings!

    Here are pictures & comments from Mike & Judi of Mississippi about their Monty/Pony pup, "Ajax"

Thought you might like to see some pictures of Ajax (aka Thunderpaws).  He is not yet 5 months old and he weighs 59  pounds. He is interested in everything and I think he is wickedly smart.   He is generally is well behaved, except when he is tormenting Adriel the Maltese; he just can't resist that fluffy white hair. I love the picture of Ajax eating the watermelon.  We bought him  a wading pool today--he jumped right in and put his whole face underwater trying to catch the pictures on the bottom of the pool. Mike & Judi

An recent update on Ajax, now 8 months old & full brother to Hurley below:

Hi Shelley. It's Mike with an update on Ajax, aka "The Warrior Prince" (trust me it fits)  I watched him annihilate a pig's ear yesterday in under 10 minutes. Where is Guinesss when you need them.........He is quite something!   Loves my wife to distraction--God help anybody who tries to hurt her, I think they would find them in pieces.  He has a very sweet heart--he still wags his entire body for us--but is completely shepherd--like in aloofness to strangers and protectiveness to his family. REALLY hated the cable guy yesterday.  Was sweet and gentle to the newborn who came to visit today--sniffed and licked him--but barked at the baby carrier. He now assumes that anytime I get into a vehicle that he gets to come along.  Really likes to ride and go to the beach.  I'd forgotten how much sand a dog can bring into a truck and how many "nose prints" they put on the passenger side window.

  He was 8 months old this week.  91.4 pounds of boundlessly energetic, rambunctious, inquisitive, German Shepherd Dog. Our neighbor's grown son, who is visiting, saw him this morning and said "THAT is a gorgeous German Shepherd".  I said thank you and added that he'd just turned 8 months old.  His jaw dropped, he stared and said "You've got to be kidding!" Pictures speak for itself.  Hope you are all well ~ Mike,  Judi,  Adriel the Maltese,  and Ajax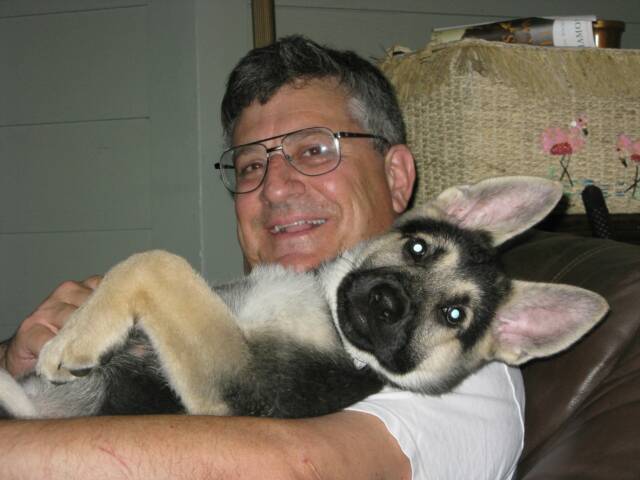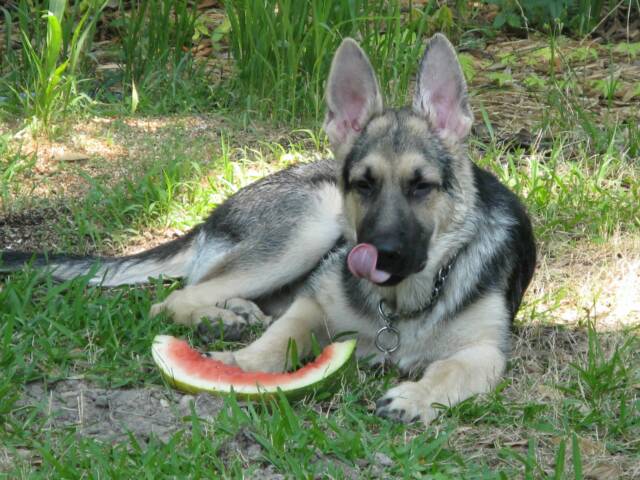 Ajax & his owner Mike.

4 months old & almost 60 lbs, Mike won't be able to hold him like that much longer!

Ajax eating one of his favorite treats, water-melon on a hot Missi-ssippi

day.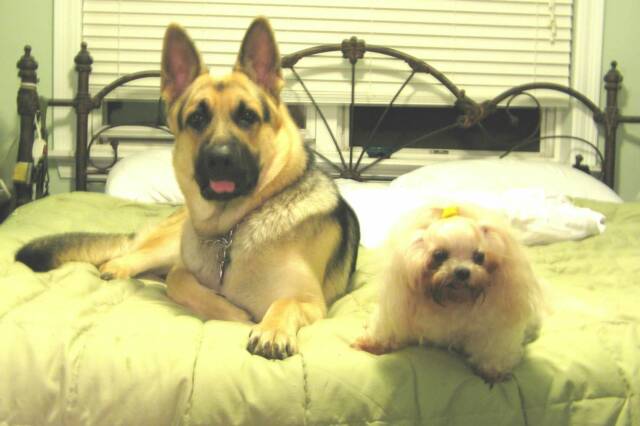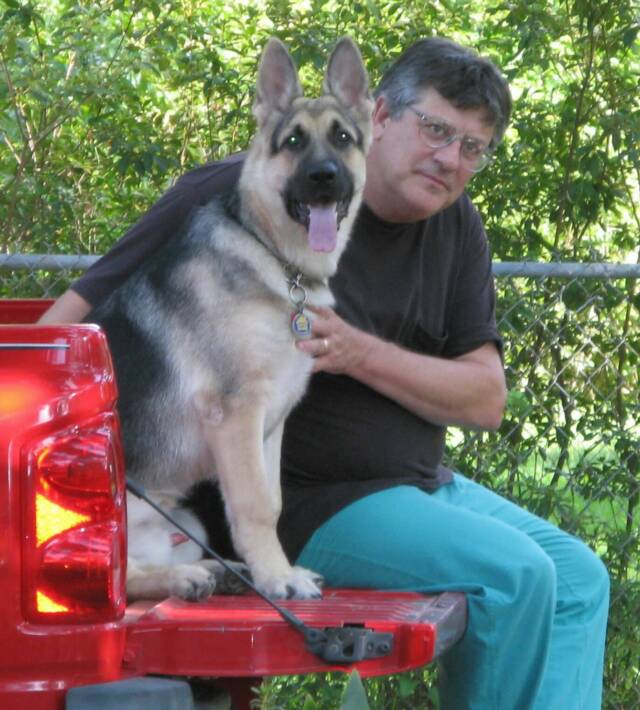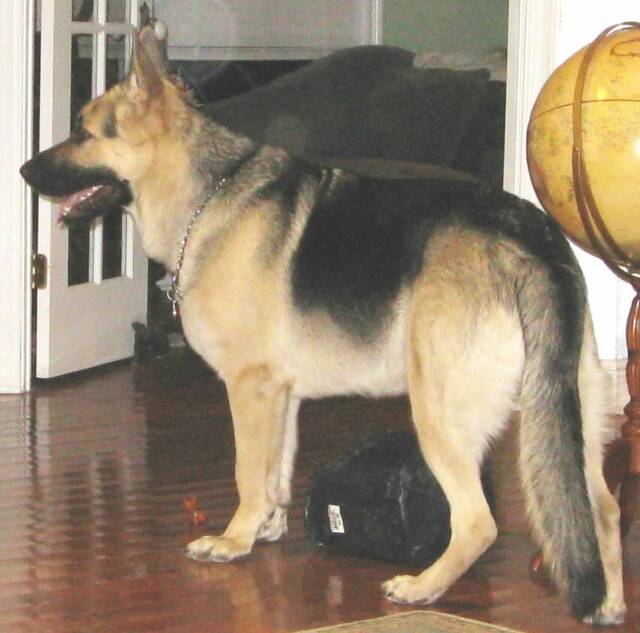 Ajax & Mike. Ajax loves to go!

8 mo's & 92 lbs ~ Ajax showing his

more gentle side with his tiny Maltese partner, Adriel

Straight back,

thick build GORGEOUS Salhaus dog!

    Here are pictures & comments from Davida of Nevada about her Monty/Fiona pup, "Duke"

  Shelley, We just wanted to offer a Seasons Greeting from all of us to all of you. We absolutely love having Duke in our family. He is so loving and wonderful. He enjoys playing with our two kids as he follows them all around the house and allows the baby to crawl over him as if he were a jungle gym. He is so smart and happy. Duke loves to sleep on our bed as he cuddles with the cats. We've attached two pictures including Duke who is a year and a half now.

-Merry Christmas, Beau and Davida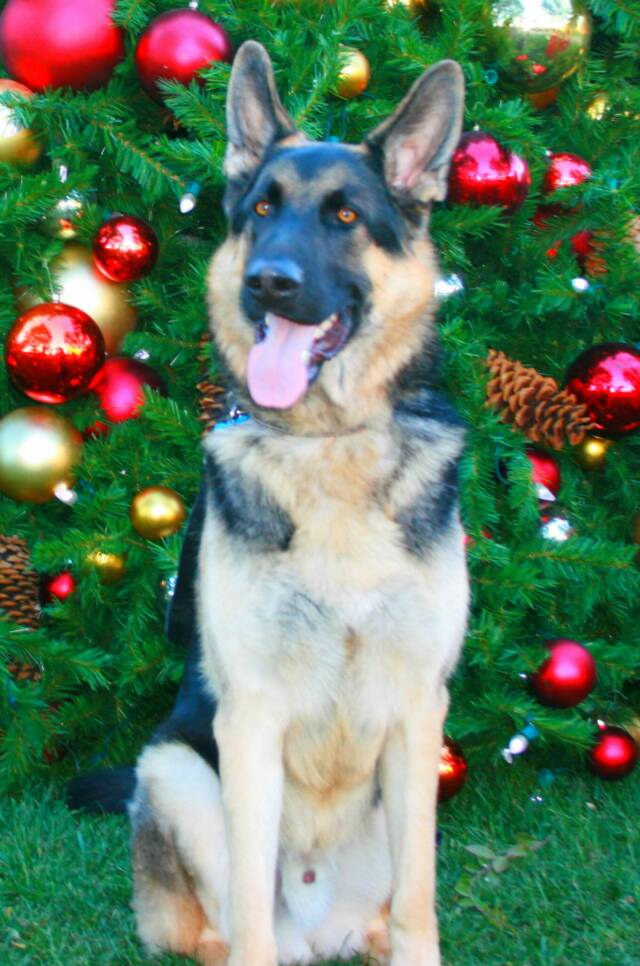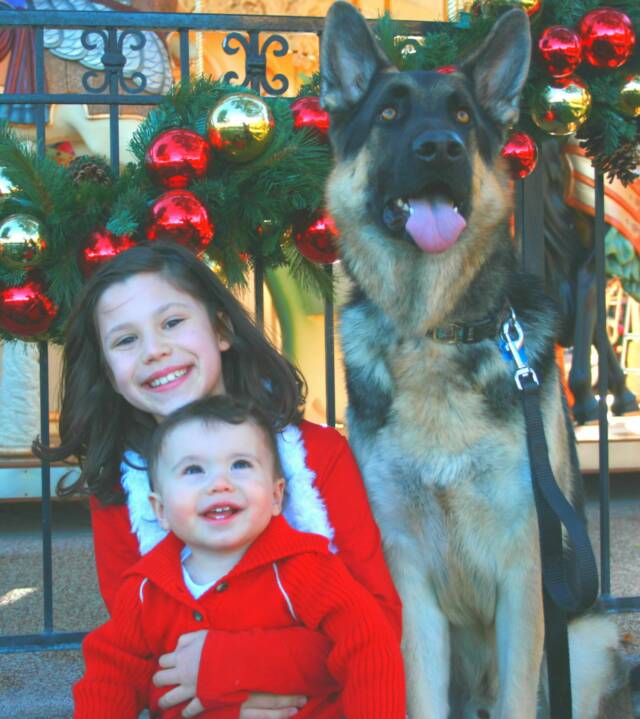 From Marci of California about her Dragon pup Ally, of 8 years ago, coming back for a 2nd Salhaus dog. . .a Diesel/Penelope (cousin to Dragon) pup to add to their family:

Shelley,  Hi...This is Marci.  I am sorry I have not taken the time to email you photos of Ally.  I sent you a picture I took the other day of Ally with my son Collin.  Collin was just over a year old when we got Ally. Ally is now 8! He loves that dog so much!!! I think Ally looks like her Dad....Dragon. Ally has been the best dog any family with kids could ask for.  She is so loyal, calm, gentle with everyone. The kids had been begging their dad for a dog and it was such a great experience with Ally I am so glad we found you again.  The kids and I are so excited!!!! You have a great family that the puppy is going to.  I hope you know that. I will take the time to send some more pictures to you of Ally and our new Salhaus pup Dallas, I am sure.  I hope everything is going good for you and thanks for being such a wonderful breeder.

-Marci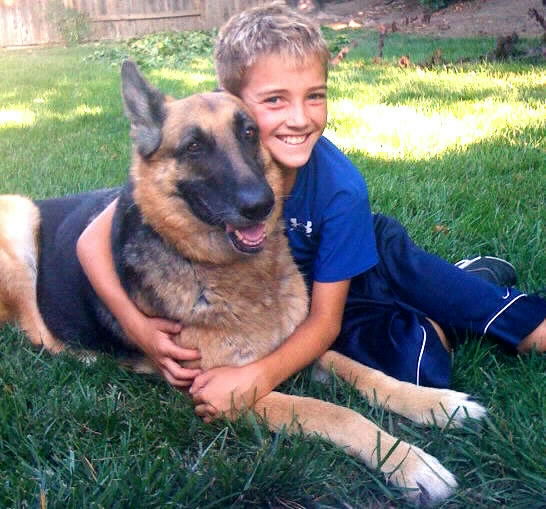 Collin with his 8 year old Salhaus dog, Ally.

Collin with his newest Salhaus pup, Dallas.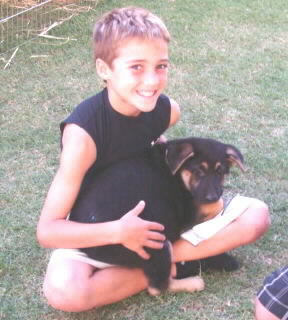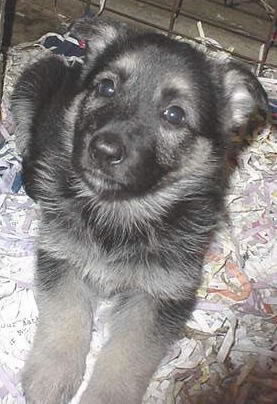 From Rochelle of Pennsylvania about her plush coated Diesel/Pony pup, Chief:

Hi Shelley - Here's an updated look at Chief at 12 weeks.  I just took the pictures today.  I should have taken one of him laying on his back with his belly up since that's one of his other favorite positions! 

He arrived here one month ago today and he's been an absolute doll!  We are having lots of fun with him.

The funniest thing so far is that he absolutely HATES to leave the kids when I walk them to school (it's just up the block so not far at all).  I've never seen a puppy cry and carry on like that when they have to go in and we have to go home.  The only thing that makes him happy is to see some more kids coming that want to pet him.  He refuses to walk home.  I have to tug him so hard to get him to come it's unreal. 

He's definitely one popular pooch though.  It seems like at least half the school knows him my name - kids I don't even know are yelling "Chief!" when they see him in the school yard and come over to pet and hug him.  He's certainly got lots of friends! I'll stay in touch. ~ Rochelle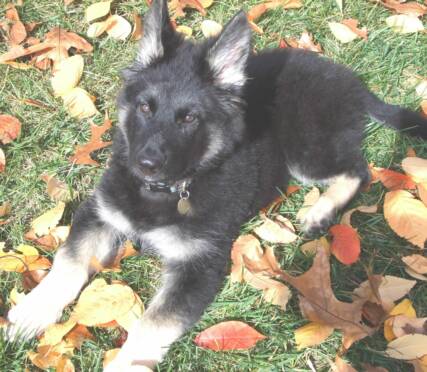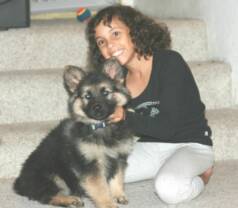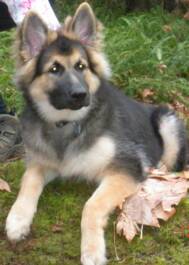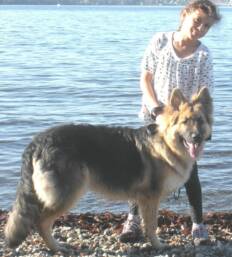 Here are pictures of Thunder, a full brother to Chief, just above. He is a full (or longcoated) Diesel/Pony son owned by Felix & his daughter Lula of Washington. Thunder was a surprise for his daughter. The reaction on her face was PRICELESS when she found out that this fabulous pup was for her. like she has just won the jackpot on a gameshow! Thunder & Lula have been best friends ever since. Felix seems to be a man of few words, but pictures "say 1000 words" & he has been wonderful about sending updated pictures of the 2 of them as Thunder grows.

Thunder in his new home at 9 weeks.

Thunder at 4 months & 56 lbs.

Felix says he eats like a horse!

Thunder at 8 months & 95 lbs! Huge!

This is Sitka owned by Louise of Washington State. Her kids & little Lula above are soccer team mates. When Felix surprised his daughter with Thunder, Louise HAD to have one of these wonderful pups too. She was able to get the last available female in the same litter that Thunder came from out of Diesel & Pony. Her girl is named "Sitka." Sitka & Thunder have regular playdates. Both Louise & Felix couldn't be happier with their littermate pups. Louise is a woman of few words as well, but is so good about sending updated photos. Photos speak 1000 words! From Louise:

  Hi Shelley....hard to believe how fast Sitka and Thunder are                     growing...every time we get together for a pup play-date, Felix and I          can't say enough of how grateful we are for our little pups:) Delight,           delight...Have a wonderful holiday season, Louise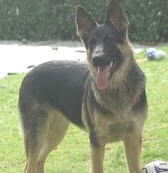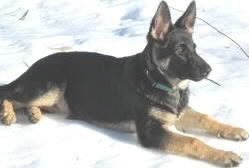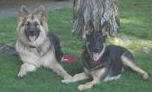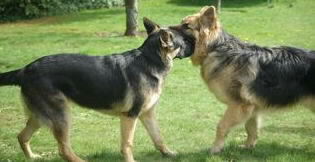 Sitka at 4 months. First snow experience!

Thunder & Sitka ~ Brother & sister.

       Sitka & Thunder ~ inseperable playmates!

  Thunder is 95 lbs, but look at the build on Sitka!                She's "right there" with him as far as size!

Sitka @ 8 months. Stunning, Classic!

              Pictures & comments from Joy of Southern California regarding her                      Diesel/Pony pup "EJ." He is full brother to Chief, Sitka & Thunder, above:

Hey Shelley, Just wanted to pass along some new pics of EJ.  I promise not to inundate you too much.  He just had his follow up shots today and did great.  The staff at the vet's office is in love with him! 

We're still working on housebreaking but he's finally getting less whiney in the crate.  Just like having a newborn in the house, ugh…  He's just so smart and lovable.  The kids just adore him and are so good at taking care of him.  They take him out of the crate in the morning and lead him outside, and Scott gets to sleep a little while longer.

He's 21.5 lbs so that's 4 lbs gained in the last 2 weeks, since we picked him up.  I need to start measuring his height too.  He's pretty lean… getting him interested in eating means putting more wet food in the bowl to entice him… otherwise, he just doesn't care to eat – but you had warned us about that.  He is definitely all about his "people time"… that's what makes him happy.  Oh that, and we had bought a bunch of toys, only to find he really just loves one of Nick's old socks!  I know we're not supposed to let him play with it because he won't know the difference between good and old socks, but he really does pass up other socks… it's just this old one that he loves. Take care! ~ Joy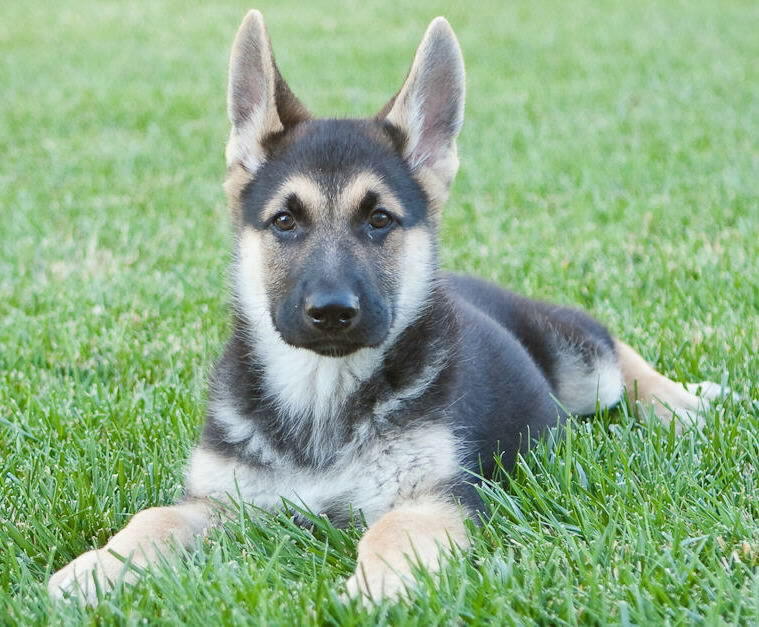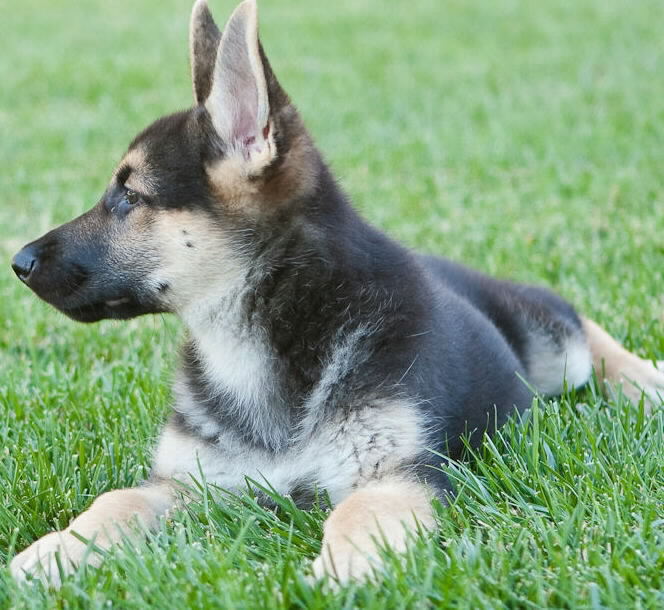 Gorgeous 12 week old EJ, brother

  to Thunder, Sitka & Chief, above.

12 weeks. So classic. Just a "minia-ture" of what he'll look like as an adult.

            Shelley, Here is a little narrative about the Salhaus dogs in our lives:

We acquired Shadow, our first Salhaus dog, second hand at four years of age. She was a direct daughter of Dragon, and beautiful. At the time we had three children, an 8 month old, a 3 year old and a 5 year old. Shadow was perfect around our children from when we first brought her home. She never growled or snapped at her new owners, even when the youngest used her to learn to stand up and walk. She was calm but protective wherever we went.

We were able to have her in our home for 5 years until we tragically lost her at the age of 9. What luck when we found out you were having a new litter very close to when we needed to fill the gap in our family. Even though the loss of Shadow affected our now four children greatly, they were very excited when we told them about Bella. She is growing very quickly and stepping out from the shadow of Shadow. She is fitting in very well. Very playful and learning her place. It is uncanny how similar our two Salhaus dogs are. She wants to go everywhere with us when we leave the home, and has been very friendly with the few dogs we have introduced her to. Much more well behaved than the other dogs even at such young age.

We really appreciate the quality of dogs you breed, and look forward to another so we can have two at a time. Thank you for everything, Jim

           "Bella"

(in Shadow's Shadow)       a full sister to Chief, Sitka & Thunder above.

  Shelley,  Bella is now 4 months old & she is still perfect, and pretty and getting along just fine. She is acting out her toddler years. It's fun with our Christmas Tree out, keeping ornaments out of her reach and her "tail wags."

We recently returned from a road trip to Utah where she did great and did very well with the other dog we stayed with, and cats, though they were not too fond of her, she was just curious, never aggressive. She even played with the neighbor dog by passing toys under the fence and sharing. It was hysterical.

Here are some updated pics of her playing, looking regal, and getting big.

Thanks so much for breeding such great dogs. ~ Jim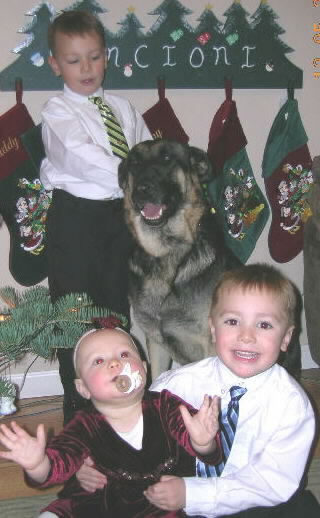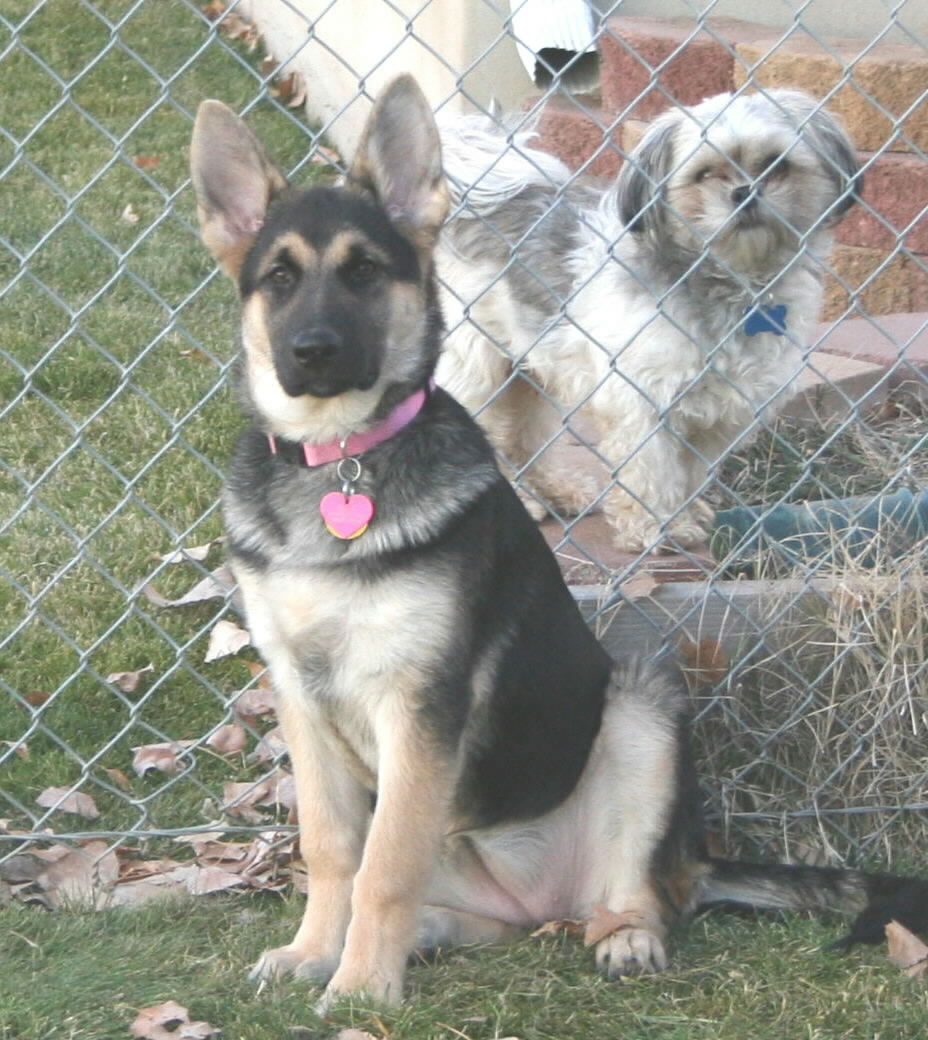 Shadow, this family's 1st Salhaus dog.

Bella at 4 mo's, thick built, regal

Hi Shelley!

Just wanted to send some updated pics of EJ. He's just over 6 months now. I figure he's in the low 60lb range but I'm not able to hold him on the scale anymore – need to run him over to the vet's office for a quick weigh-in.  Measures about 24" at the shoulder (except I can't get him to sit still long enough for a proper measurement).  He's just an absolute clown & we love him to bits.  He loves  squeaky toys & demolishing water bottles. We've even gotten him to walk on the treadmill!  

Planning on getting him a playmate from the local shelter soon. So far he's had a great disposition with the other dogs at the dog park and hardly pays any attention to them when we go on our walks, so I think he'll get along just fine with another dog in the house. Take Care, Joy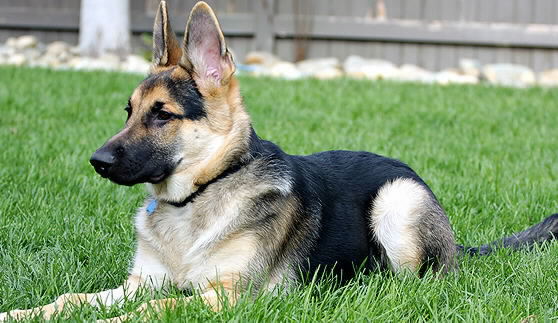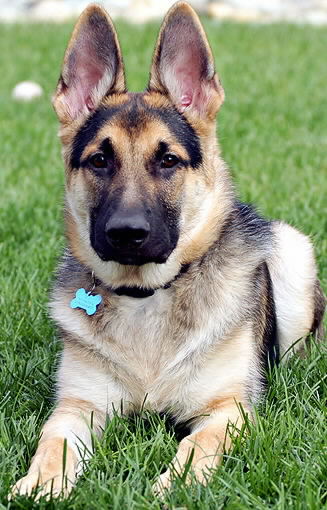 EJ shown at 6 months. So classic!

Notice how his tan is receeding compared to his 12 week old pictures.

Shepherds continue to lighten as they mature.

This pup is also a full sister to the 4 pups above out of Diesel & Pony. We had her until she was 11 weeks old. She joined her new family in New Mexico at just shy of 12 weeks. Her new owner Valerie could not believe how wonderfully she adapted to her new life on a ranch, in the snow with her horses (both of which she had never seen/experience before) & her 2 Border Collies. Her temperament was just so even & fabulous. See Valerie's comments below:

Shelley, Here are a few photos taken this morning. Blanca is doing so wonderfully well.

Are you sure you didn't already housebreak her? She's a dream...

I'm thinking how a black German shepherd would be so great with her! Hmmmm....

Thanks and I'll keep you posted on her progress.

Valerie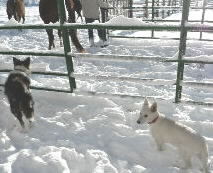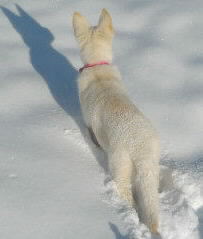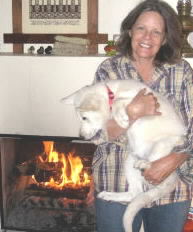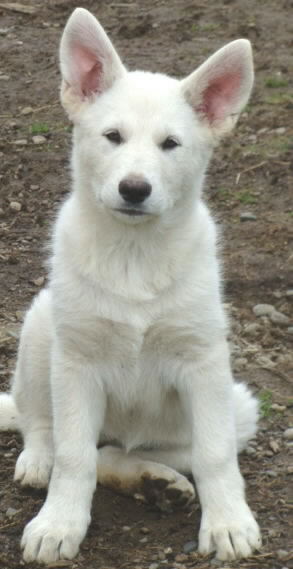 Blanca just

prior

to leaving for her new home. Shown at

11 weeks.

Look at those big feet!

         Blanca helping Hanna with the horses.

  Her look says, "What are those things??" LOL!

  Her owner says she's doing

an impression of a white artic fox!

Blanca & Valerie

warming up in front of a cozy fire!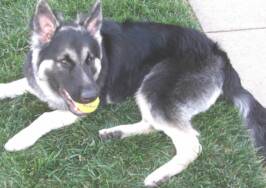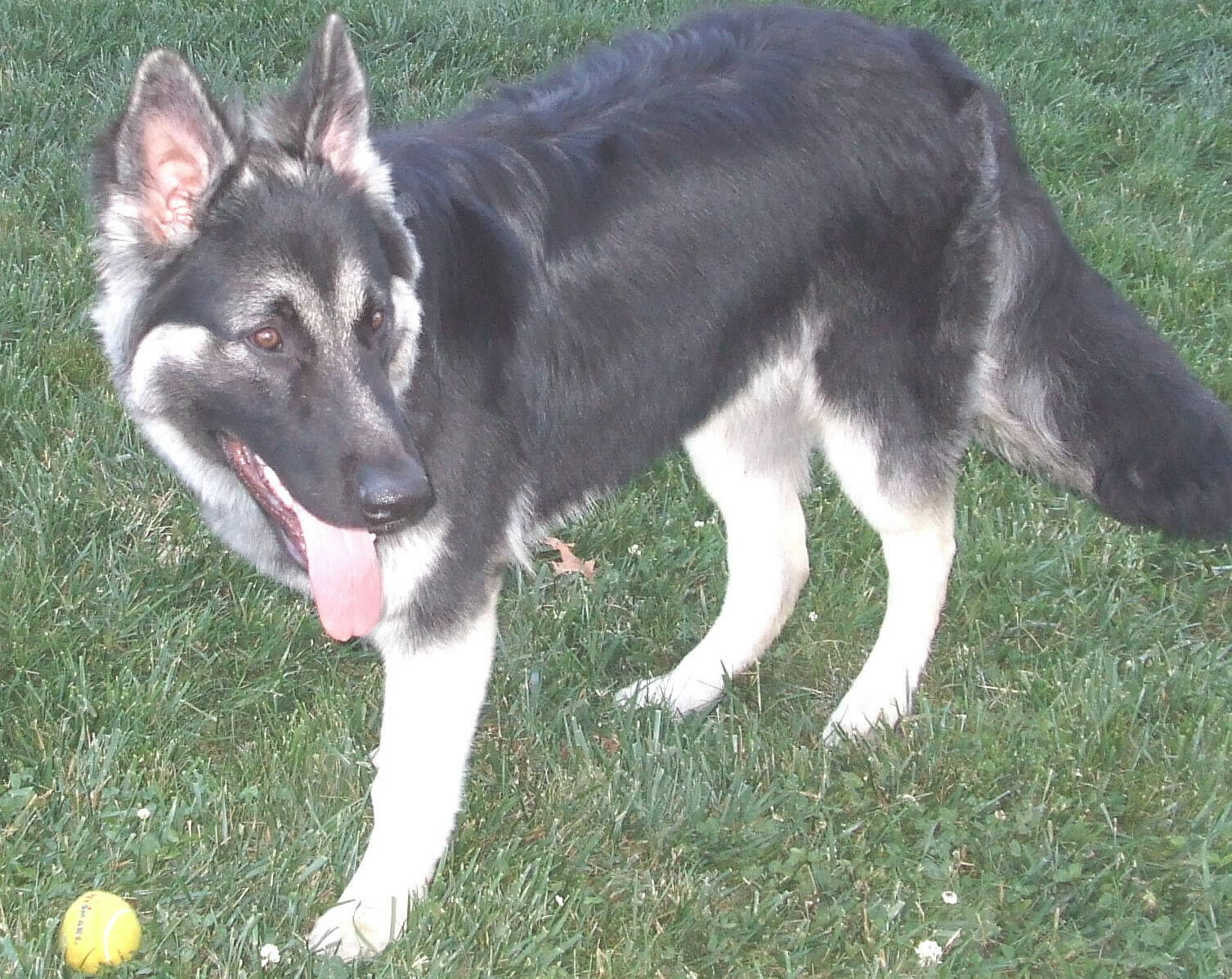 An update on now 10 month old Chief:

Hi Shelley -  To sum it up - Chief is a very cool dog.  He attracts attention wherever we go.  First because of his stunning looks.  He's absolutely gorgeous as you can see.  People we meet also can't believe that he's only 9 months old (he'll be 10 months tomorrow!) because of his size (he must be over 100 lbs now) and also are impressed with his calm and wonderful disposition.  Don't get me wrong - he has plenty of pep in his step.  He wants nothing more out of life than to chase a ball, but when play time is over he relaxes.  He falls asleep every night about around 9 p.m. - we can barely wake him after that.

Our family is very lucky to have a dog like Chief - we're having so much fun with him!  I'll definitely send you some updated pictures in a few months - it's hard to believe he's not done growing yet! Thanks for everything, Rochelle

Chief

at

just

10

months

of

age!

100 lbs!

Gorgeous

plush

blk/silver.

Comments from McKinley of Oregon,

another "Whisper" owner of her Monty/Pony daughter:

Shelley, Here are some pictures of Whisper. She is a perfect family dog! The two-year-old loves her so much and they are good friends. Whisper adores children, in her family and out, she is sooo gentle and they usually love her! You can definitely see from her thick build that she has her dad in her. She just is so gorgeous, especially when she moves!  She is doing fantastic in 4-H, a quick learner who works above her level.  She recently received her Canine Good Citizen award. We are so proud of her! ;) For being so young she is so calm and mellow. Nothing fazes her and her hobbies are sleeping, playing in the sprinklers, or following me. She is fantastic! Thank you. McKinley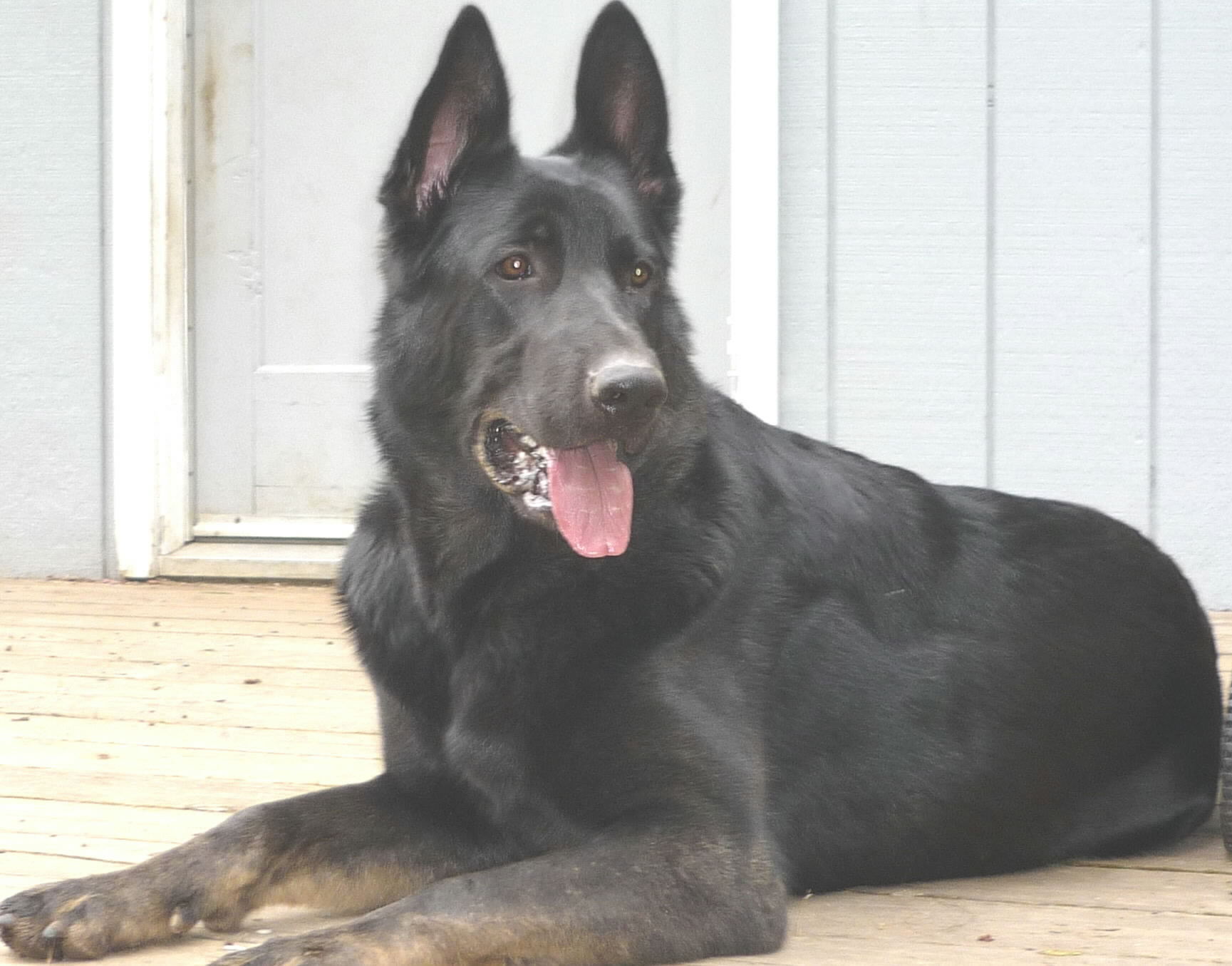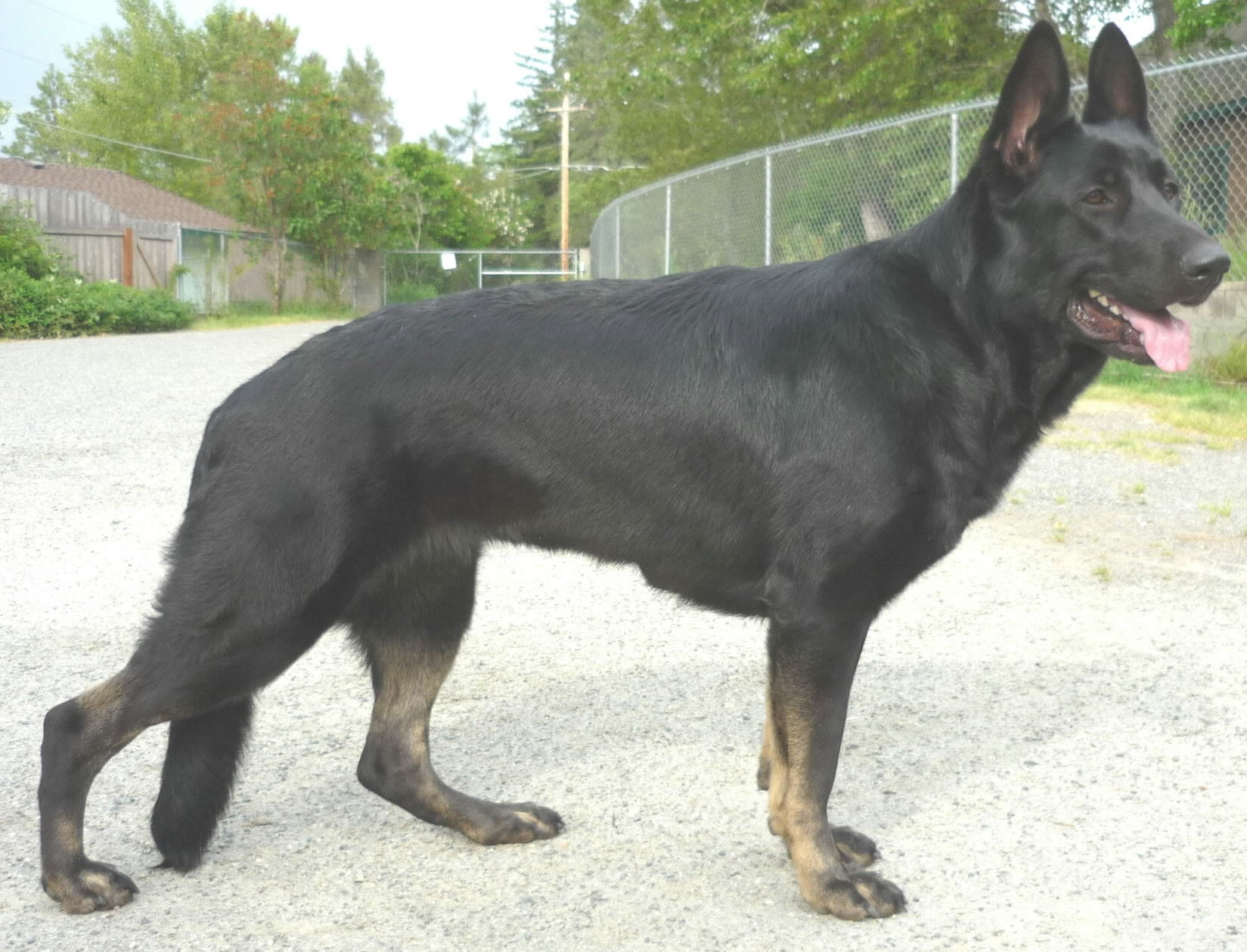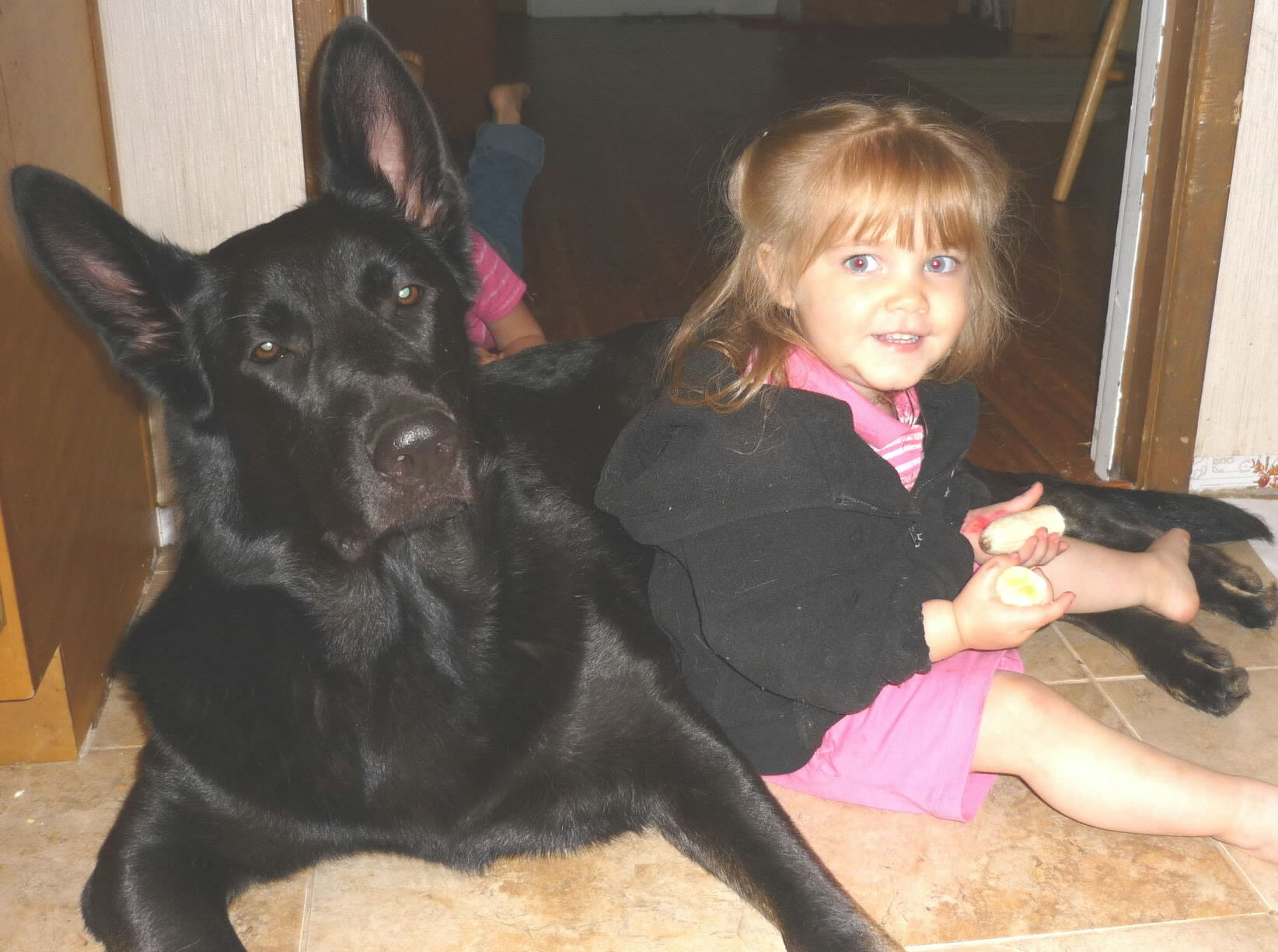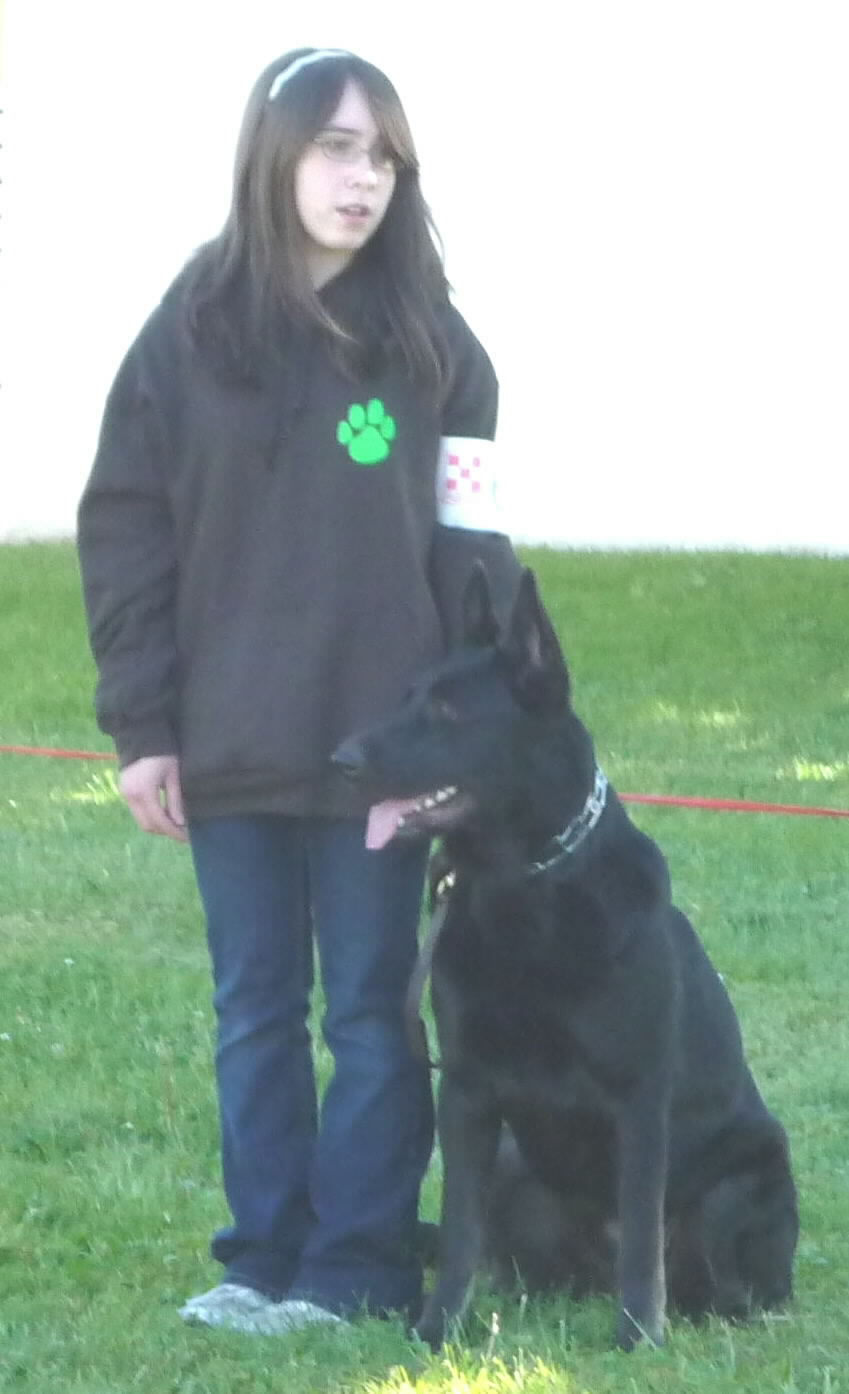 Whisper with her young owner McKinley getting her Canine Good Citizen title!

Even in the traditional Shepherd "stance"

Whisper is very straight backed!

Whisper with "her" 2-1/2 year old baby.

So gentle! Typical of Salhaus dogs.

Gorgeous head & muzzle. Not refined or feminine. Typical of the dogs we produce.

Comments from Joseph of Northern California,

about Beau, his Pony/Diesel pup at just 10 weeks of age:

Beau has been spending most of the time in the kitchen and family room since that's where everybody else is, and the living room had been gated off.  Except the gate is a piece of crud and is easily pushed over.  We've taken the gate down and we're watching him carefully if he wanders into the living room because he has peed in there, but never in the family room or kitchen. He spends time in the backyard when one of us is out there, and seems to like it a lot.  He steals shoes and slippers whenever he has a chance.  At night he's still upstairs with us in the crate and sleeps solidly from about 10:00-something until 7:00 or so in the morning, plus several naps throughout the day on the marble floor outside the downstairs bathroom.  Or even in the downstairs bathroom.  He likes the marble because it's cool, we suspect. 

He's very smart and quickly learned how to sit, stay, lie down, don't touch, take it, and we're currently working on "come" with the clicker.  We run through these a couple of times a day. 

He's a little less mouthy now.  He can be a real sweetheart and likes to lay on our feet.  Friday afternoon he and I were laying in the grassy shade outside as the sun was going down and he snuggled up with me for about a half hour.  Take Care, Joe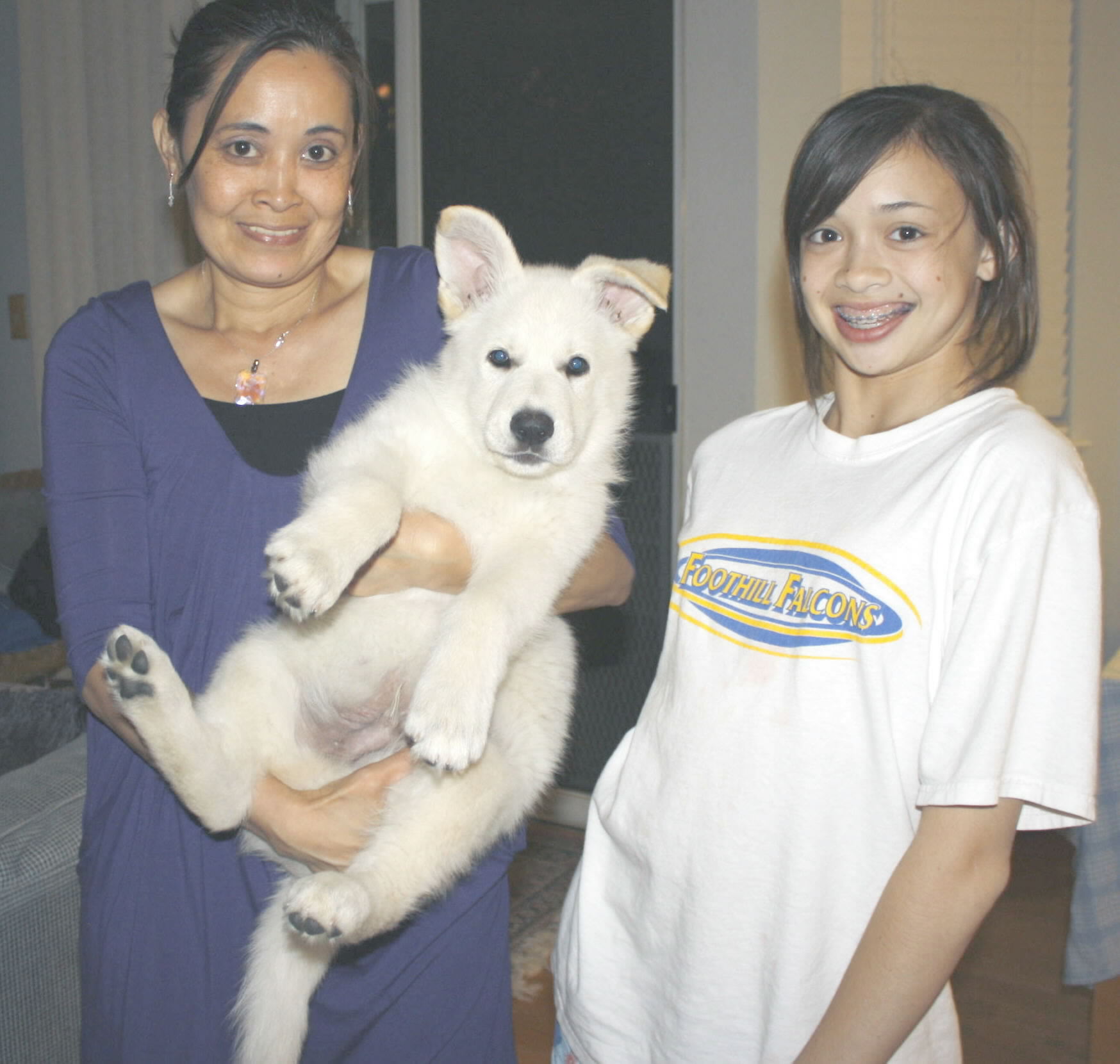 Beau with his new family.

They won't be able to hold him

much longer! He's HUGE at just 10 weeks!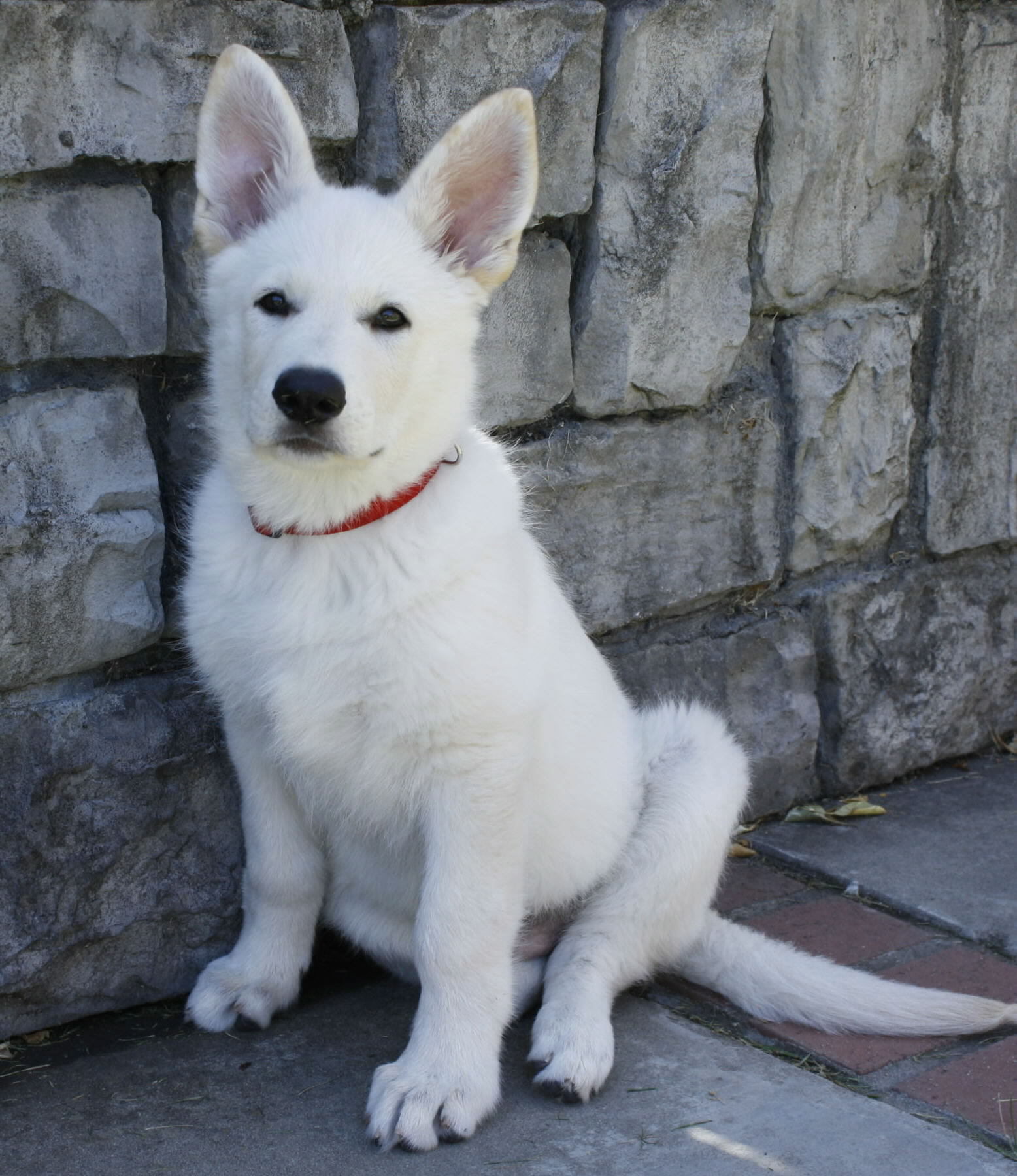 Beau at 12 weeks.

Both ears up! Such a chunk!

Comments from Marlowe of Southern California,

about Hollywood, her Pony/Diesel pup, full sister to Beau above:

Dear Shelley, Thank you for giving me my amazing companion! She is everything I could ever wish for! She is almost potty trained & is so sweet & friendly to strangers & to other dogs. When we go to lunch we bring her with us. She just sits outside & doesn't even cry. She knows all the waiters & local dogs at our restaurant we usually go to. They like her so much. They give her water & tons of attention! We named her Holly, short for Hollywood. I know it's unusual but we like & she does too, I think! Holly & our other dogs are getting along great & especially her & the bunny! Hollys's ears are ALREADY up & she loves to lie in the dirt in our side yard. We are hoping to train her to be a service dog but we know that's a lot of work! She seems so smart & easy to train though! You were right. . .she's PERFECT for us!

This is a usual day for us when we take her into town:

Stranger - "Oh my gosh! She's SO cute! What's her name? Can I play with her? What kind of dog is she?"

Me - "A German Shepherd."

Stranger - "Wow! Where did you get her?"

Then we have to give everyone your website! You're going to be the most famous dog breeder ever!

Holly sleeps in her crate in my room & has a little play area. She has her potty on the side yard & we take her to play outside in the back yard. Give Pony & Diesel (her parents) a kiss from the both of us & all the other dogs! We will update you when she grows a little bit.

Thank you SO, SO, SO, SO, SO, SO, SO, SO, SO, SO, SO, SO, SO, SO, SO MUCH!

Hope all is well with you, your family & the dogs! (And the cats!)

Love, Marlowe

ps-While I write this note, she is sitting under my legs. . .she's my little body guard

. . .so loyal just like the day I met her.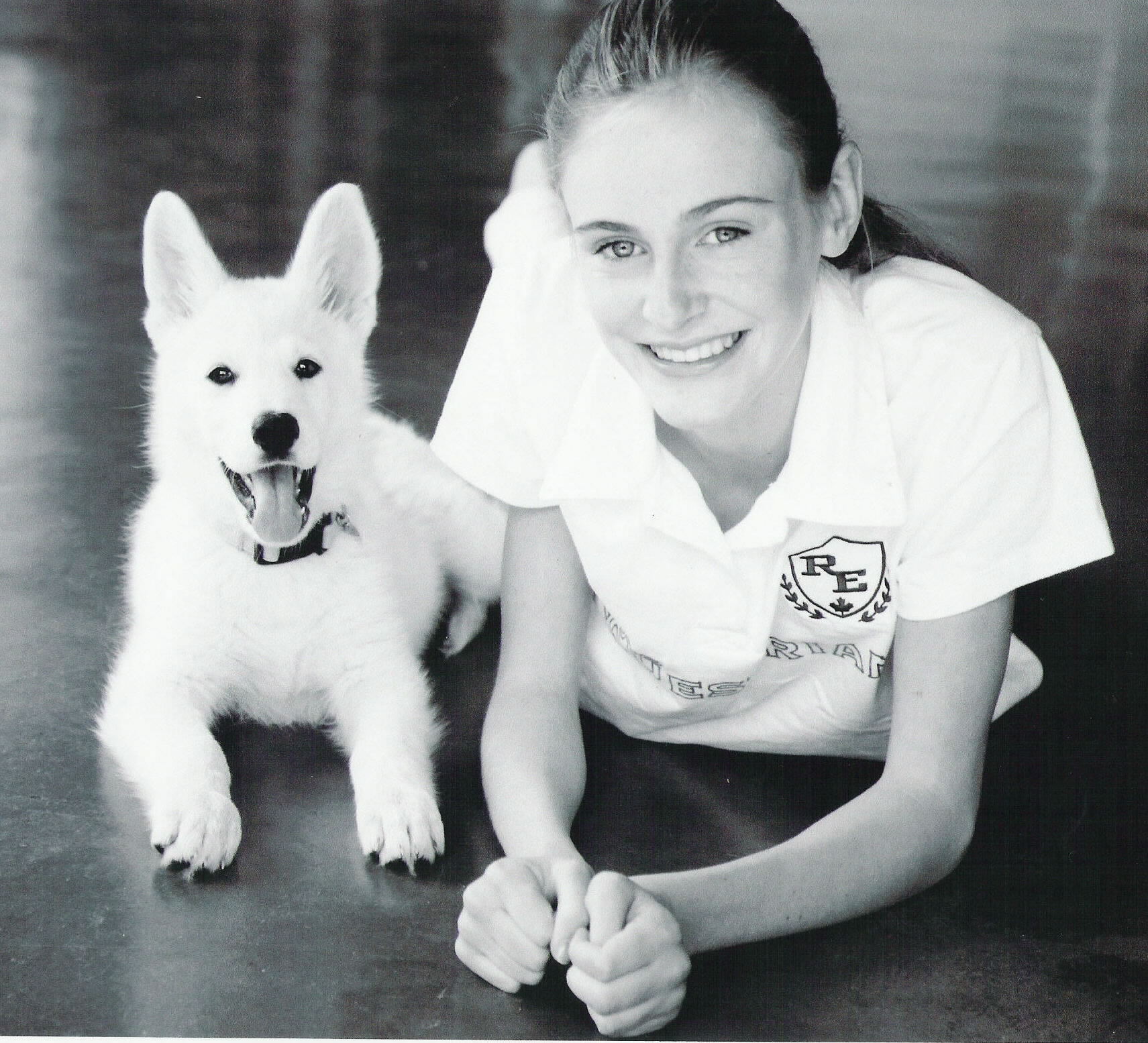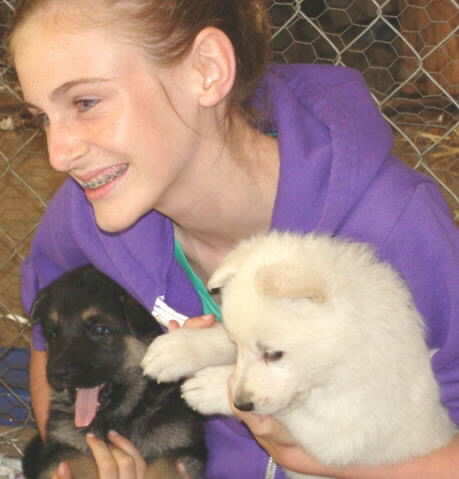 Marlowe & her mother flew up to see the pups in person. Here is Marlowe holding Holly

& her brother "Frosty" the day they met.

Holly at 10 weeks, & her girl Marlowe

Comments from Sadie of Southern California, about Ponyo, her Whisper/Diesel pup, full sister to Soul below:

Hi again!  Dropping in to give you a quick update and even a few pictures of our Salhaus pup! 

She's by far and away, the very best dog I've ever had.  I used to swear by mutts being the smartest dogs, but my Ponyo has proven me very wrong - she's so eager to learn everything we teach her, it only takes her a couple of tries to fully understand a new trick or command.  She had made my family fall unconditionally in love with her, and she's returned the favor. 

She's perfect with my three young girls, affectionate and always ready to play whatever game they want (even if it's Teatime, her least favorite because all she gets to do is sit down and wear a bib).  She is protective whenever there's someone she doesn't know wandering around, unless I specifically introduce her to them.  She is around six months old now, and was recently weighed at the vet's at 46.2 pounds, and certainly not going to stop there!  She's also incredibly gorgeous! 

She gets nothing but compliments from the neighbors whenever we go for walks. The pictures I'm attaching are mostly recent.  The one of her on the grass, and on the cement and rocks were when she was about three months old.

Thank you for this wonderful addition to my family! ~ Sadie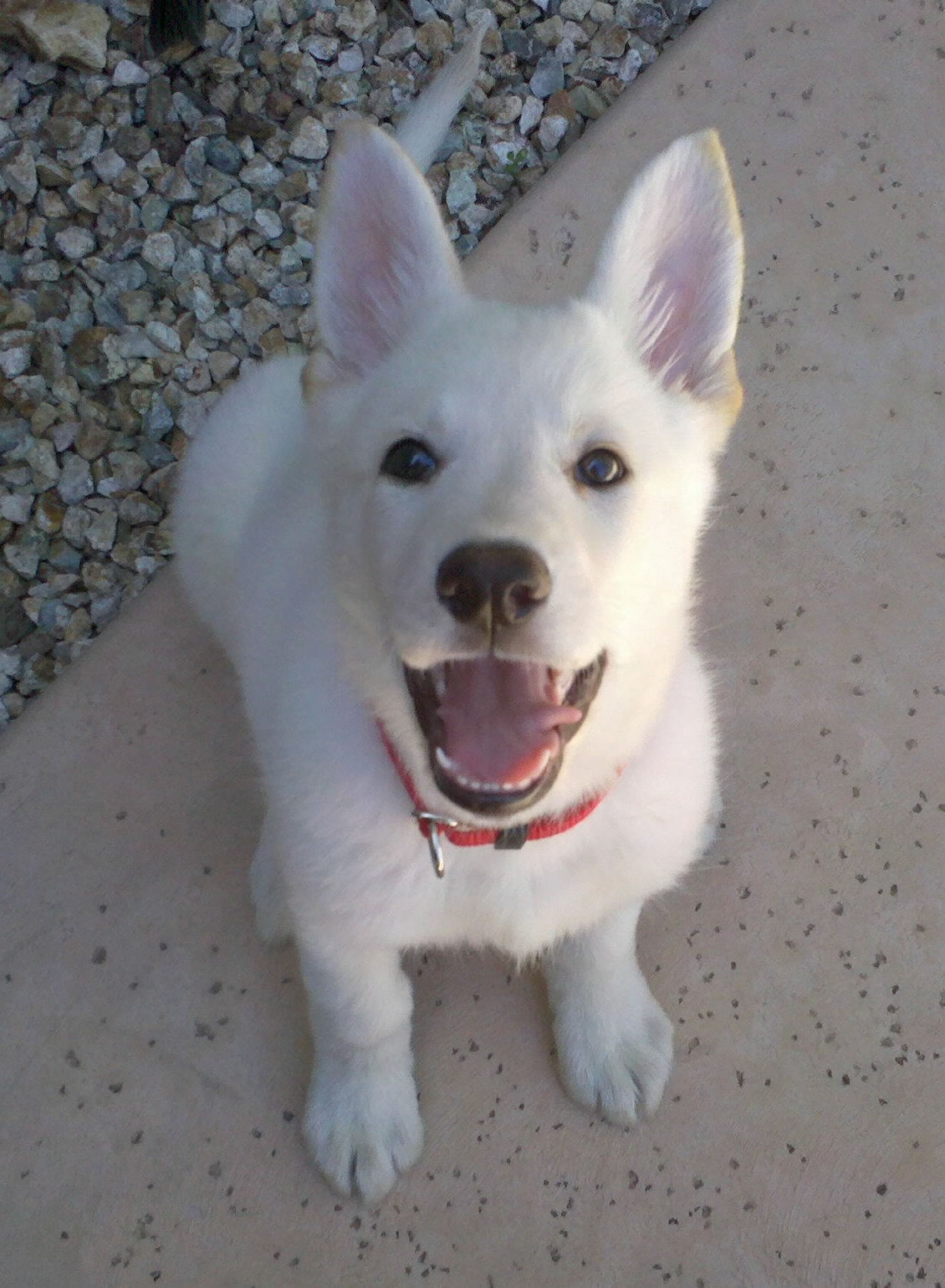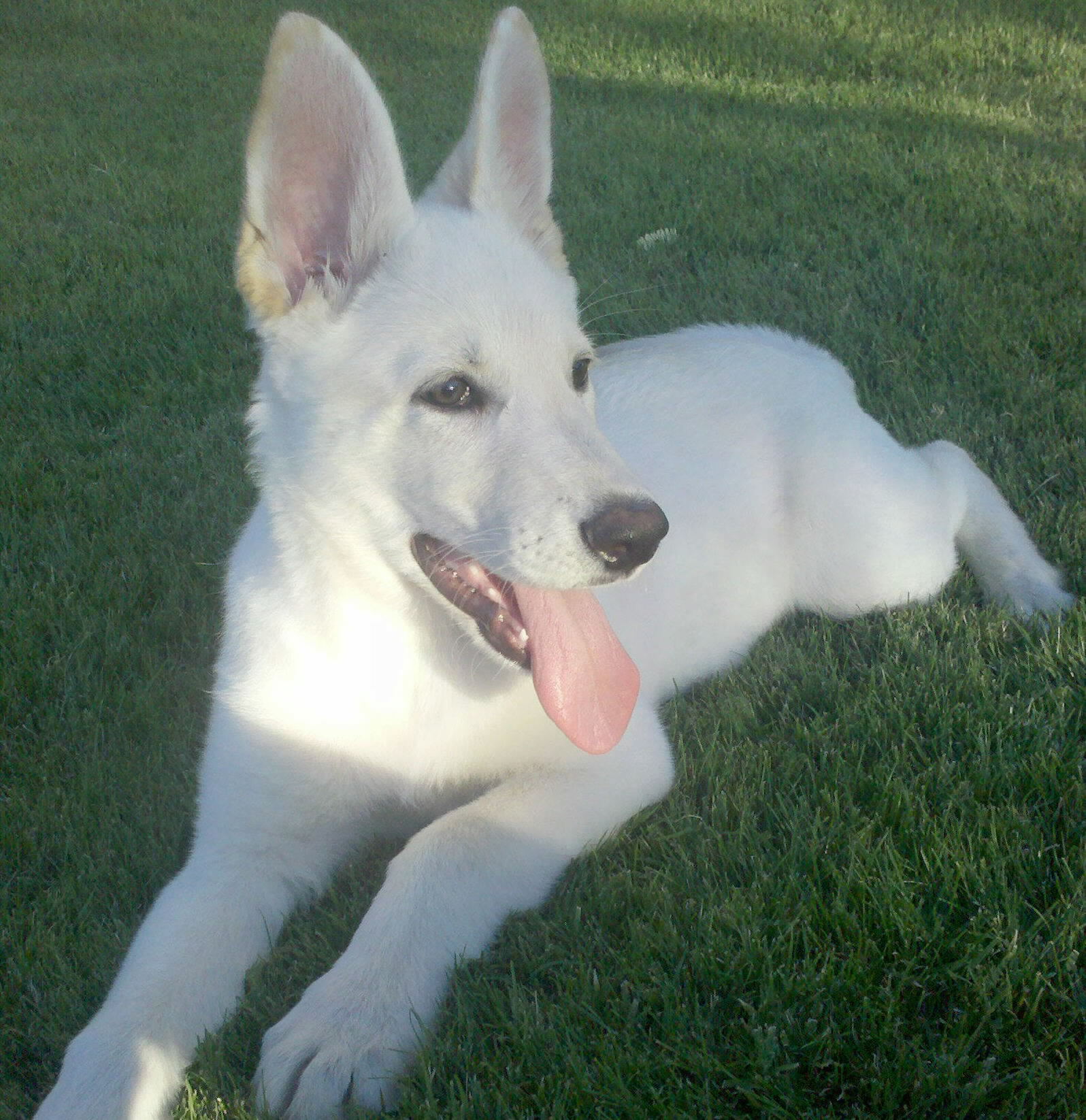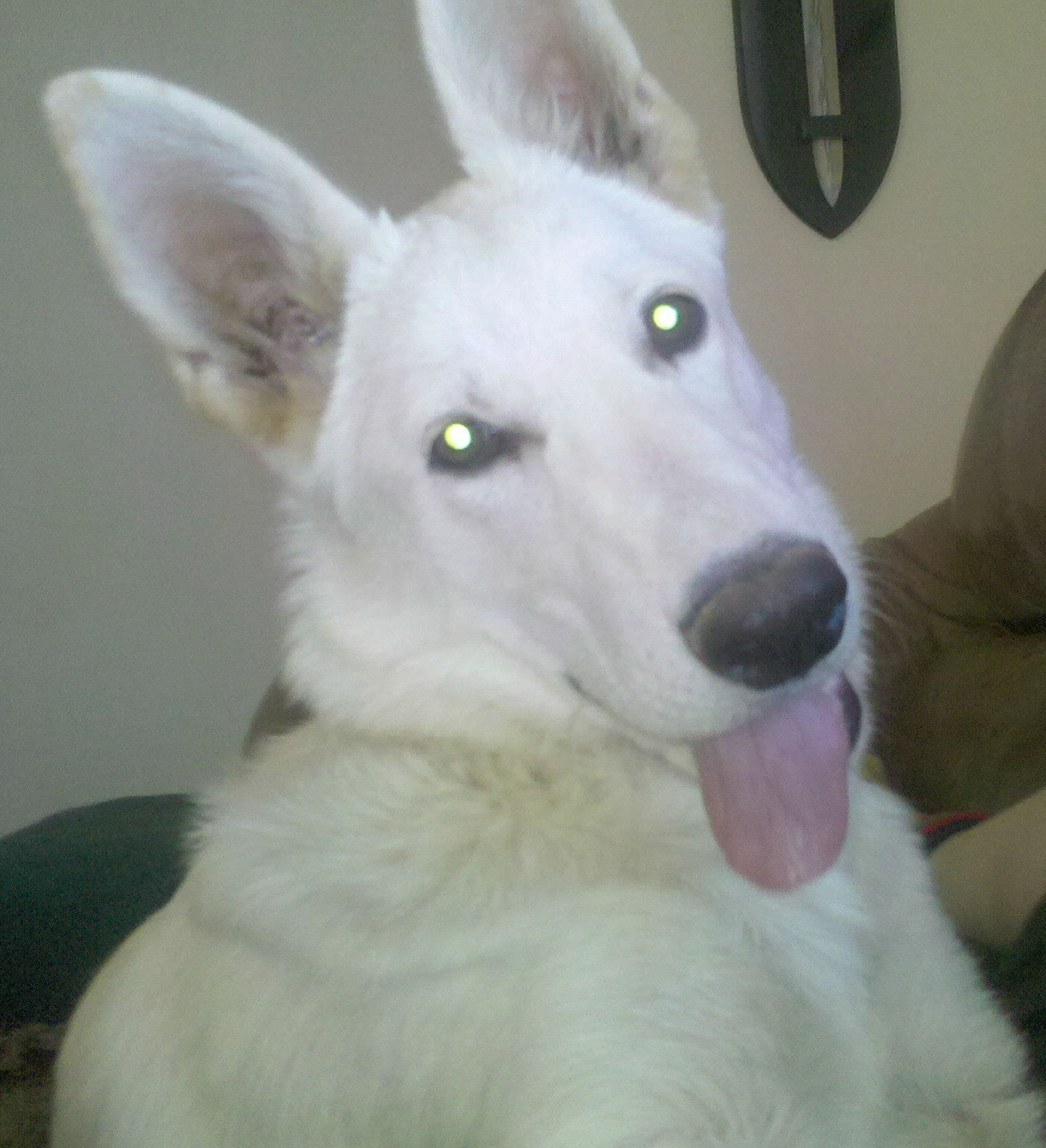 Ponyo at 3 months. Happy girl!

Posing! Such a gorgeous white coat!

6 months with her mother's beautiful face!

Comments from Jerry & Anita of Northern California, about Sjolander, their Whisper/Diesel pup, full sister to Ponyo above:

Hi Shelley, Just wanted to drop you a note and let you know how happy we are with our Salhaus puppy, Soul. She's a wonderful pup, smart, beautiful, and loving. She's just about done with her puppy obedience class, and is the star of the class (of course, there are only 2 pups in the class). She also loves going to the dog park and playing with the other dogs, and is becoming very well socialized. I'm attaching a couple of pics, but I'm afraid they're a couple of months old -- she's now five months old, and weighs close to 70 lbs. She just dropped her baby teeth -- all of them in a couple of weeks time -- and if the size of her adult teeth are any indication, she's going to be a very large shepherd! ~ Jerry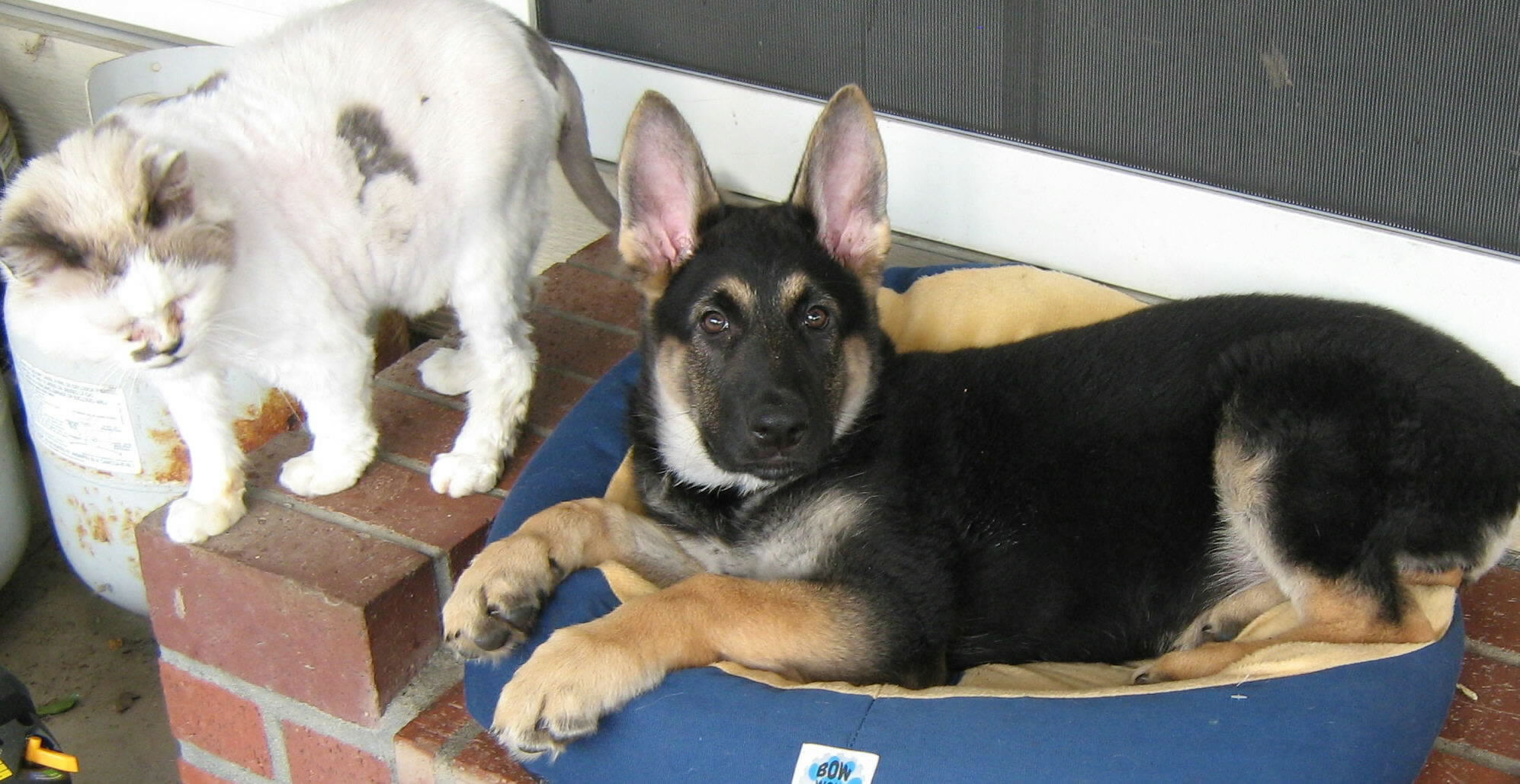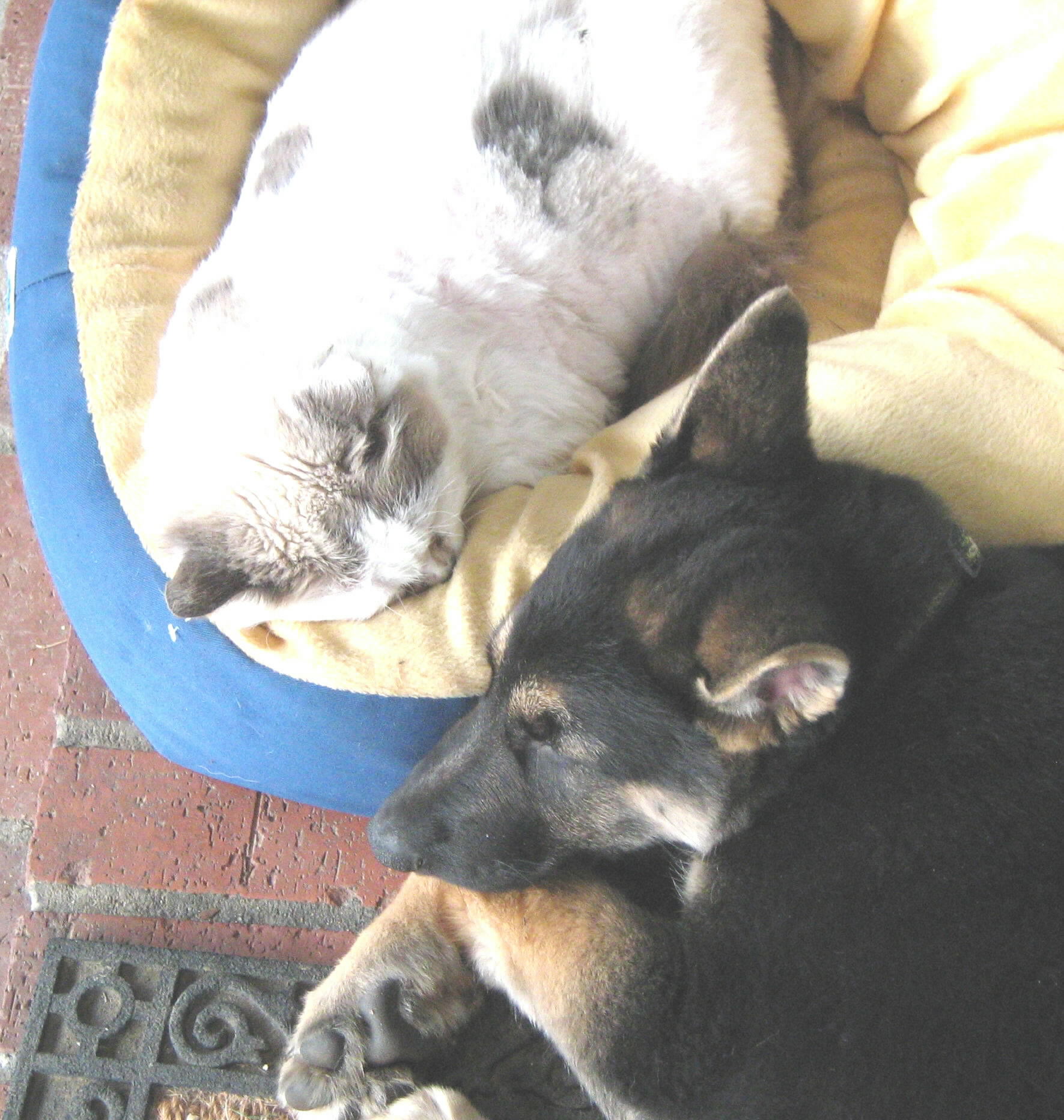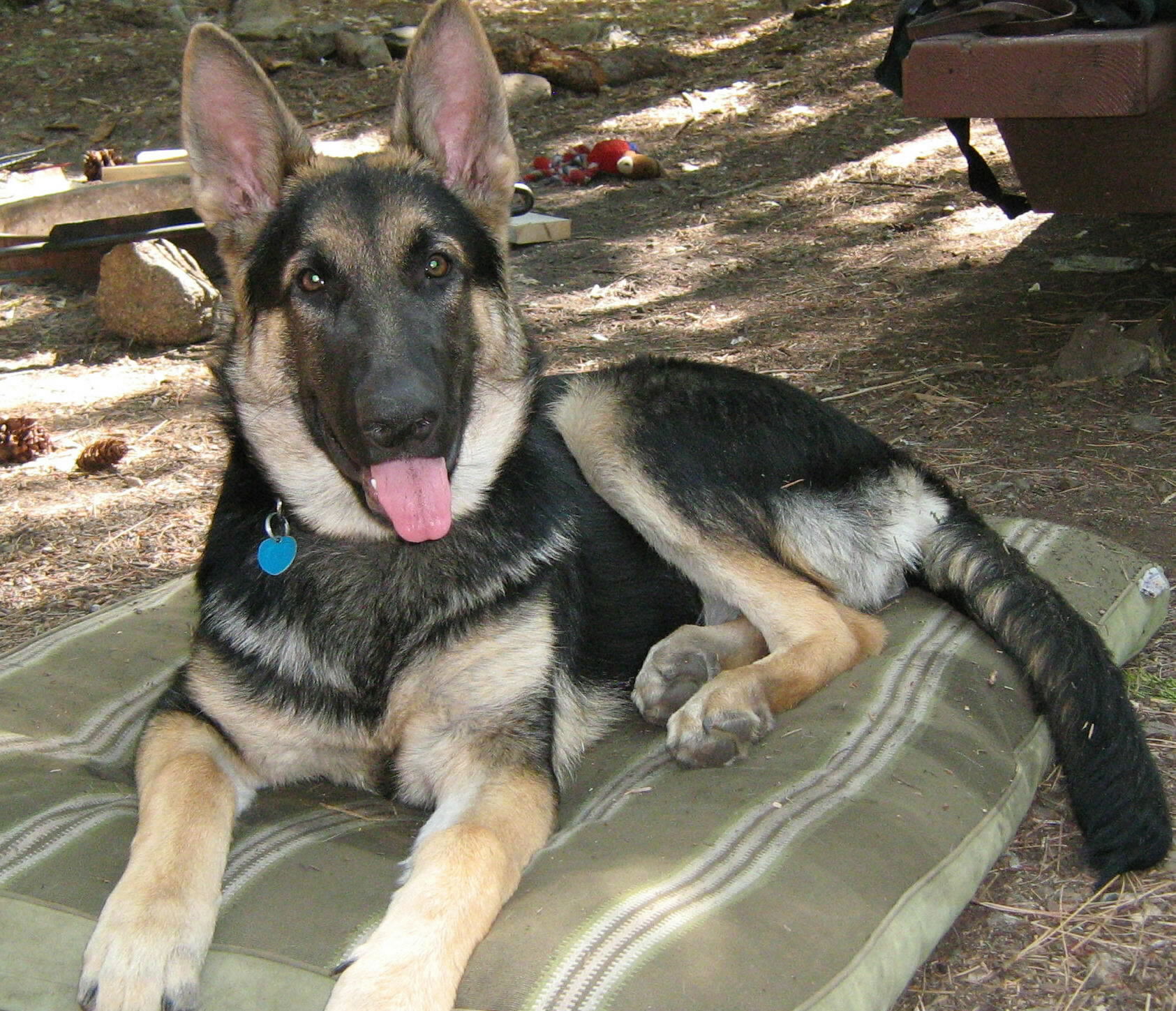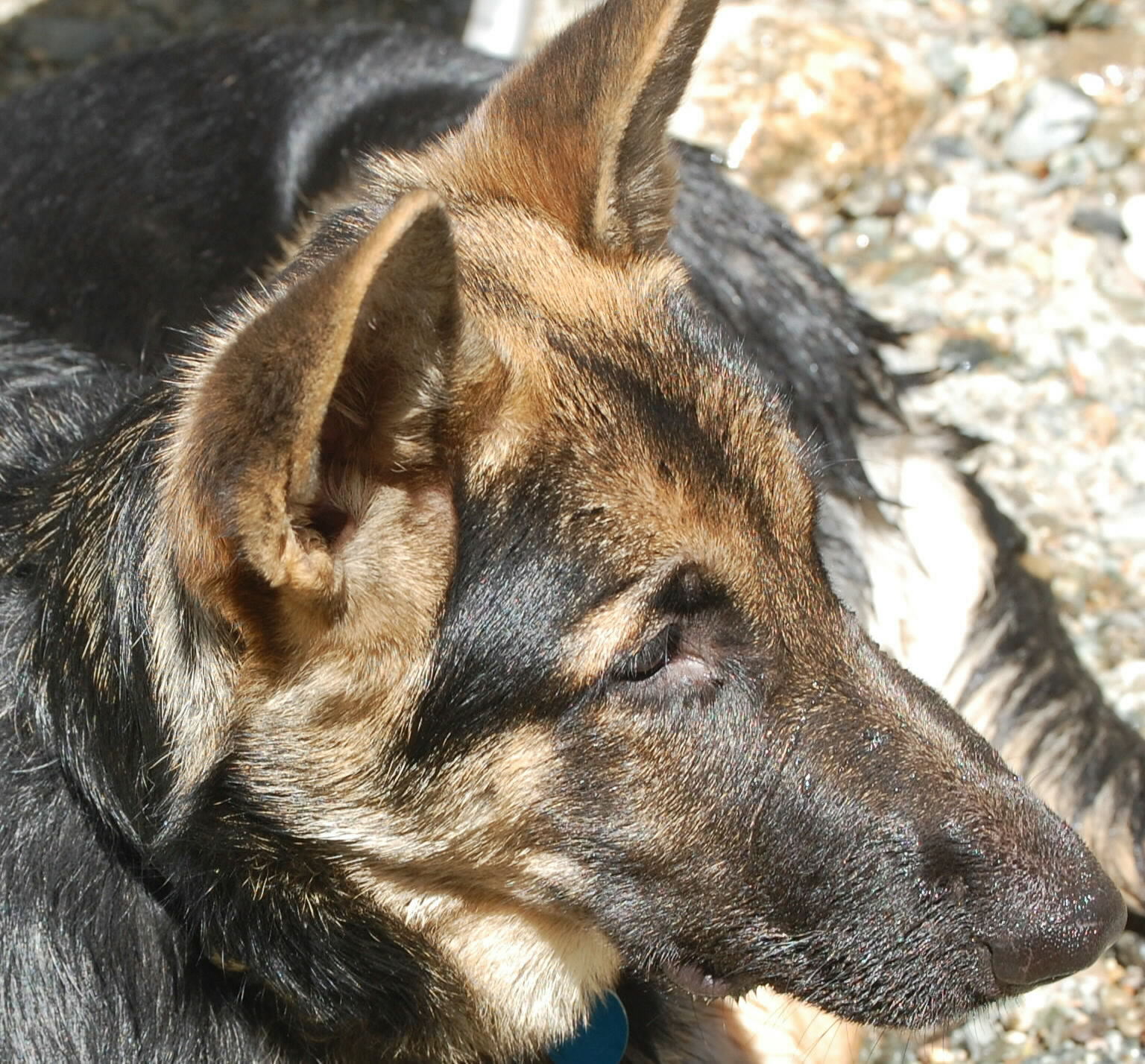 3 month old Soul trying to fit in the "kitty bed!"

Good girl Soul!

She shared with the kitty! We socialize these dogs with cats from the

time they're newborns

& look at the

results! They

CAN live in

peace & harmony with their new family cats!

Even though her mother is Whisper, a predominantly black dog, look at all the gorgeous tan color in this pup's head!

6 months & already so stunning! Lots of tan coming through!

    Here are updated pictures & comments from Jane of Oregon about her Monty/Pony pup, "Hurley,"

  Hi Shelley, I just wanted to give you some up-dated pix of Hurley.  He is doing great.  At a year and a half he is still about 90 lbs. We took him to the vet & we are moving him to a working dog dogfood.  He is one active boy!  He has 5 acres to roam & 4 kids to keep up with & is busy from dawn to dusk.  He burns thru everything we give him.  He is so much fun! He remains great with the kids. My husband is now on hospice with very little time left.  I don't know if you recall, but he was diagnosed with cancer about the time we bought Hurley.  Hurley understands everything, I think.  He has been a great comfort (and comic relief) this summer as the kids struggle with the impending loss of their dad.  This is a dog that loves his kids and knows their emotions.  For as busy as he can be, he can also just flop and cuddle with us and be calm.  Good boy :)

I hope all is well.  I saw you have had some nice litters this year.  Enjoyed seeing Whisper's litter.  Hurley has nieces and nephews!  Hah!  Take care.  Hope this pictures make you smile. ~ Jane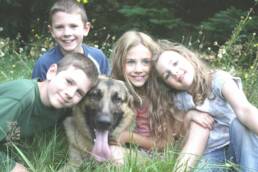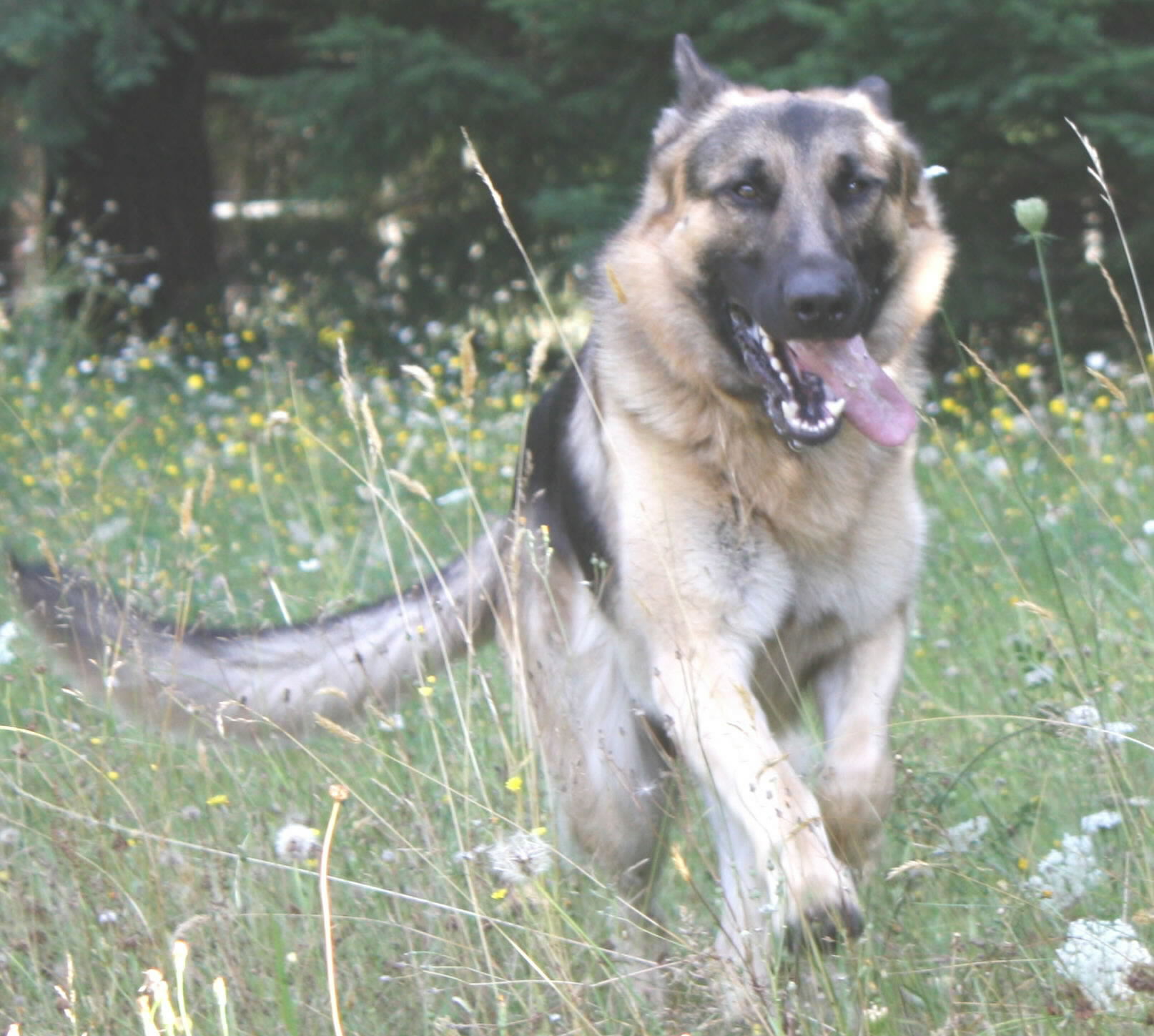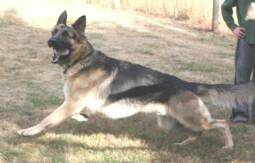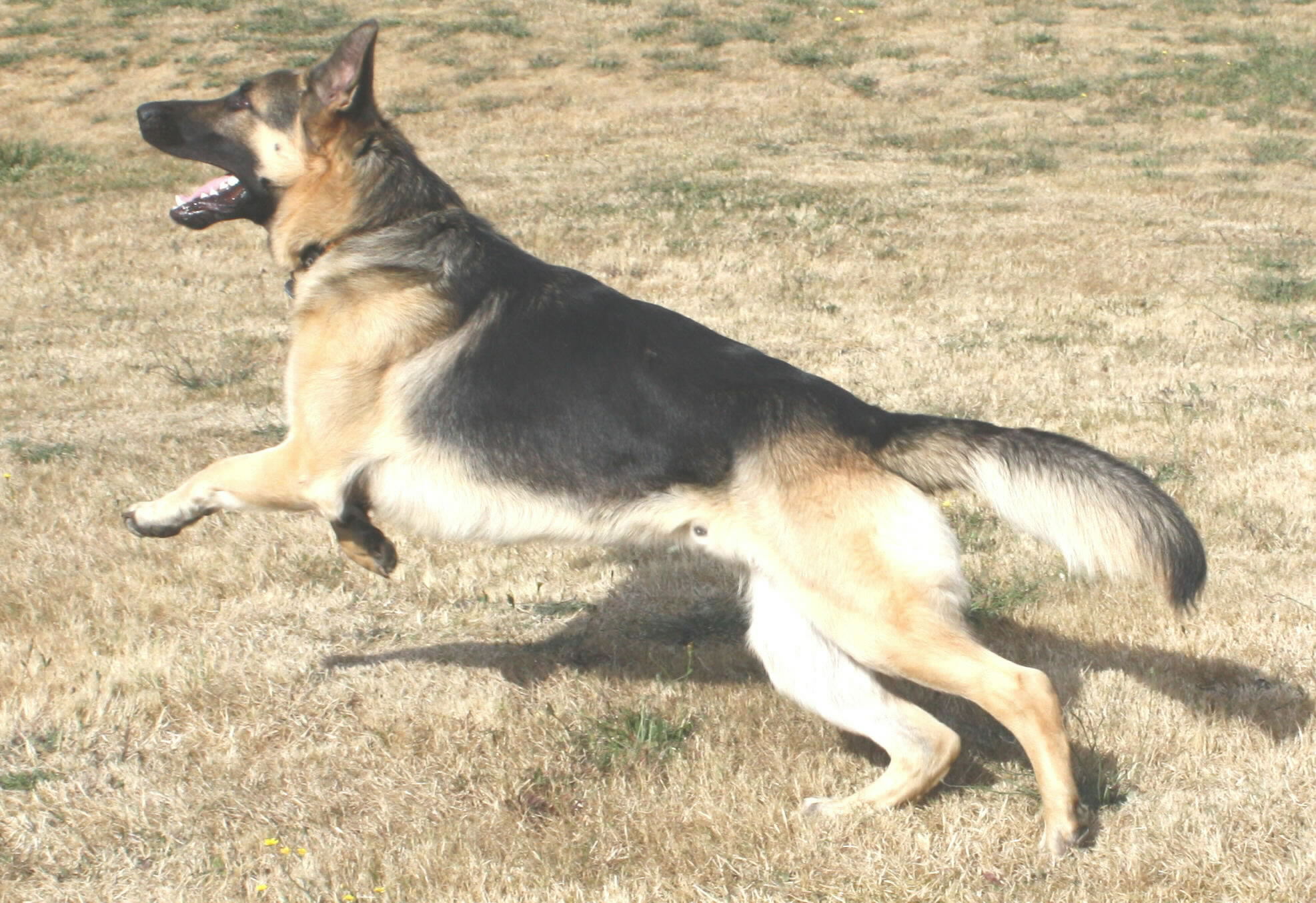 Comments from Rachel  & Ernie of Northern California, about Maverick, their Whisper/Diesel pup, full  brother to Ponyo & Soul above:

Hi Shelley....

Things with Maverick have been great.  He just finished with a puppy playgroup class and we plan on enrolling him in an obedience class just for some extra training.  I'm sorry to inform you that Luna (our white rescue dog) has passed away due to lymphoma and we had to put her down.  She lived a great life and truly enjoyed Maverick and he loved her as well.  But he has been a joy and just a bundle of love and energy.  One of the pictures in the attachment is the most recent of Maverick with Luna. Another is when he is at 4 months and the latest, 5 months. 

Sincerely,

Rachel and Ernie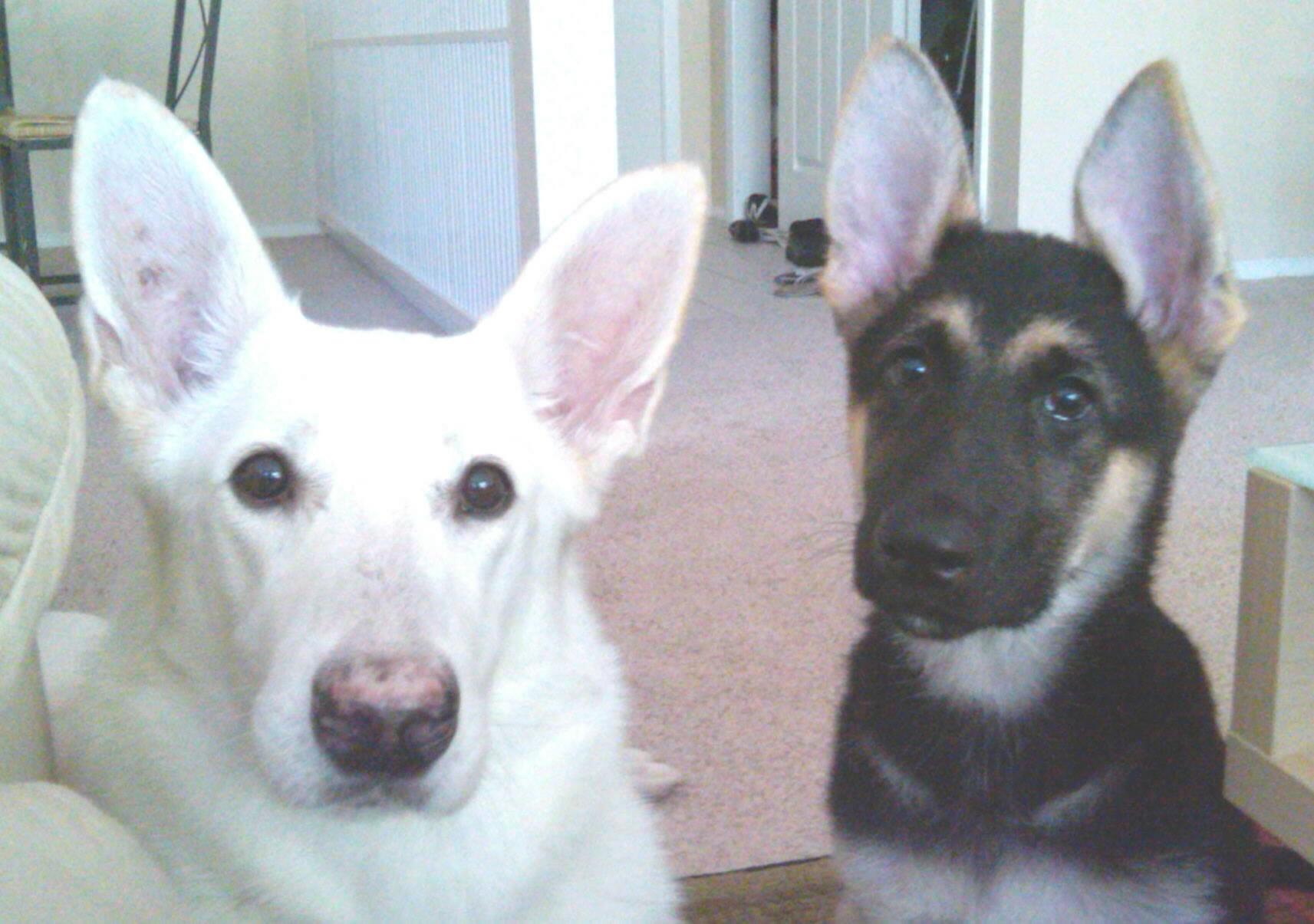 4 month old Maverick with his best friend Luna, a white German Shepherd rescue.

5 months old! Gorgeous pup! So classic with all the tan coming through!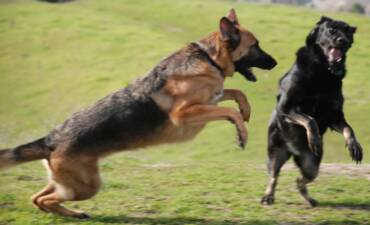 Comments from Dawn of Oregon, about Talon, their Whisper/Diesel pup, full  brother to Ponyo, Soul, & Maverick above. I had asked her if she had any recent photos of Talon that she could share with me. Here was her response:

Hi Shelley, 

Really good to hear from your, do we have photos of Talon only a few hundred.  These are his five month pics, he was weighed on Tuesday at 55 pounds.  He loves water until soap and the word bath is used.  Ha Ha!!  He loves to garden; in turn he gets frequent baths.  He is very smart, funny and animated. 

He is wonderful we could not ask for more. ~ Dawn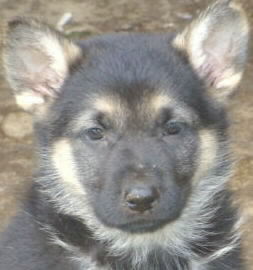 Talon at 5 months.

Gorgeous, classic marked boy!

Talon at 6 weeks. Already his classic markings were manifest!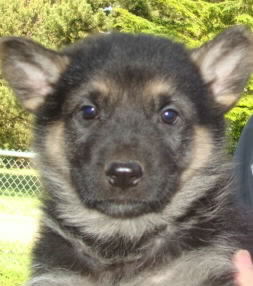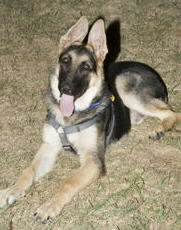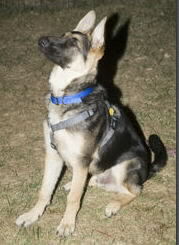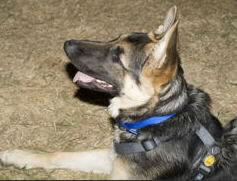 Comments from Penny of Northern California, about Ernie, her Whisper/Diesel pup, full brother to Soul, Maverick, Talon & Ponyo above. They bought a pup from us 14 years ago & came back for a 2nd Salhaus dog after all those years! Their first dog was Grover.

Hi Shelley,  We named our new pup Ernie in keeping with the Sesame Street theme & it seems to fit his personality. 

He is very easy going, very smart, affectionate, and very adaptable.  Ernie was housebroken in about 2 weeks once he was big enough to use his doggy door. He was not fond of his crate however, & just couldn't settle down at night.  Finally, I let him out of the crate and he went straight to the tile where he continues to sleep (he just was too hot in the crate). 

We visit our son quite often & take the dogs with us. Our son has a pack of 5 mostly Springer and Brittany spaniels, along with his daughter's 3 dogs, and my other brother's 3 dogs - all on 7 acres.  Ernie fit in beautifully & loved learning to hunt. 

You asked if our pup liked the water - my brother irrigates his orchards with the old fashioned flood irrigation complete with levies, etc.  Ernie would start at the beginning of the row and run through the water all the way to the end of the row where he would turn around and run back.  Finally, he would lay down and submerge himself in the mud and water, completely happy. 

Recently we had a house fire. We were finally able to move a trailer on our property so Ernie would be back on familiar territory and we could keep an eye on the progress to our house.  He continues to amaze me with how easily he learns and how eager he is to please (most of the time).  We can leave him in the trailer by himself while we are working in the main house or dealing with contractors for 2 hours and he does not bother anything. He is quite the watch dog when it comes to anything but people, probably because all the contractors just love him and are always asking if we can bring him out.  He watches them and never seems to mind the noise and just the general chaos that seems to go along with home repair. He sits, shakes, lies down, and stays for a short period of time - I have been a bit lax lately in his training, but hopefully it will pick up again soon.  We should be able to move back in the house in the next couple of weeks.

At 5 months he is up to 62 pounds - he will be a big boy.  On some of the pictures you can see the silver on his back - Jim says we have our very own silver back gorilla!  I continue to be amazed at how many of the characteristics have been passed down from your original dogs.  For example, Grover (our 1st Salhaus Shepherd) had to lie down to eat and was a very slow eater - so does Ernie.  Both love the water and both were restless sleepers. They both loved to talk, I think Ernie is the winner on this one as he lets you know if he is being ignored.  Ernie is more affectionate than Grover was - Grover loved to be petted and groomed and would follow me from room to room.  Ernie still tries to get in your lap and each morning is usually trying to come up in bed with us. Ernie also likes to play much more than Grover did - Grover wanted to play, he just wanted you to get the ball for him.  Ernie almost always has his ball in his mouth or another toy and has been very gentle with his toys. Both had very expressive faces and kind eyes.

All in all, he has been an absolute delight as I'm sure you hear from all your new owners. I see that you have another litter of Diesel/Whisper pups on the way. If Ernie is any indication of the way their pups turn out - it is a wonderful breeding.

Thanks again for breeding dogs with such wonderful personalities - it truly is a joy to raise one of your pups. ~ Penny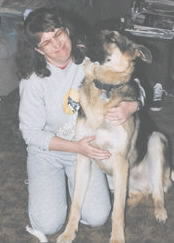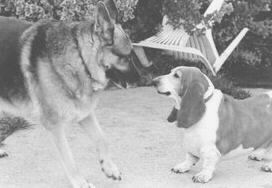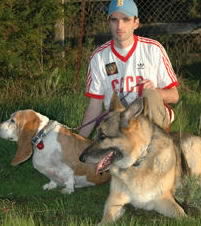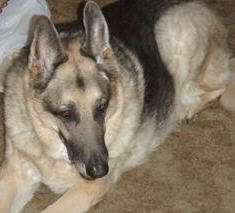 Ernie shown at 5 months.

Long legs, classic markings that will get even lighter as he grows!

Ernie at 5 mo's. Look at all the tan in his head. It will come in more & more!

Pictures of Grover below, Penny's 1st Salhaus Shepherd. They came back to us after 14 years for another Salhaus pup!

Comments from the California family who took our "White Boy" out of our 2010 Diesel/Piper litter:

Kato is doing so great! He is such a joy and has been so much fun! I can't believe how extremely intelligent he is. I house trained him by day 3. So far he has learned sit, release, come, leave it and watch me. As for getting along with the chihuahuas that will be an ongoing training. He is learning to curb his playfulness and I am having to tell him to "leave it" when he starts to pounce.

He does grow fast! I attached a couple pictures for you. I think he is up to 20 lbs now--and still growing fast! Isn't he a handsome little guy??

I'll keep you updated on his progress.

PS: My husband is so into Kato that I casually mentioned that it would be great to eventually have 2 GSDs in 1 1/2 years ..He was in agreement (yay for me!)   ;0

Sincerely,

The BMR family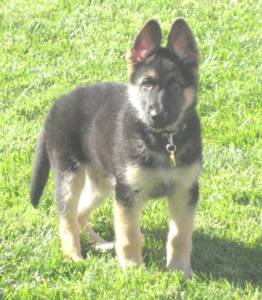 Kato shown at 6 weeks to the left.

Kato again at 3 months with lots of training under his belt already!

Gorgeous boy! Smart Boy!

He'll loose more & more of that black & be quite the traditional marked German Shepherd!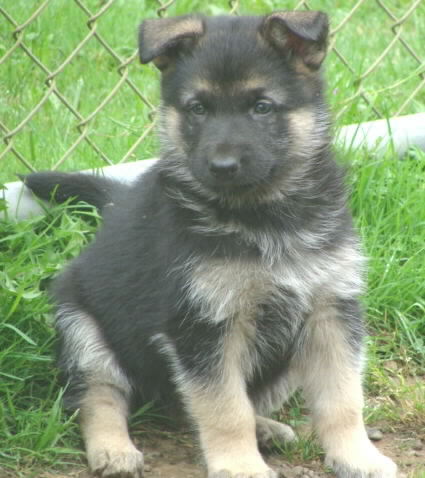 Hi Shelley, Merry Christmas - hope you are

enjoying the holiday season! ...looks like you have a few gorgeous little bundles you are taking care of...:) ...Here are a couple of photos of Daltrey - our handsome gentle giant.  He is the perfect family companion. His temperment is amazing. Mark is a professional petcare specialist/trainer...(see his website - dogtimetoo.com) In one of the photos - Daltrey is walking alongside Mark and the dog clients - Daltrey has become an integral part of the pack....he's the dog leader and keeps the other dogs under watch.... :) WE LOVE HIM....thank you so much....Love, Sylvia & Mark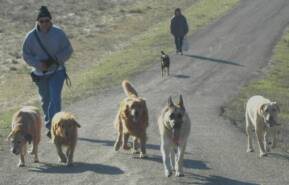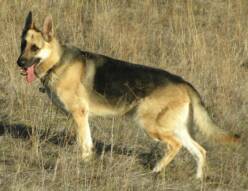 Update on Daltrey at 3 years of age:

Daltrey leading/working the pack with his profes-

sional dog trainer/owner, Mark. See him in front!

Daltrey grew into those huge feet & ears!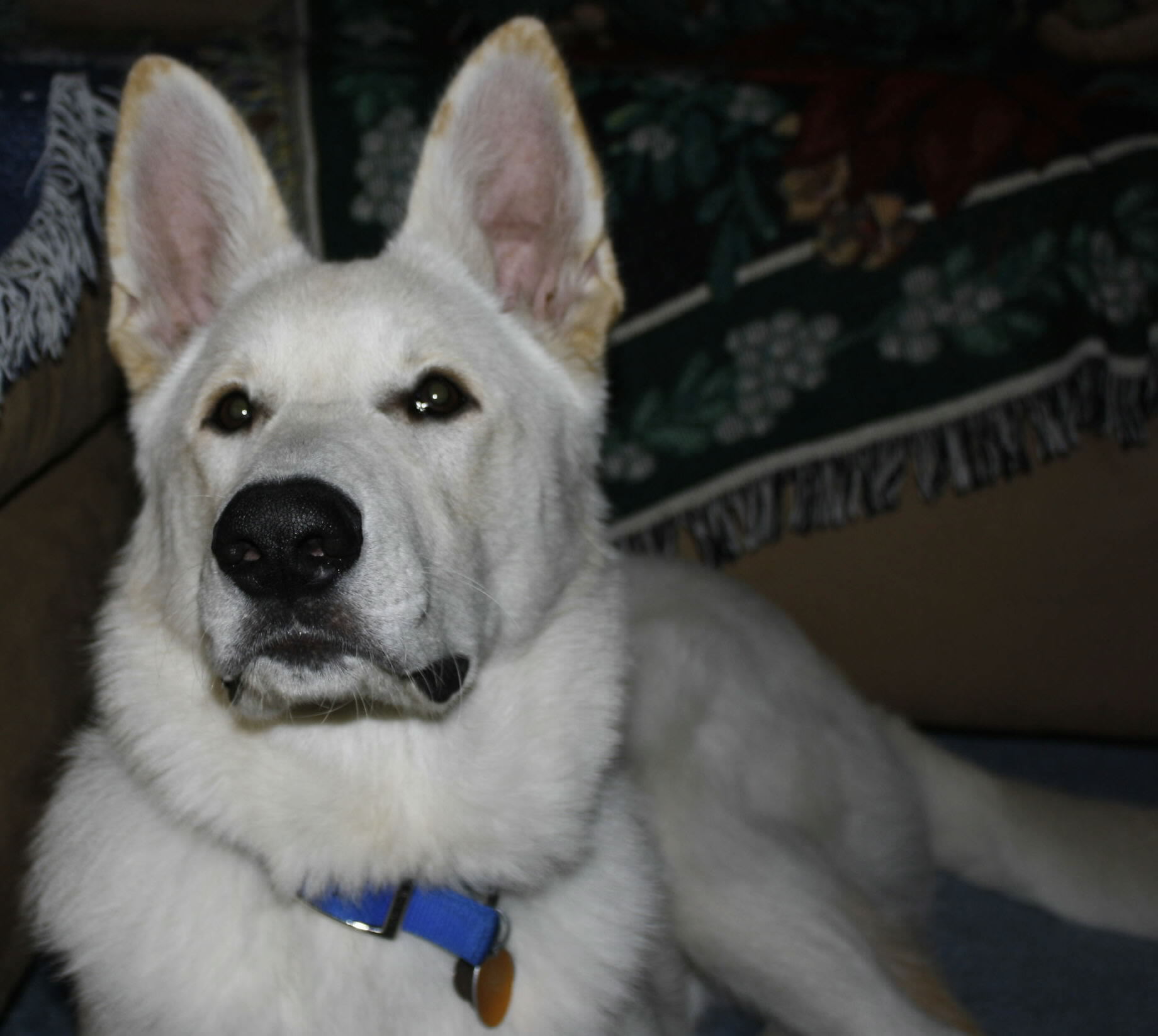 12/24/10~Updates from Joseph of Northern California,

about Beau, his Pony/Diesel pup at 6 months of age:

Hi Shel,

You can't really tell from the pictures, but he has the most beautiful coat of fur.  It makes you want to bury your face in it. Soft and shiny and good-smelling, with the champagne overtones. We keep him nice and clean.

So since we were in the neighborhood a little while ago, we swung by the vet's office for a quickie weigh-in.  He's 78 lbs. now, which is more than I thought.

Thanks for giving us Beau. - Joseph L.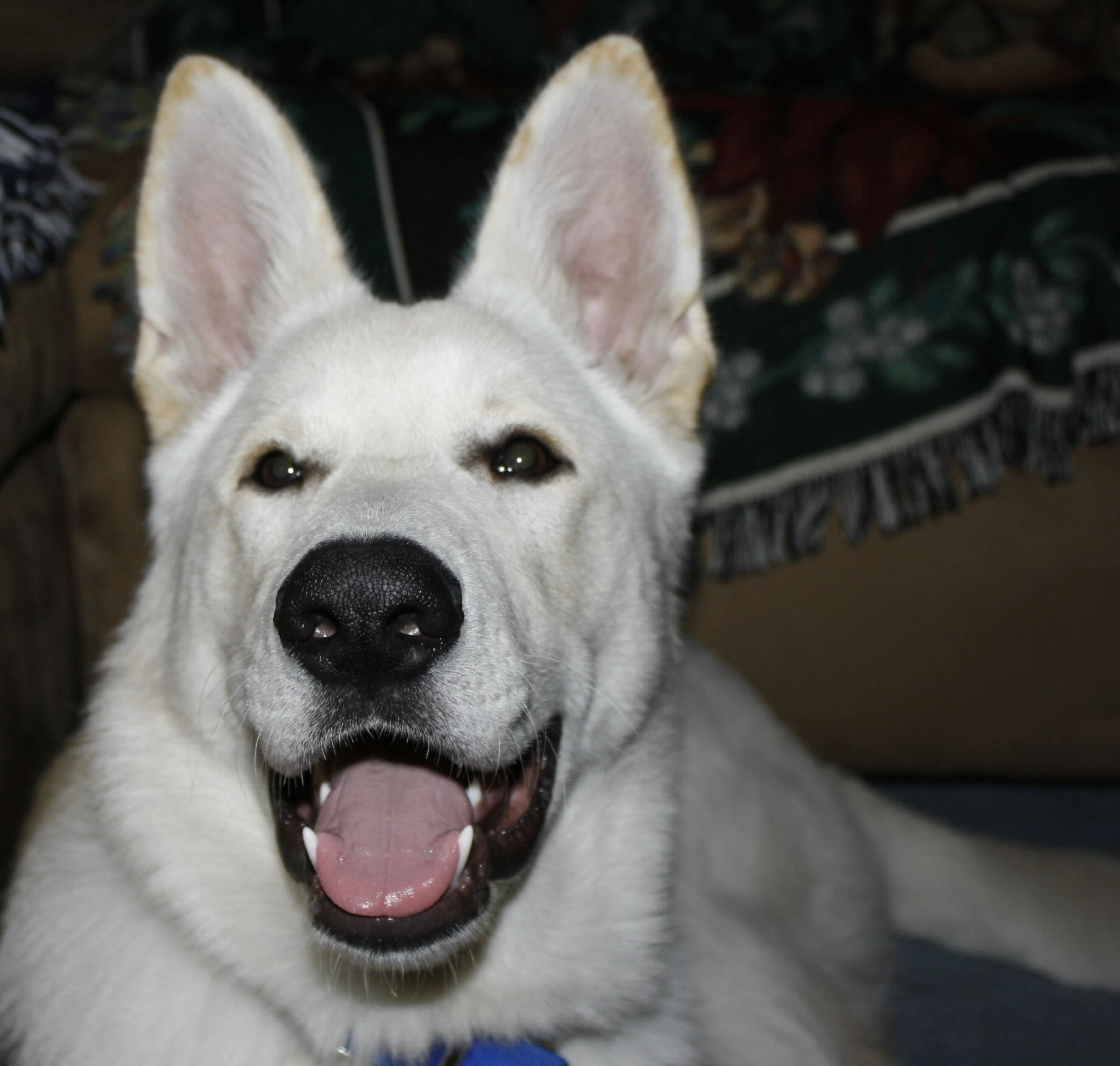 Beau just 6 months at 78 whopping lbs!

Huge, gorgeous chiseled head!

Not your average White Shepherd!

Comments from Patrick & Julie of Napa, Ca about their 2 Diesel/Pony Salhaus pups, Jack (a white plush coat) & Harley (a blk/tan plush coat) from the same litter.

Hi Shelley,

I thought you'd like to know that Harley (the blk/tan) is doing really well. He is actually developing into a beautiful dog. He is lightening quick and agile.......drives Jack (the white one) nuts. He prances when he walks (runs) like Reno did. Very affectionate and attached to both Patrick and I.

Jack (the white pup) is huge! He looks like a small adult already. He slinks like a lion when he walks. Mellow and sweet......good thing since he is going to be massive. He is into giving kisses and seems to be very sensitive. Mild verbal discipline is all it takes with Jack.

I couldn't be happier with them and love them both equally. My favorite is which ever one I happen to be looking at. The two together are so striking that people stop and stare. The naysayers that warn against two puppies at the same time were WRONG.

We are all (Patrick, myself, Jack and Harley) going to be vacationing in Bandon this month (14-22.) I found a great beach house that allows dogs. I need a vacation so badly and couldn't fathom leaving the boys for a week. If we are in your area I'll give you a call; maybe you can see for yourself how handsome Jack and Harley are.

I'll send beach pictures of them together for your archives. I know I appreciated being able to see the pictures of dogs from past litters you sent to me. T

ake care and congratulations on your new litters. Great looking pups. ~ Julie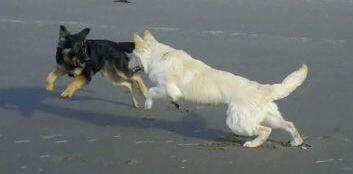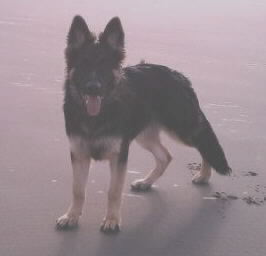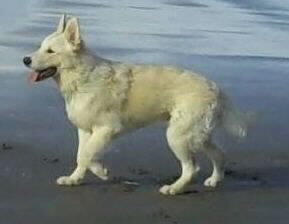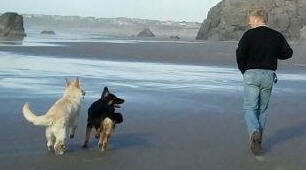 6 month old huge Jack Frost - plush coat

6 month old plush-coated, handsome Harley

   Jack Frost & Harley, brothers playing on the beach!

   Jack Frost & Harley, running with "dad" Patrick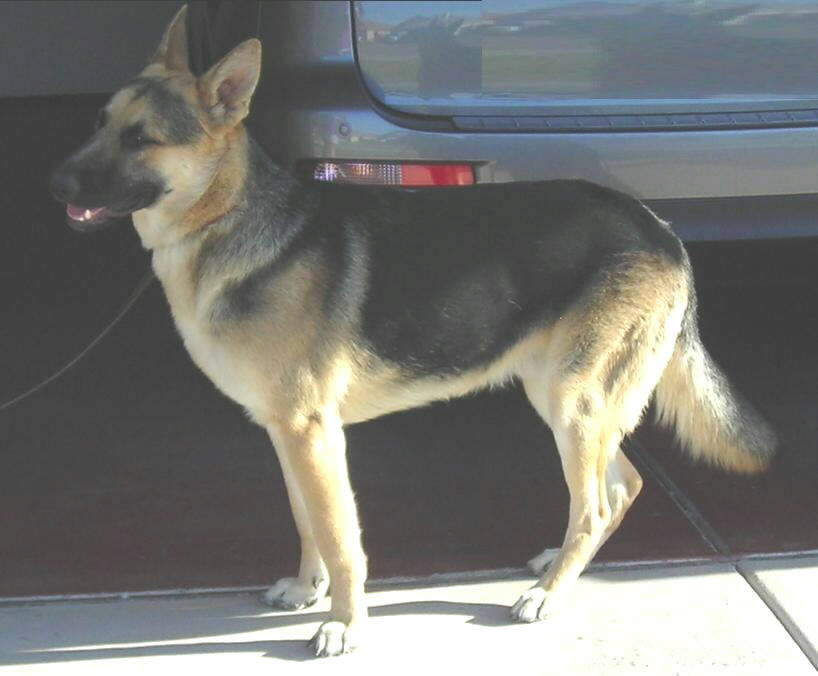 Comments from a Southern California buyer who has another one of our outstanding 2010 Diesel/Pony pups:

Shelley, It was nice talking to you the other day.  Here are pictures of Turbo at 11 months weighing in at 94 lbs.  We enjoy him, he has a silly personality and is very smart.  When we take him to Petco and the park, people compliment him on his size and looks.  The bloodlines you use are excellent in personality and the hundreds of hours you and your family spend to make a well-socialized puppy.  Feel free to have anyone call me for a reference.

Thank you,

Gary and Alicia

Comments from Mark & June of Oregon who have a full brother to Turbo above, just in a fuller coat:

Hi Shelley, Since I can't seem to entice to to come by and see Sonny I am sending you a picture of him. He really looks better in person or should I say dogson. He is going to school starting June 6th yea, hopefully with Cochece, another local German Shepherd.He is a good boy just needs some training but what a good watch dog he is already. See attached pictures. June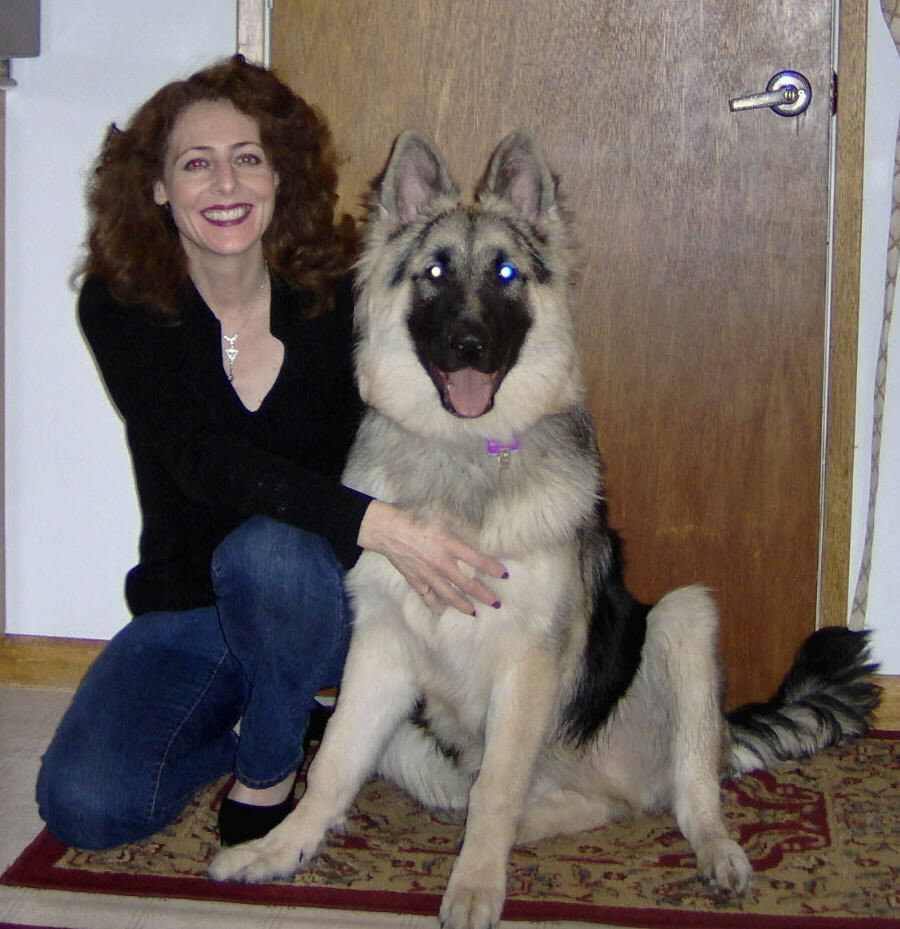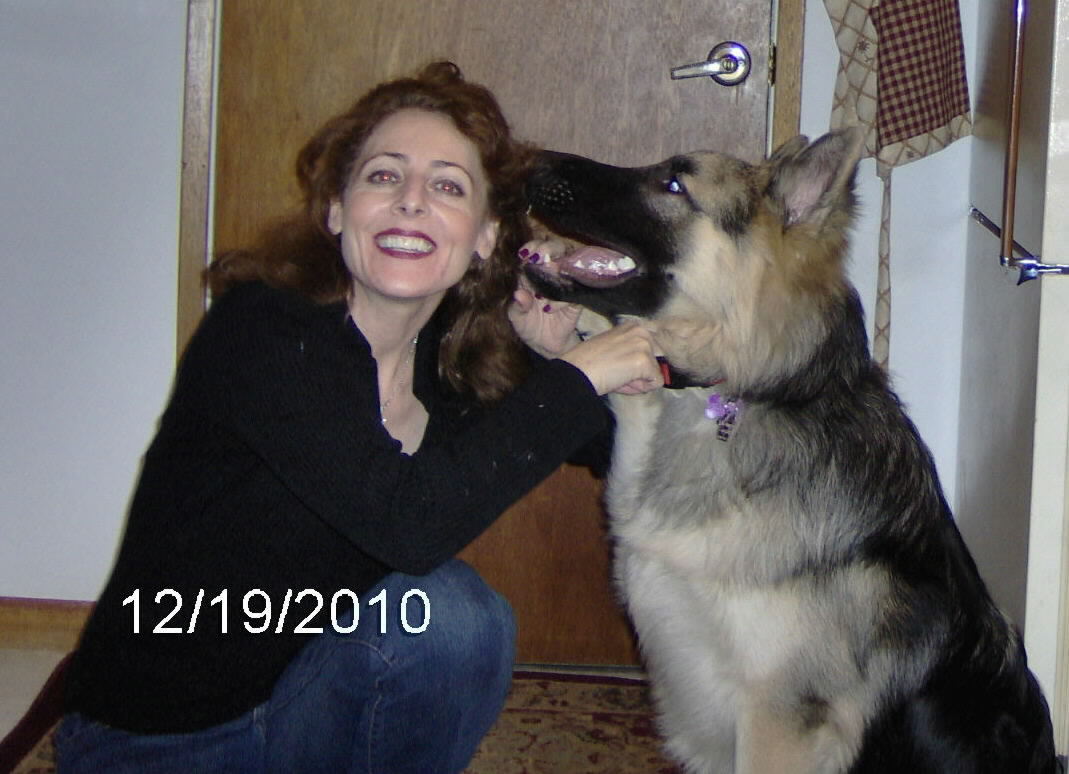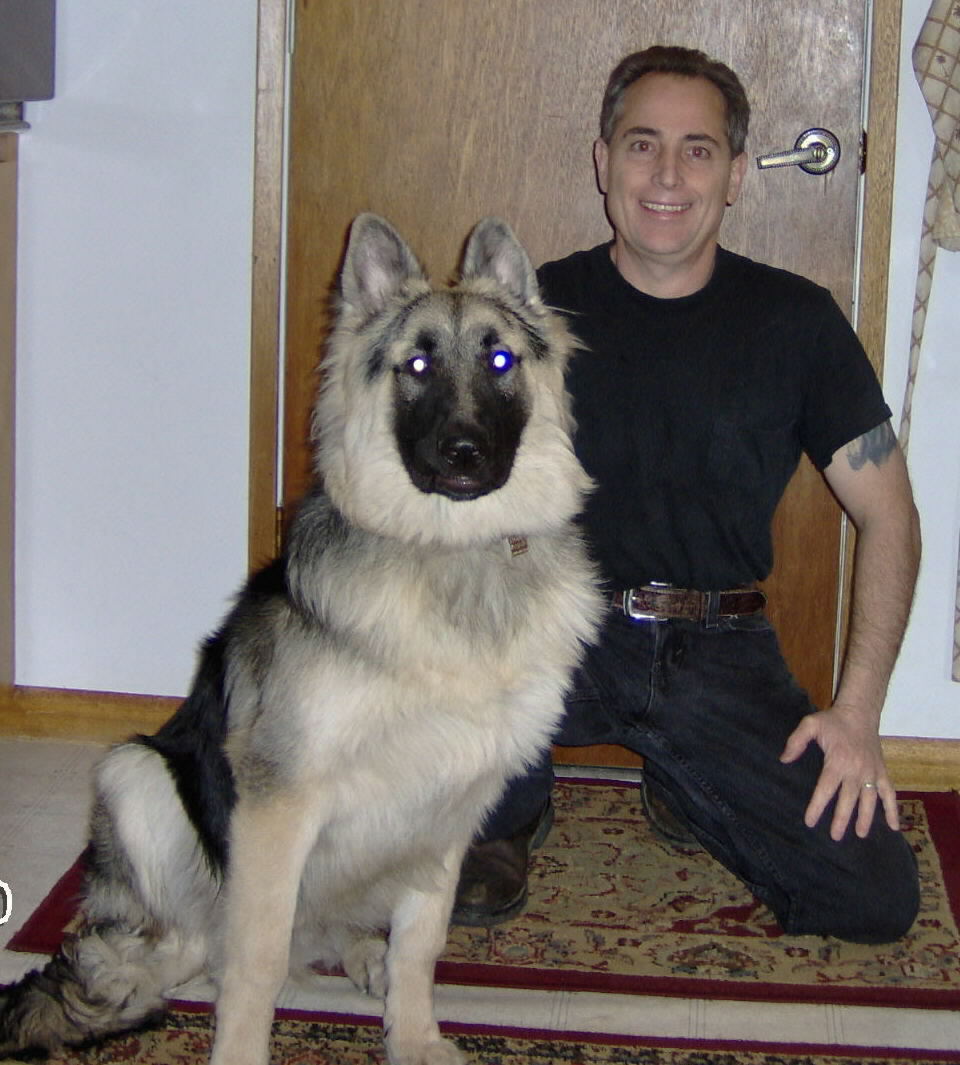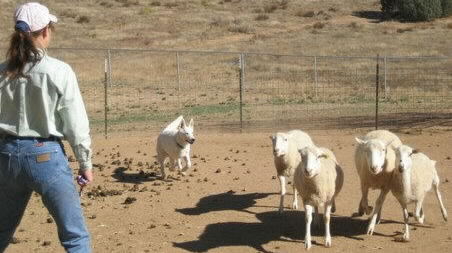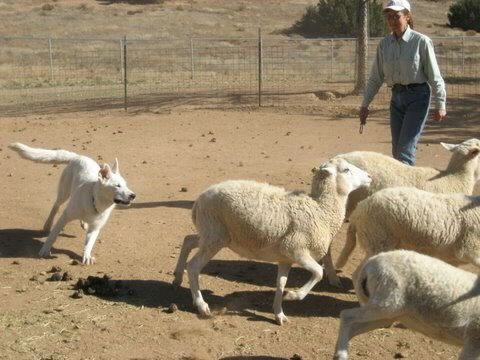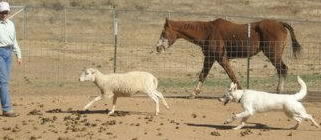 Holly at about 6 months of age being tested for herding instinct. About 1/2 of the GS's these days still have it in them. And apparently Holly does! Look at her go! Impressive!

Comments from a buyer up in Alaska who has another one of our outstanding 2010 Diesel/Pony pups:

Hi Shelley, 

Wanted to drop you a quick line and more pics before I pack up the computer as we are getting ready to move up above the artic circle. Thought you might enjoy the latest pics of Luna and Ben now that she is 6 months old.  As you can see she is a big girl towering way over our BC. She is now a wopping 62.5lbs.  She has proven to be exceptionally smart willing to learn anything for a treat.  I wish these pictures did her coloring justice but they dont so will just tell you that she has the most beautiful champagne colored coat I have ever seen. She has turned out to be the total mommys girl not letting me out of her sight.  We are now

working on leash training (not her most favorite) as we need to get ready for the trip and even though she wont leave my side she has to be on a lead to travel.  When on the leash she walks leaning against my leg and the other day I decided to put a harness on her to see how she did and we all got a laugh out of the fact that she walks leaning against my leg even though the leash is not attached. To put her to the test I walked up the road and back the whole time with her leaning against me. lol.  Well got to go. Will be back in touch when our household goods arrive in at our new destination. 

Pauline and Dale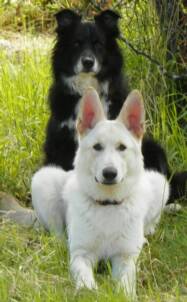 Comments from Vicky of Idaho who has one of our Diesel/Piper pups. Full brother to Kato above:

Hi Shelley. The most perfect puppy himself is doing very well, had his last load of shots a few days ago. Getting rather large, but is just the sweetest, smartest, full of himself, fun person. Have been doing lots of socialization, big dogs, little dogs and kids, woofs at first at new big dogs but also is friendly right away, think he does it as a bit nervous of them at first. Auto potty trained, was very easy to deal with, has a dog door so just goes whenever he needs on himself. Anyway just wanted to check in and tell you how super he is. Vicky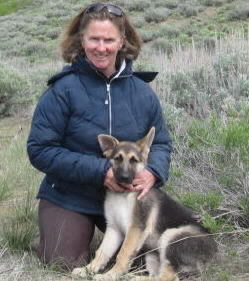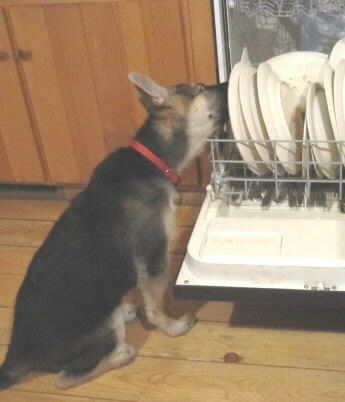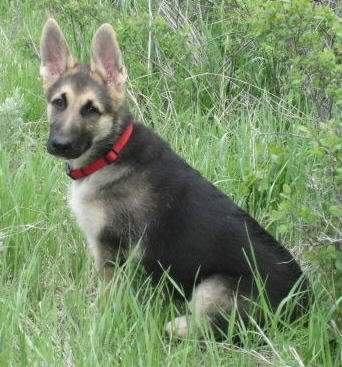 Jumbo to the left "doing the dishes!" His owners say he's a big help! :-)

Jumbo with his mom Vicky. Look at those long legs & huge knees!

Sittin' pretty in an Idaho field!

Comments from Jan in Washington who has one of our outstanding 2011 Diesel/Piper pups, a darker, full sister to Jumbo & to Kato above:

Hi Shelley, Attached is a photo of Kleine (Diesel/Piper 02/19/2011 pink girl). At 4 months she is 19 inches tall at the shoulder, 33 inches from nose to base of tail, and weighs 40 lbs.  As you can see, she has retained a lot of her dark color and looks scary, but is a very friendly pup.  She lays under my desk at work and greets the tax clients.  At 4 months her large size is already a security system, and I never feel uncomfortable having strangers in my office alone.

The vet says she has the nicest personality of any German Shepherd she's seen.  Kleine is very calm, friendly, and smart.  She is also very dominant, want to be Alpha-dog, and has the usual annoying puppy habits, but her training is coming along nicely.  I'll send updates in the future.  Thanks for the nice pup. Jan, Arlington, WA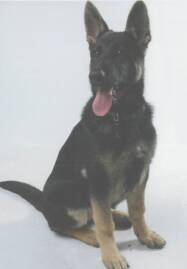 Comments from Lynda, a professional dog trainer in New Jersey regarding her blk/silver plush coated 5 month old Diesel/Pony pup, full sister to Sundar, Luna, Turbo & many more above:

Shelley ~ We LOVE her to death!! And so do ALL of my clients!!! She is so sweet, tough, confident!! What a terrific breeding you did.  THANK YOU SO MUCH!!!!

Lynda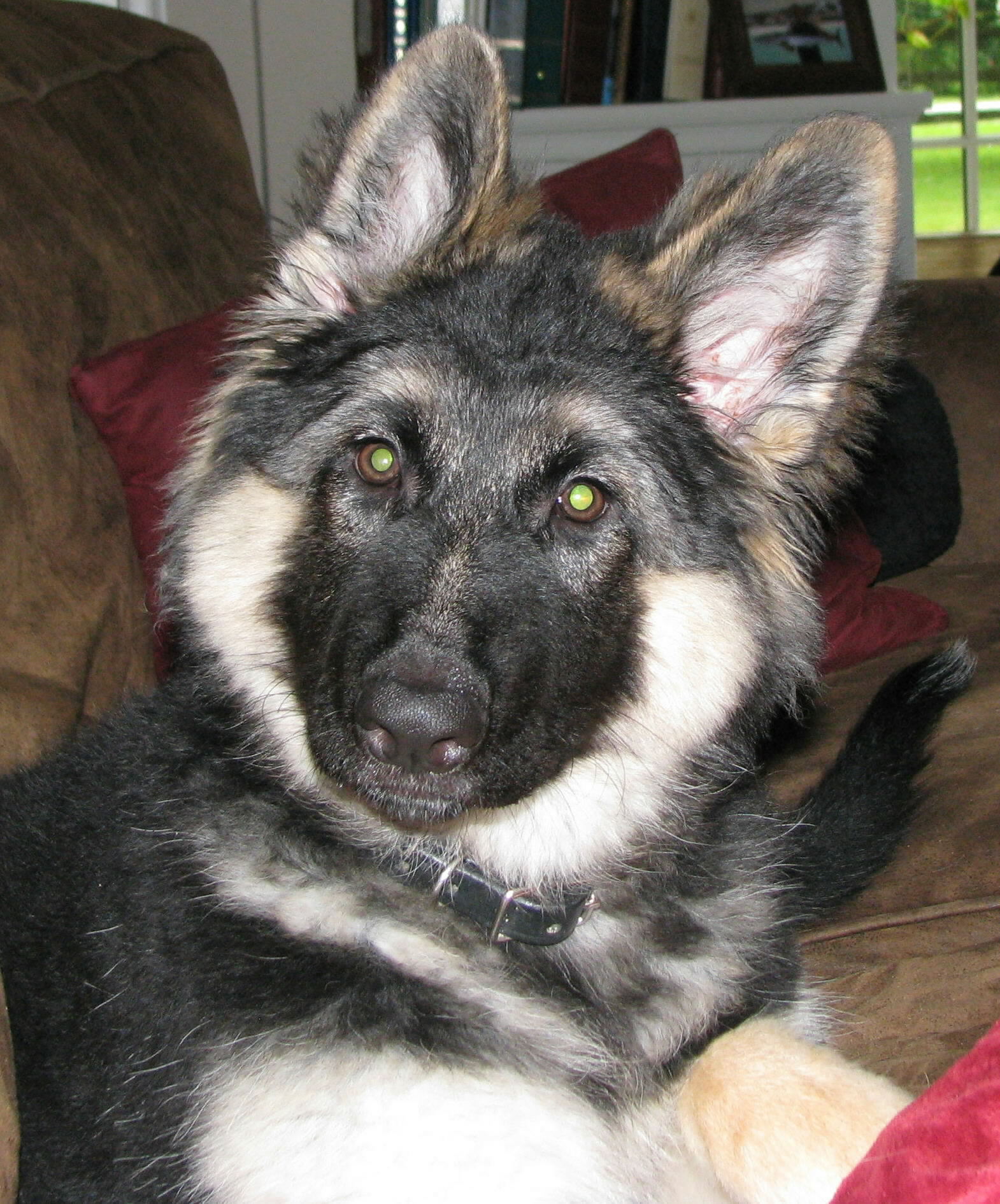 This is 5 month old Cubby.

She's a blk/silver plush coat & is gorgeous! Her owner sent me this picture with a huge pixel count, so her face looks funny in a reduced picture size, but you get the idea!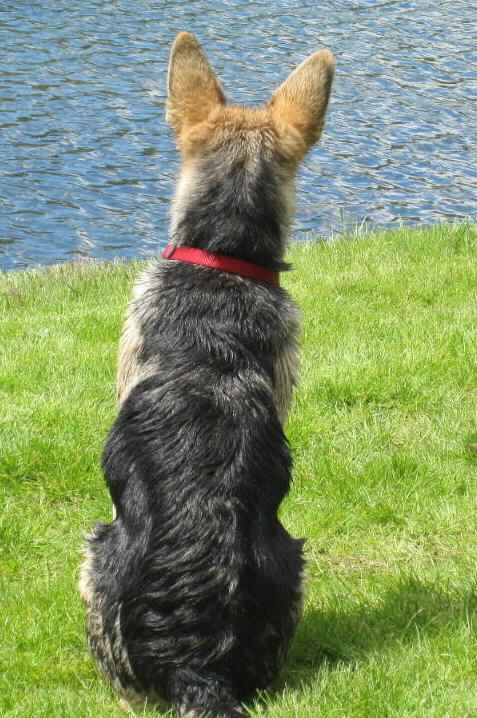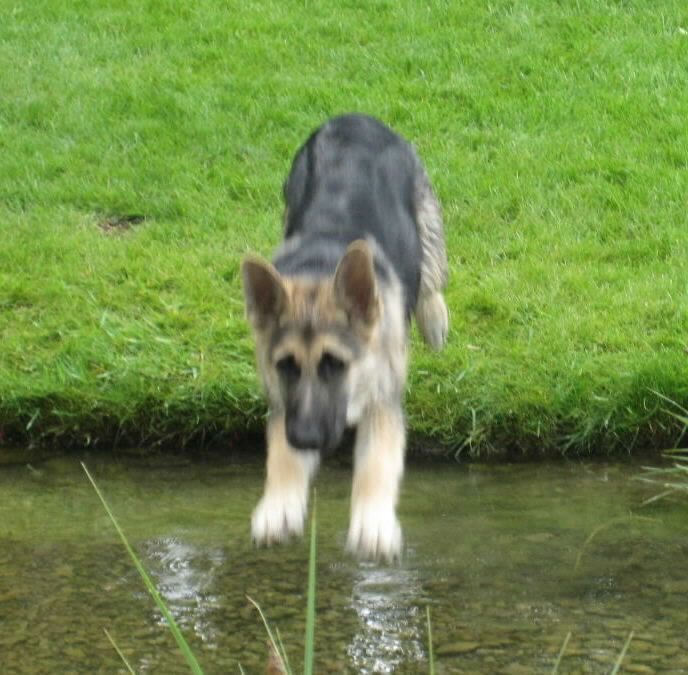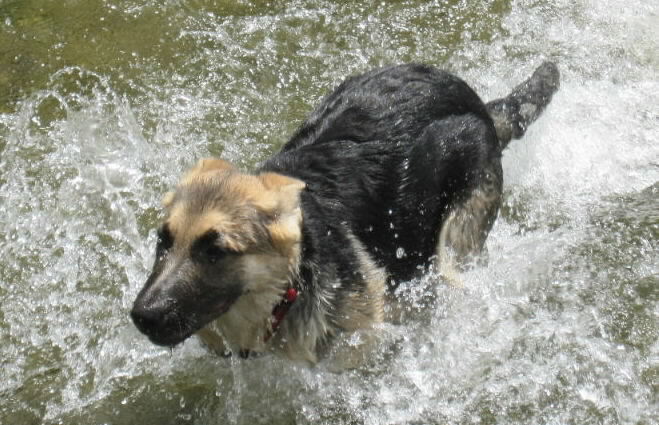 This series of pictures are from Father's Day 2011. Jumbo at 4 months old enjoying the water, just like his "water dad" Diesel! From his owners:

Shelley- We went to play in a local pond for Fathers Day walk. He is such a super dog. He brings us so much pleasure. Vicky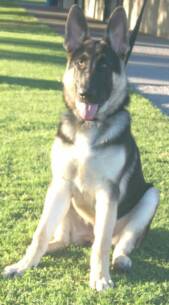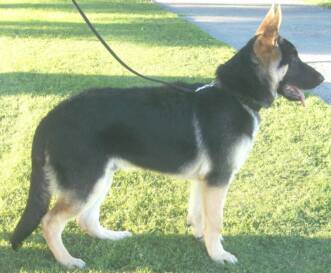 From our clients in Central California about their Diesel/Piper pup, full brother to Kato, Kleine, & Jumbo above:

Shelley,

We hope you are doing well.  We just wanted to send you an update and some pictures of Ranger.  He is doing great and is definitely a head-turner; we get comments about him wherever we go.  He is also getting BIG.  As you know, he is now five months old and is already 62 lbs.  He is full of energy and loves to play with his "sisters"' also known as our three daughters.  He has filled the gigantic void that was left when Dallas, our beloved GSD passed on.  In many ways Ranger reminds us of him, but he is definitely his own dog.  Thanks for breeding such a superior dog!

Tom and Suzann

5 months old - straight backed - gorgeous!

62 whopping lbs at 5 months!

Comments from Shalini of Northern California about her 10 month old Diesel/Bella pup "Ace."

Hey Shelley,

Ace is doing great! We are taking him to training classes and he is the quickest learner. He is a very happy and energetic pup. Very Very protective, does not like strangers around me! When we go for walks at night, he always lets me know when someone is coming near before I even see them. He has become the a part of this family very fast. ! I'm attaching a few pics of him. Hope you like them! ~

Shalini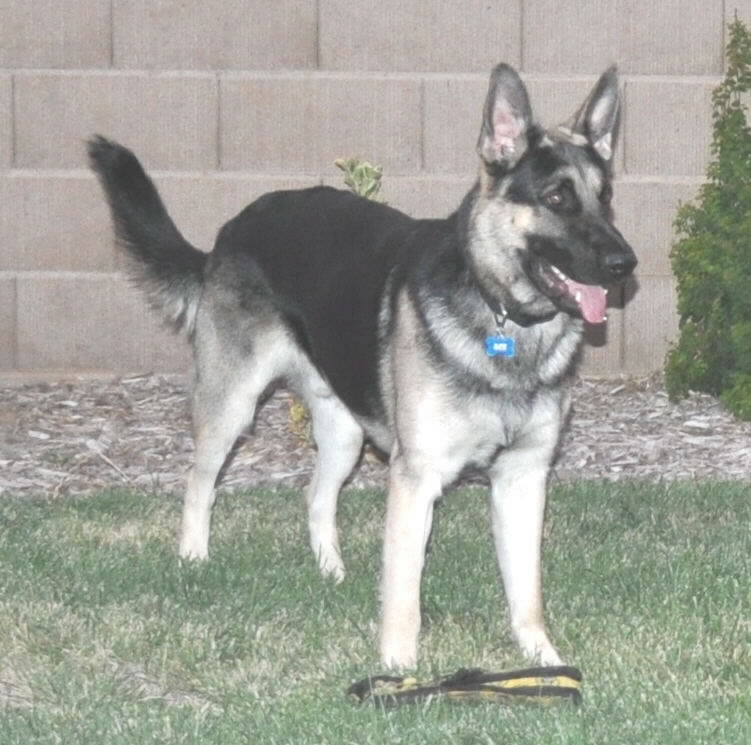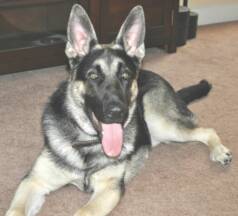 10 months old & already so tall! This is one head-turning boy! Once he's done filling out. . .watchout! Wow!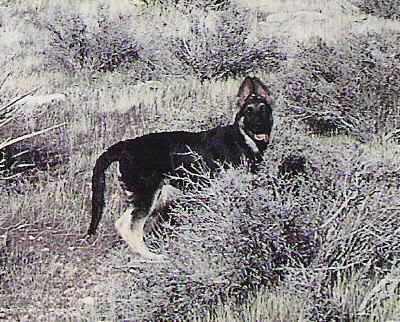 Her vocabulary of noises lets you know exactly what's on her mind--from delighted to frustrated. Her personality  is wonderful and she listens---she already knows her name--which is sort of a test---if I call her and use the name a few times to see if she responds to it I know she likes it. She likes Abby. If my dogs in the past didn't like the name I choose I try to find one that they like. They always know when the right name is spoken and let me know. I know that's a little weird but dogs and cats have an identity all their own and I have found if you listen, they will tell you who they are.

Abby knows "no" and even though it's a struggle sometimes, she stops doing what ever it was that was wrong. Thanks so much for such an intelligent pup! ~ Carrie

Comments from Carrie of Las Vegas

about her new Diesel/Bella pup "Abby," full sister to Ace, Above.

Hi Shelley, I am delighted & charmed by "Pink Girl's" personality. She does talk though--she grunts squeaks & mumbles & occasionally gives a delighted bark when she sees something she can play with. She is also glued to my feet! I love the way she sits & meets my eyes when I talk to her. She sleeps thru the night next to my bed & is ready to go when I wake up. Nothing shy about her. After the all day plane ride & spending the night with no mom or littermates, she adjusted beautifully.

What a big solid girl she is! Yet her face is so femine! I like the way she is marked. I hope she keeps the eyebrows as she matures. She is so smart. You can really see her thinking.  Her name will be Abby- short for Abbagale---after the chacter on NCIS --the TV show --who has black hair, is really smart & talks a lot. I think we are going to have lots of adventures together. I know you picked the right pup for me. Thank-you! ~ Carrie!

Update on Abby, now 4 months of age & apparently, incredibly intelligent:

Hi Shelley,  I just wanted to let you know abby-aka pink girl--is doing fine. She is amazing in

how fast she catches on. She understands about where to pee and heads straight for the pads. She's still trying to figure out the "ugly puppies"  --my cats. She doesn't understand why

these puppies won't play with her. She sleeps in her crate next to my bed all night and

makes a bee line for the back door when I get up.

Abby in the desert in Vegas!

Only 4 months & so big!

Notice her straight back!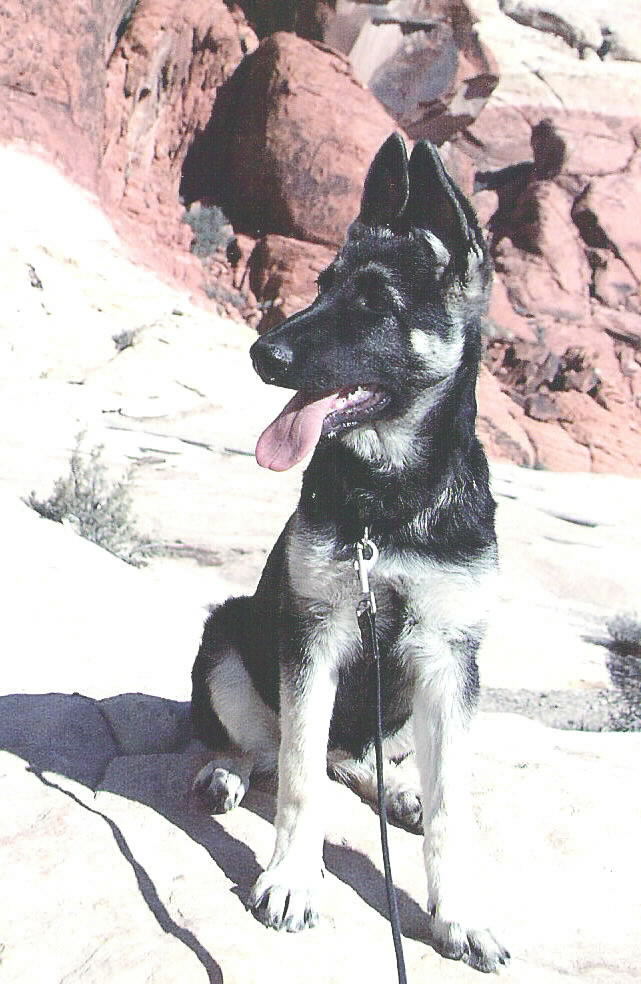 Comments from Joe & Lori of Washington State of their wonderful Salhaus pup out of Diesel & Bella. Full sister to Abby & Ace, above!

Hi Shelley, Oh my goodness we are so excited that Diesel & Bella are expecting again, for future owners of their puppies couldn't be more fortunate. Our Shiloh is now 6 months old and weighed in at 60lbs. Two weeks ago when we had her fixed. Shiloh is the true meaning of a love bug, not to say that she doesn't have the Shepherd trait of alerting you to something or someone outside, but she has very good recall. We are very much looking forward to mothers day weekend, we will be going camping and will take some pictures of her next new experiences. If there is one thing that Joe & I could say to any perspective owners of your Shepherds it would be "Don't wait" These are the most loving,well adjusted puppies you could hope for, & I know in the future we WILL be getting another Saulhaus German Shepherd. Have you ever seen a Shepherd be a real wiggle worm? Thats what our Shiloh's nickname is.

Thank you again Shelley, Khallie, Brandon! You guys are the best,  Joe and Lori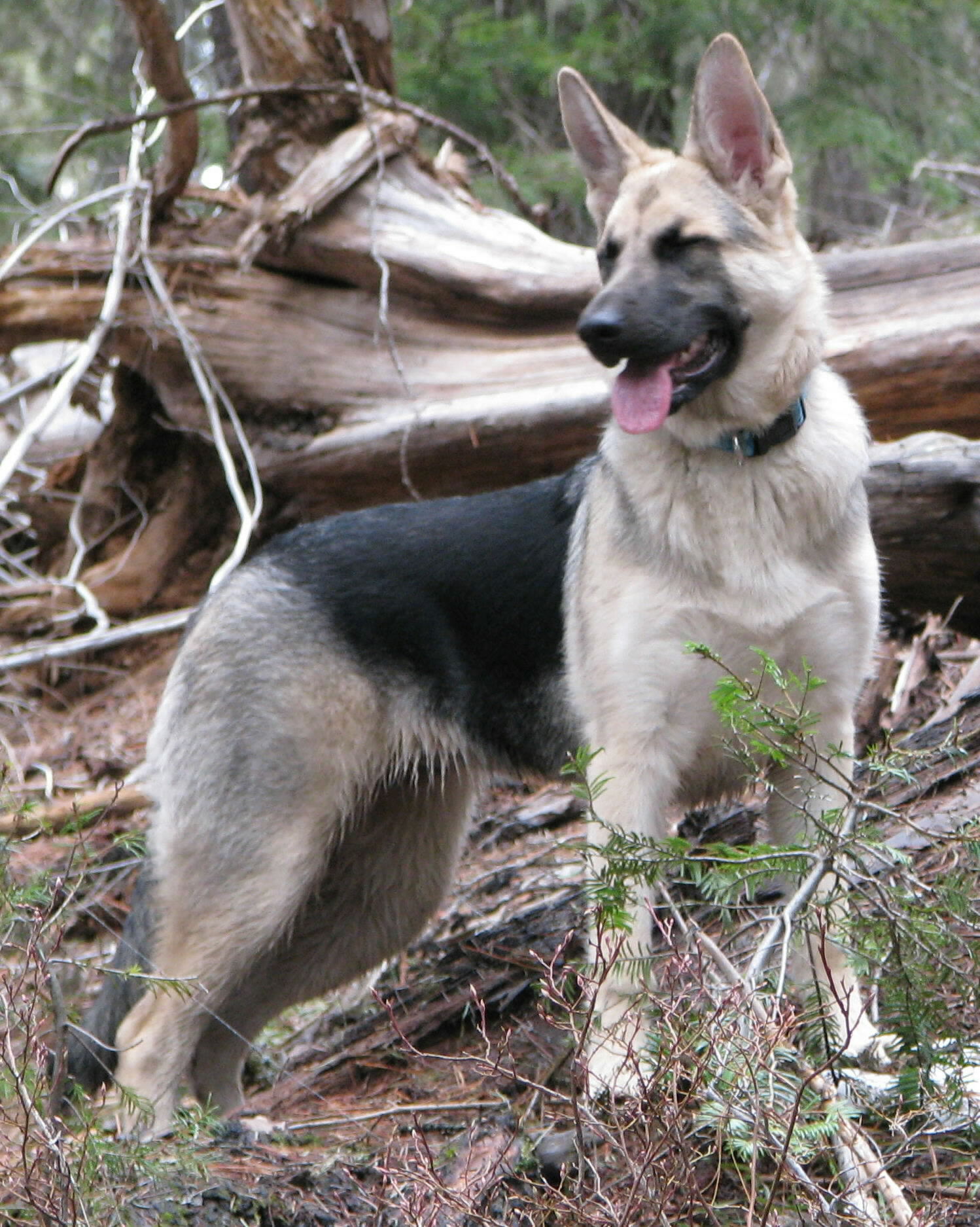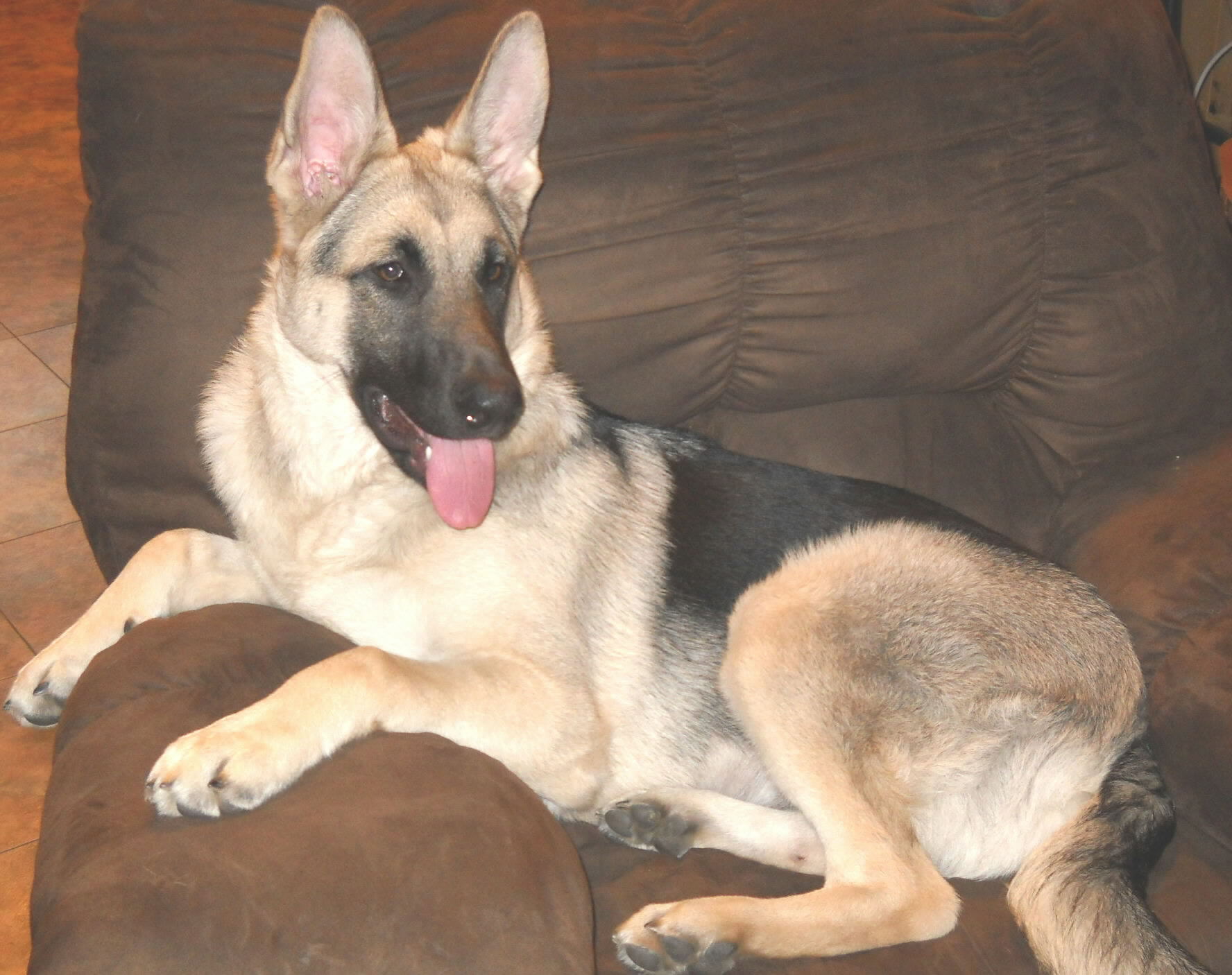 Shiloh left in the easy chair at 6 months & a whopping 60 lbs! Shiloh camping below. 7 months old. Huge & straight backed! Gorgeous!